What You Can Get for Free if Your Flight Is Delayed or Canceled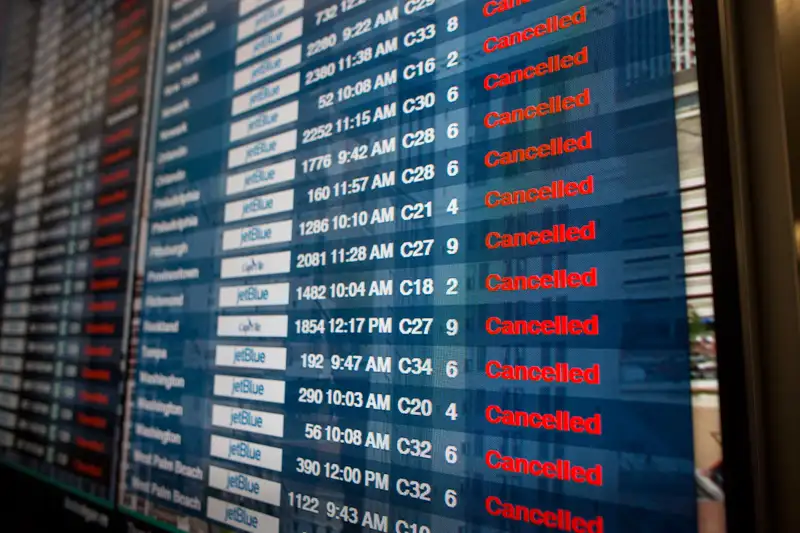 Traveling can be a hassle even when things go according to plan. When things do go wrong, however, a dream trip can transform into a nightmare.
The well-publicized fiasco on United Airlines, in which a passenger was dragged off a plane so his seat could be used by a United employee, probably has many travelers terrified lately of being bumped from an overbooked flight. Since then, airlines have increased compensation given to bumped passengers, and they've launched measures to avoid overbookings in the first place. (Read more on what an airline owes you when you get bumped.)
Cancelations are cause for concern as well. Recent pilot disputes have led Spirit Airlines to cancel 300 flights over the past week, disrupting travel plans for 20,000 people around the country.
What happens if your flight is delayed or canceled? Do airlines owe you anything if your plans are ruined?
In such situations, it's good to know your rights, according to federal regulations—and what airlines can (and should) do on a voluntary basis just to try to make you happy.
When Your Flight Is Canceled
First, the bad news: Contrary to popular belief, there are actually no federal requirements for airlines to compensate passengers whose flights are delayed or canceled. Still, because it's bad business to leave your customers in a lurch, most airlines take steps to minimize the costs and inconveniences when travel plans go awry.
If your flight is canceled, the airline typically rebooks you on the next available departure. You can also simply request a full refund, or rebook yourself on an alternate flight via the airline's website or customer service line. You shouldn't have to pay any change or cancelation fees.
In some situations, the airline that canceled your flight can book you a seat with an alternate carrier to get to your destination. "They're not required to," says George Hobica, founder and editor-in-chief of the travel deals site Airfarewatchdog—"but they will if you're nice, if you have status, or if you simply ask."
When a flight cancelation or missed connection forces customers to stay overnight awaiting a new departure, airlines often try to put passengers up in hotels, on the carrier's dime. But such offers only extend to non-local passengers—that is, don't expect a free stay if you live in the area. Airlines also generally pony up for free hotels only if they are responsible for the cancelation, due to a mechanical issue, crew delay, or similar matter.
Every airline has its own set of policies, but the rules and exclusions listed by Spirit Airlines are typical in that they're fairly vague and noncommittal. "In the case of a cancelation or misconnection, if rebooking options are available the following day, and the cancelation was due to our failure, we may offer overnight hotel accommodations for non-local customers," the airline states. "However, if the cancelation or misconnection is caused by severe weather, Air Traffic Control decisions or other issues outside of Spirit's control, we cannot offer such accommodations."
In general, airlines categorize labor disputes like the one that Spirit Airlines faced this past week as something outside of their control. So the roughly 20,000 customers whose travels were disrupted as a result of the pilot strike—including those caught in the middle of a riot in Fort Lauderdale's airport—weren't entitled to free hotels or any other special compensation.
Even without a free hotel stay, however, airlines may help stranded passengers find and book nearby hotels—perhaps at a discounted rate. Don't wait for the airline to offer, because it probably won't. Be proactive by asking for help, politely and professionally, while reminding airline staff of your loyalty status (if possible) and your value as a good, money-paying customer. And remember that it's generally best to ask for assistance while you're still stuck in a jam, rather than request that expenses be reimbursed after the fact.
When Your Flight Is Delayed
Again, there are no federal rules governing what passengers must get if a flight is delayed. Although airlines face steep fines when passengers are stuck on board for three hours or more awaiting takeoff, travelers themselves won't necessarily see the cash. (Airlines may try to appease you, however, by providing free food, drinks, and entertainment when planes sit on the tarmac for hours.)
If you haven't boarded the plane yet, you probably have more options. When a flight is significantly delayed (defined by most airlines as being more than two hours late), carriers will often let you fly standby on another flight, or may even rebook you into a confirmed seat departing within 24 hours of your original flight. Note you may wind up on a route involving different but nearby airports. If you aren't yet at the airport and hear of the delay, you may also have the option of canceling your trip entirely, for a refund.
If you're sticking out the delay, you may get some goodies while you wait. Airlines may dole out vouchers for free meals at the airport, or possibly free or discounted rates at nearby motels. To get the most assistance, always be polite—and again, play up your status as a loyalty member.
"Status definitely helps. The higher-status people get taken care of first," says Matt Kepnes, a.k.a. "Nomadic Matt," the author of How to Travel the World on $50 a Day. "I've found that if you're nice and sweet, you can often get the gate agent to give you food vouchers."
If the scene at the gate counter is a madhouse full of angry travelers and agents are overwhelmed, Kepnes says it's smart to simply call up the airline's customer service line and ask for help. "It's always quicker, unless the whole system is delayed," he says. When the problem is widespread, it'll take forever to get through to customer service, so in these situations he advises connecting with the airline via social media.
Airfarewatchdog's Hobica also says that "social media sometimes works" in terms of getting the airline's attention in a hurry. "@AmericanAir is especially good at helping, as is @KLM and some other airlines. Delta and United are pretty bad at it in comparison."
Airline personnel have a lot of discretion for handling each situation, but the carriers do spell out what is and isn't guaranteed when you purchase a flight. Delta's policies, for instance, are fairly standard. If it's Delta's responsibility that your flight is delayed more than 90 minutes and you can't travel or you miss a connection as a result, the airline will allow you to get a full refund for the unused part of your ticket—even if it is "nonrefundable." You'll also be given back any extra charges, like checked baggage, related to that segment of your trip. Delta also promises that if your travel is interrupted by more than four hours and it's between 10 p.m. and 6 a.m., you'll get a voucher for a room at a nearby hotel, plus free transportation there and back.
But this policy only applies if the delay is clearly Delta's fault. If a cancelation or delay comes as a result of force majeure—the legal phrase used to describe unforeseen, unavoidable circumstances, such as bad weather or a worker strike—Delta doesn't necessarily have to refund your money or cover hotel bills.
We only know of one domestic airline that guarantees compensation (in the form of flight credits) when it is responsible for delaying customers. That's JetBlue, a winner of Money's 2017 Best in Travel, which has own Customer Bill of Rights. JetBlue promises that in the case of extended delays occurring due to a "Controllable Irregularity"—i.e., something within the airline's control, like a technical malfunction, but not the weather—affected passengers will get travel vouchers good for future JetBlue bookings. The amounts vary based on how long you're delayed: There's a $50 credit, for instance, if you're stuck on the plane for three to four hours waiting for departure, up to $200 if you're waiting on board for five hours or more.
When You're Traveling in Europe
Finally, we must clarify that all of the policies mentioned above apply only to U.S. domestic flights. American travelers may be bummed to hear that a different, more generous set of rules applies to all flights within Europe, plus all flights from Europe to the U.S. (even on American carriers), and on all transatlantic flights flown by European carriers (but not Europe-bound flights operated by American airlines).
According to European Union regulations, if your flight has been canceled and it's the airline's fault, the airline is required to provide meals, refreshments, and (assuming you're delayed overnight) free hotel accommodations. An airline responsible for a canceled flight must refund passengers' money within seven days of the cancelation.
What's more, European airlines must pay you for delays, to the tune of 250 to 600 euros if you reach your destination more than four hours after the estimated arrival time.
Again, the airline is only on the hook for this compensation if it is responsible for the delay. But travelers in Europe are assured by law that airlines must do right by their customers. That's quite different from the way it is in the U.S., where airlines that are sufficiently pressured by customers "may" assist or compensate travelers stuck due to delays or cancelations. Then again, they "may" not help at all.