What You Should Know If You're Traveling to France and Turkey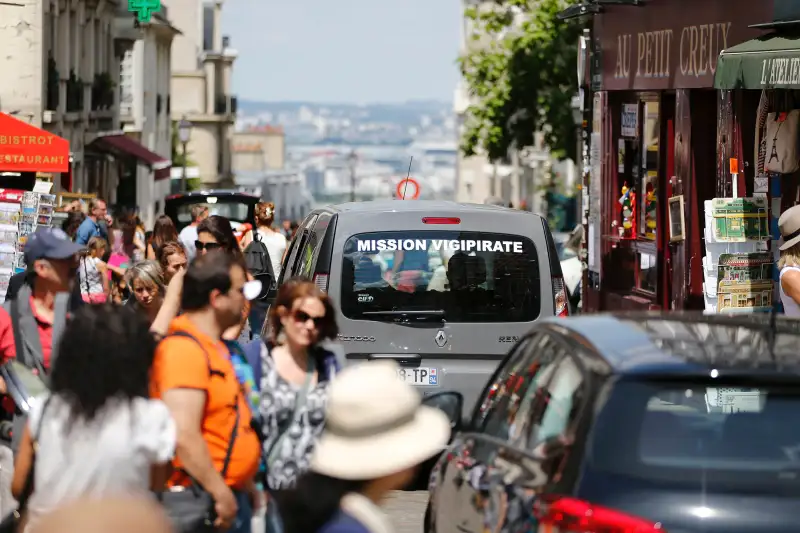 Matthieu Alexandre—AFP/Getty Images
If he ran into trouble anywhere, Alan Tannenbaum expected it would be in Istanbul, where he visited his son last week. Turns out he was only half right.
Tannenbaum, a trial attorney from Sarasota, Fla., then flew from Turkey to France and checked into a small hotel on the Mediterranean coast. On July 14, he found himself enjoying the Bastille Day festivities -- in Nice.
He was a little more than a block away from the Promenade des Anglais when Mohamed Lahouaiej Bouhlel allegedly drove a truck through a crowd, killing 82 and injuring more than 200.
"People started screaming," Tannenbaum recalls. "They were running in all directions, trying to get away."
Only a few hours later, the Turkish government swatted down a military coup. The repercussions of that failed putsch are now being felt by current and future tourists.
A lot of American visitors understand Tannenbaum's predicament this summer. They may be forced to decide between potentially dangerous destinations, a dark game of whack-a-mole that leaves them guessing where the terrorists will strike next. Or they have to choose between cancelling a planned vacation to Europe and losing part of the cost of their vacation, or traveling despite the danger, and possibly placing themselves in harm's way.
"Horrific things can happen anywhere," says Pauline Frommer, the editorial director of Frommer's travel guidebooks, who says Europe is no more dangerous than the United States, which has had its fair share of violent incidents recently. But, she adds, "Obviously, I would cancel a trip if all-out war broke out."
How safe is it, really?
The State Department has issued a flurry of recommendations for Americans traveling to Europe. The most serious is the July 15 warning of increased threats from terrorist groups throughout Turkey. It notes that foreign and U.S. tourists have been "explicitly targeted by international and indigenous terrorist organizations" and urges American citizens to reconsider travel to Turkey. That's a nice way of saying: stay out of Turkey, and cancel your trip if you can.
Following the France attack, the U.S. Consulate in Marseille issued an emergency message, and the U.S. embassy in Paris released a security message to remind U.S. citizens in France to maintain "a high level of vigilance" by exercising caution at large gatherings, and taking the appropriate steps to bolster personal security.
"'Safe' is a somewhat relative term, and often depends on a wide array of factors within and outside our control," explains Frank Spano, executive director of The Counterterrorism Institute, a nonprofit organization based in New York. "Travelers must maintain a thorough understanding of the threat, a heightened sense of awareness in their surroundings, and be willing and prepared to act with determination and commitment if necessary."
Put differently, no one can really say if a destination like France, Turkey or any other place in Europe is safe -- or not safe. It depends where you're going, what you're doing, and perhaps most importantly, when you're going.
A way out
For nervous visitors, the options are limited. Francesca Burack, a professional speaker who lives in New York, decided to cancel a trip to Istanbul after the coup. "It's not a good time for an American solo female traveler to go to Turkey," she says.
Burack used Delta frequent flier miles to pay for her ticket, but when she called the airline for a refund, it charged her a $150 redeposit fee. Burack thought she had a good case for having the fee waived, since the Federal Aviation Administration issued a notice prohibiting flights to Turkey. She asked a Delta phone representative if she could appeal the fee to a supervisor but was told "there wasn't one."
She adds, "That's hard to believe."
Burack's dilemma is playing itself out across the airline industry. If a flight is canceled, she would be entitled to a full refund, no questions asked. But if she cancels her ticket before the airline cancels the flight, the normal, highly restrictive refund rules would apply.
Unless, of course, those rules change. Turkish Airlines, for example, loosened some of its change rules for reservations made through July 20, allowing changes to be made without a fee. It also canceled flights to and from the United States through July 18.
Travel insurance can help, too. Many travel insurance policies allow consumers to cancel their trip if there is a terrorist incident at their destination within 30 days of their arrival. An attack like the one in Nice would qualify as terrorism for certain policies, but there are significant restrictions, and a traveler can't buy insurance after a terrorist attack and then file a claim.
"Consumers who want to be able to cancel their trip at their discretion may consider purchasing a cancel anytime policy, which allows travelers to cancel their trip for almost any unforeseen reason," says Daniel Durazo, a spokesman for Allianz Travel Insurance.
A policy that lets you cancel for any reason will refund a percentage of your trip, but it can cost significantly more -- anywhere from 8-10% of your trip -- than a standard policy with named exclusions.
Traveling anyway
Even with the danger and uncertainty, some travelers are sticking to their plans. Deborah Anthony, a nurse practitioner from Dallas, is planning to visit Europe alone this summer for a Mediterranean cruise. Even this summer's airport bombing wasn't enough to change her schedule. In the end, her cruise line decided to skip Istanbul, but that still hasn't deterred her from traveling to Europe.
"My husband and I are planning a trip to France next year," she says.
International travelers who are doubling down on their itineraries are considering extra precautions, which include buying insurance, paying closer attention to the State Department warnings, and registering through the Smart Traveler Enrollment Program, which allows the government to track and notify Americans abroad. And they're considering using a travel agent, who can help them navigate the ins and outs of a cancellation, says Steve Loucks, a spokesman for Travel Leaders Group, a Minneapolis-based travel agency network.
"Despite the increasing frequency in terror attacks around the world, the overwhelming majority of travelers will never experience what those in Nice, Istanbul and other high-profile attacks did," he says, noting that he is planning to visit Europe himself later this year. "There is no foreseeable way I would consider changing my plans – the only exception would be if the State Department flat out said, 'Do not travel there'."
That's how Tannenbaum, the lawyer who had a scrape with terrorism and a military coup, feels about travel, too. More or less. He's urged his son, who works for an organization that provides aid to refugees, to make arrangements to leave Turkey.
"Bottom line," he said. "Visit Nice."