Election Day 'I Voted' Stickers Are Everywhere Today. Who Pays for Them?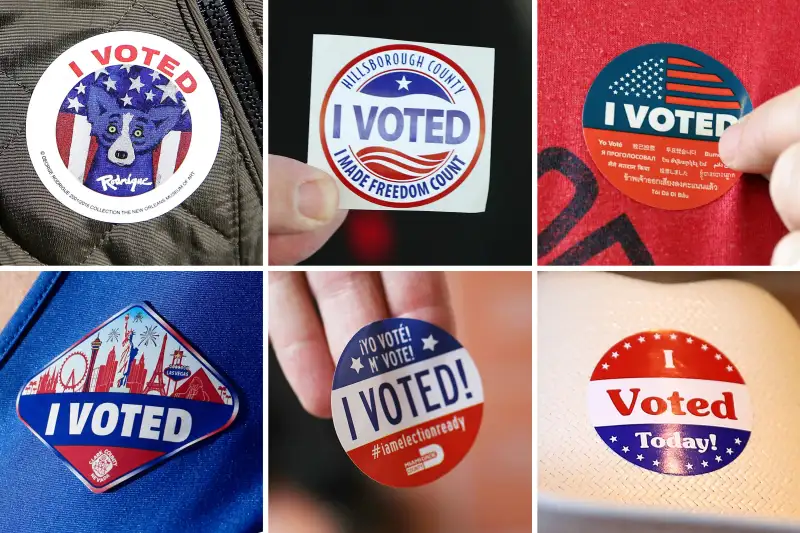 They're worn by millions of Americans each Election Day. They've graced the grave of Susan B. Anthony to honor her impact. And images of them are, likely, filling your social media feeds at this very moment.
"I Voted" stickers — which vary in size, design, and shape, depending on where you vote — hold a certain level of significance for Americans each Election Day as they become a badge of honor after voters submit their ballots.
But who even pays for "I Voted" stickers?
Well, it's complicated. The "I Voted" sticker you're wearing was most likely paid for by the state or county you voted in — which funds general elections through taxpayer dollars. But it varies from place to place, with some jurisdictions opting to invest more in their stickers and others scrapping the use of them entirely.
Local jurisdictions — like counties, cities, or townships — typically run the show on Election Day and pay for most costs like ballot printing, staffing at polling locations, and spreading voter information, among other things, according to the National Conference of State Legislatures, a nonpartisan organization. "I Voted" stickers are likely "one of the costs that local election officials bear," says Wendy Underhill, director of the elections and redistricting team at the organization.
"I Voted" stickers date back to the early 1980s and have since become an almost expected part of the voting process. Today, businesses and restaurants offer incentives for customers donning "I Voted" stickers on Election Day, like free food and merchandise. (Though, to be clear, it's actually illegal to offer such incentives for voters participating in a federal election.) Stickers can serve as sentimental keepsakes from an important election — or the proof you need to show your friends that you participated.
Perhaps most importantly for election officials, "I Voted" stickers could be seen as an investment in fostering voter turnout. After all, research from May 2016 found that voters value the ability "to tell others" about their voting habits and are more likely to show up to the polls as a result. The "I Voted" sticker can be seen, then, as an immediate symbol of that commitment — and many voters in the 2018 Midterm Elections and at those in the past have expressed discontent over sticker shortages at the polls.
"The idea is to encourage voter turnout by reminding people it's Election Day through an 'I Voted' sticker — and also through peer pressure since voting is seen as a civic duty and responsibility," says David Lublin, a government professor at American University.
It's unclear, however, how much these stickers cost on average. Back in 2012, Mic estimated stickers could cost $34 million in total — that is, if 230 million voters all received a sticker worth about 15 cents. That's a hefty estimate, as about 126 million voters turned out in 2012, and not every voter received a sticker. Even determining the total cost of an election from state to state proves complicated, as funding sources shift depending on the kind of election it is.
Regardless, some counties have chosen not to hand out stickers due to their cost — particularly for mail-in ballots. In 2012, the Santa Clara County Registrar of Voters in Santa Clara, Calif., said it saved $90,750 when it chose not to include 15-cent stickers in mail-in ballots. Election officials in Long Island, N.Y., chose not to purchase stickers at all this year due to budget constraints, Newsday reported. Stickers have also proved a nuisance in some cities, where they were frequently found stuck to surfaces at businesses and in public parks. Instead of stickers, voters in Chicago now get wristbands, which cost the election board around $28,000, or 2 cents each.
Other jurisdictions have actively invested energy in their stickers. New York City, for example, now holds a design contest to determine its Election Day sticker. The New York City Campaign Finance Board, an independent agency that oversees the NYC Votes initiative, pays and prints the stickers each year and gives them to the state's Board of Elections free of charge. For the 2018 midterms, the agency printed 6 million stickers.
"People love these stickers," says Matt Sollars, director of public relations at the New York City campaign finance board. "People love to show their friends and family and the world that they have done their civic duty and gone out to vote."