EV Sales Are in a Slump — Why Aren't More Car Buyers Going Electric?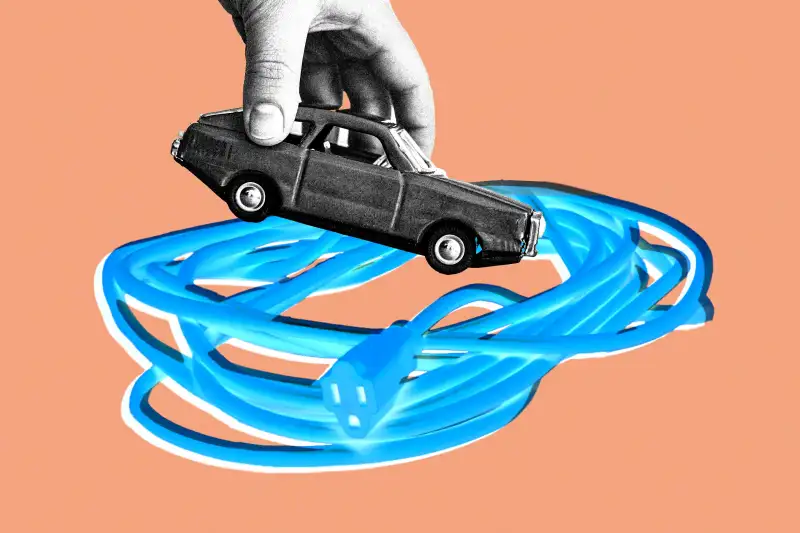 The EV revolution is losing momentum: After electric car sales soared in 2022, interest among buyers has underwhelmed and plans for a rapid transition away from gas-powered cars could be in jeopardy.
While the EV market has grown in 2023, sales aren't rising as fast as expected, even with new model launches and price cuts and generous tax credits lowering costs for buyers. Automakers are taking notice and acting accordingly.
In just the last few weeks, EV leader Tesla slashed its prices once again; Ford reduced production of its F-150 Lightning electric pickup truck and postponed $12 billion of EV spending; Mercedes-Benz CFO Harald Wilhelm described the EV market as a "brutal space" as the company continues to discount vehicles; General Motors delayed three model launches and backed off a public goal of producing 400,000 EVs by the middle of next year; and Honda announced it was ending plans with GM to jointly develop affordable EVs.
Over at Toyota, which has prioritized hybrids over EVs, Chairman Akio Toyoda told reporters that "people are finally seeing reality." Despite EV tax credits of up to $7,500, fewer Americans are ready to switch to EVs than automakers or government officials thought.
Automakers losing money on EVs
In the U.S., the days' supply for new EVs has doubled since last year to 88 days, meaning that's how long it would take for the current inventory of vehicles to sell at the current sales rate, Pat Ryan, CEO of AI car shopping app CoPilot, told Money. For reference, the average days' supply for gas-powered cars is 59 days, which is basically normal by historic standards.
"Traditional automakers overestimated the current demand levels for EVs and are building more vehicles than they currently need," Ryan said. "At the same time, the traditional automakers are losing money as they venture into EVs."
Automakers are being forced to lower their EV prices to attract customers and compete with Tesla. But this approach is especially painful because they're already losing money on their EV investments. Ford, for example, lost about $36,000 for every EV it sold last quarter.
According to Cox Automotive, automakers have plans for 150 new electric models between 2023 and 2026, but those goals are complicated by lower-than-expected demand and the tough price environment.
As EV technology improves, Jessica Stafford, senior vice president consumer solutions at Cox, expects the fuel savings and environmental benefits to motivate Americans to buy them.
"It may appear that the EV revolution is slowing down, but our data doesn't corroborate that," she says, noting that EV sales have increased 12 quarters in a row. "Automakers are not stalling on EVs, but instead, adjusting to a pace that is more sustainable for efficient growth without over-saturating the market."
Why Americans aren't buying electric cars
Electric vehicles used to be in hot demand because supply was limited and early adopters were eager to try the new tech or shift to more environmentally-friendly transportation. These enthusiasts were often willing to pay luxury prices for their EVs.
But for automakers to capture the mass market, EVs have to outcompete gas-powered on cost and quality. When gas prices are high, it makes more sense for buyers to consider switching to an electric car. Gas prices have been fairly low in 2023 — they're currently down around 30 cents per gallon compared to a year ago, on average nationally — so there's less incentive to go electric.
According to experts, here are some of the big reasons the demand for EVs isn't as high as some want it to be:
EVs are too expensive: Joseph McCabe, president of AutoForecast Solutions, says vehicle cost is the No. 1 barrier to EV adoption. EVs usually cost at least $10,000 more than their comparable gas counterparts, he says.
Charging is expensive: If you can charge your EV at home, there are considerable fuel savings that come with going electric: You'd spend about 3x more on gas than the cost of home charging. However, the costs are about the same if you're using a public charger, and getting fuel at a gas station is much more reliable and less time-consuming.
Charging is inconvenient: Fast chargers are still hard to find in many more remote parts of the country. According to AAA, 56% of people say the lack of convenient charging is a top reason for not going electric.
Depreciation: The average used EV price dropped nearly 20% in the past year, according to iSeeCars.com. Potential EV buyers have good reason to worry their cars won't hold their value well as the technology improves. "The used market is not as strong for electric vehicles, and as a result the depreciation is higher," says Greg Brannon, director of automotive engineering research at AAA. "That's your single biggest operating expense."
Range anxiety: Some high-end EVs promise 300+ miles of range on a single charge, but even that is not enough to cover a common drive like San Francisco to Los Angeles. You'd have to take a charging break, potentially adding 30 minutes or an hour to an already long drive.
Hybrids are more popular: According to Adam Ragozzino, principal analyst, batteries and electric powertrains at Wards Intelligence, Tesla isn't the best-selling electrified vehicle brand in the U.S. It's Toyota, which has over 20 hybrid models and is focused on these cars in the near term, given that they offer good fuel efficiency and are capable of making long trips without requiring charging breaks. Hybrids are not only more practical and familiar to drivers than EVs, they also tend to be cheaper.
What's next for EVs
Auto experts are increasingly skeptical that the U.S. will be able meet a 2032 target essentially requiring 67% of new cars to be EVs. Right now, the current EV market share in the U.S. is just 7.9%, according to Cox. Automakers are already adjusting their own goals, and it's possible that more EV model launches will be delayed in the coming months.
Ragozzino says the government's goals won't be possible unless automakers make major progress on charging infrastructure and bringing down production costs to the point where they can price their EVs on par with gas and hybrid cars.
Ryan agrees that automakers can't justify scaling up their production with the levels of demand among buyers today.
"Moving forward, it will remain very challenging for the traditional automakers to make meaningful inroads on their EV commitments," he says.
More from Money:
Auto Loan Delinquencies Reach a Record High — Here's What to Do if You Can't Make a Car Payment
10 Best Auto Refinance Companies of 2023