Your Grocery Store May Soon Be Cut in Half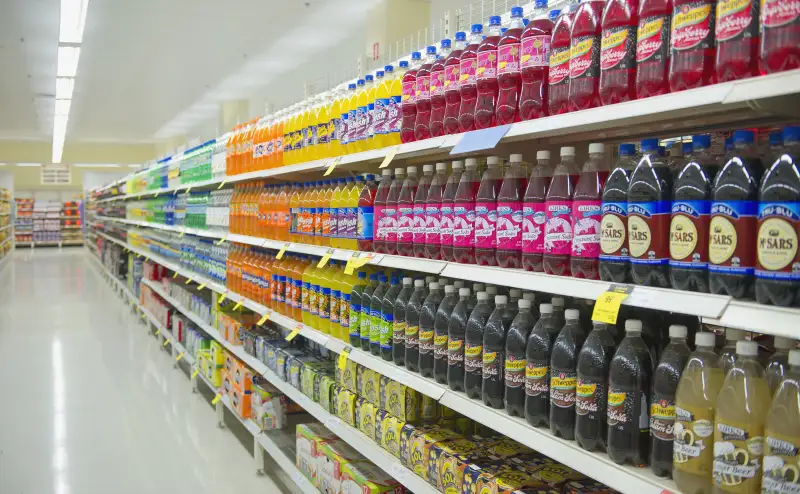 Spaces Images—Getty Images/Blend Images RM
For decades, the average American supermarket's size evolved similarly to the average American's weight: It grew and grew. Lately, though, many grocers known for gigantic mega-supercenters are trying out store models shrunk down to the size of the old neighborhood market.
A few years back, the average size of a grocery store was measured at over 45,000 square feet, up from 35,000 square feet in the mid-'90s. The supersizing of supermarkets may have come to an end, however. The shrinking of grocery stores has been a noticeable trend in recent years. Chains such as Aldi and Trader Joe's, which both operate stores typically under 20,000 square feet—and which both happen to be owned by the same German company—have been extremely successful, opening new locations left and right. Walmart, the ultimate big-box megachain, has stepped up efforts to expand its small store formats, especially in urban neighborhoods, to compete not only with local grocers but dollar stores as well.
Plenty of other big names in groceries are also now jumping on the small-store trend. The Orlando Business Journal reported that Publix, which runs supermarkets as big as 60,000 square feet, mostly in the South, is working on a store prototype in the neighborhood of 20,000 square feet. RetailWire noted that several other large—and typically large-sized—supermarket brands, including Kroger and Hy-Vee, are also launching or expanding mini-grocery stores.
Last fall, Kroger opened three 7,500-foot-square-sized stores operating under the name Turkey Hill Market in the Columbus, Ohio, area. The markets are a fraction of the size of the typical Kroger (67,000 square feet), and it's being presented as a cross between a convenience store and a supermarket. Hy-Vee opened a 14,000-square-footer under the "Hy-Vee Mainstreet" concept in Iowa in mid-April.
Obviously, with dramatically smaller stores, some compromises must be made. "In one of [the larger] stores, we may have 40 kinds of hamburger helper, [in the smaller stores] we have ten," explained Tim Stupka, assistant vice president of operations for Hy-Vee's northern district. "Or, instead of having four different types and styles of bananas, we have two. We have pretty much everything those stores have, but we don't have as many varieties."
Such tweaks could hurt customer perceptions of their favorite grocer brands. One of the reasons that Publix, for instance, scores highly among consumer ratings is that it's known for outstanding selection.
But for a variety of reasons, big grocery companies think it's worth a shot to shift small. For one thing, whereas megastores typically require an undeveloped suburban location, smaller stores can fit almost anywhere, including densely populated cities, college towns, and even college campuses. Millennials, in particular, are more interested in living in such locations—and are more interested in quick-stop shopping, as opposed to the overwhelming, impersonal, time-consuming experience of roaming aisle after aisle of a ginormous megamart.
Supermarket companies also like the idea of creating stores where the typical customer pops in several times a week, as opposed to the big-haul, once-a-week shopping visit. Hy-Vee has been opening bars and restaurants inside grocery stores with the idea that customers will visit more often, and linger longer.
All that said, there's certainly no guarantee that a smaller store size will be a hit with consumers. The Fresh & Easy grocery chain was based on a neighborhood-quick-stop store size and it wound up as an epic flop.