What Exactly is Left of Yahoo?
Money is not a client of any investment adviser featured on this page. The information provided on this page is for educational purposes only and is not intended as investment advice. Money does not offer advisory services.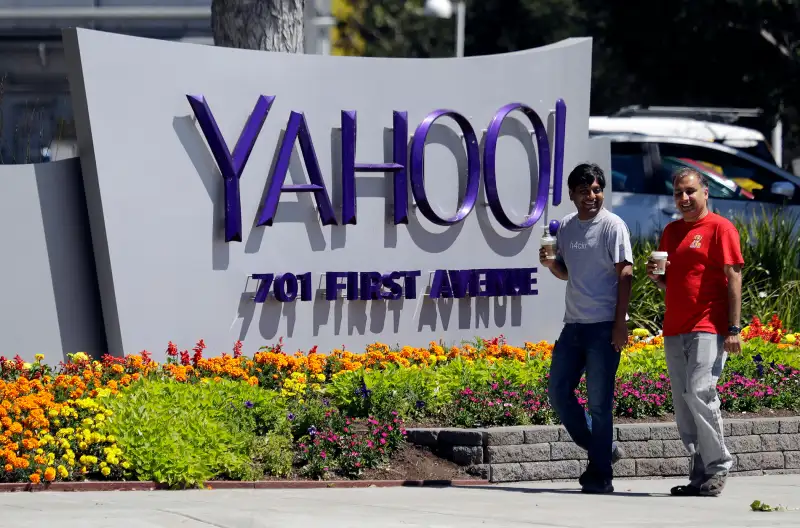 Yahoo! officially admitted defeat Monday and has left the field after an almost decade-long battle to stay relevant in a Google and Facebook world.
The core parts of this once-dominant internet company, which at one point was worth in excess of $100 billion, will be sold to Verizon for a mere $5 billion. Verizon will then pair Yahoo's various web properties — such as Yahoo Mail, Yahoo Finance, Yahoo Sports, and Tumblr — with the AOL assets it already acquired to create a new content business massive in scale and reach.
Not only will Verizon buy all of what the public knows as Yahoo, the telecommunications giant will also receive Yahoo's valuable real estate properties.
Meanwhile, intellectual property that once belonged to Yahoo will now be sold off to other parties, according to reports.
So what exactly is left behind?
Left Behind
"Yahoo is now a shell company — but its shell is worth billions," says Dave McIninch, chief revenue officer of Acquisio.
Ostensibly Yahoo will resemble an exchange-traded company. In other words, it is a vehicle in which you can invest — but you would be investing in the collective assets of other publicly traded companies. In Yahoo's case, your investment in Yahoo would give you exposure to two valuable, foreign, companies: Alibaba and Yahoo Japan.
Alibaba, which set the record for the largest U.S.-listed IPO of all time in 2014, is a giant Chinese e-commerce platform and currently has a market capitalization of more than $200 billion. Yahoo Japan is an immensely popular website that offers a wide variety of services, from news to auctions, with a long history of earnings growth.
Old Yahoo, or whatever the company will call itself when the sale of its core businesses to Verizon is made final in the coming months, will now be an investment vehicle to own those two stocks. Morningstar analyst Ali Mogharabi values Yahoo's Alibaba's holdings at nearly $24 billion, or $24 a share in Yahoo stock, and its Yahoo Japan stock at $7 billion, or $7 per share.
Verizon also leaves behind almost $5 billion in net cash, most of which will be passed along to shareholders.
Taxes
This sale was long desired by large activist Yahoo shareholders who grew tired of CEO Marissa Mayer's stewardship. Yahoo spent anywhere from $2 billion to $3 billion on acquisitions during her tenure, while Yahoo's worldwide share of net digital ad revenue fell from 2.6% in 2014 to 1.5% this year, according to eMarketer.com.
When the sale is complete, Old Yahoo will divest itself from the stodgy internet business and only track the performance of two valuable formal entities.
While Old Yahoo's fate will now be tied to those of Alibaba and Yahoo Japan, there is something else to consider: risk. More specifically a tax risk.
"Yahoo's stakes in Alibaba and Yahoo Japan are highly appreciated, and Yahoo would have to pay tons of taxes if it ever sold them," wrote Bloomberg's Matt Levine. "So you can't count them at their full pretax value."
Yahoo is loathe to sell its stake in Alibaba and trigger a tax event, so it may just keep its shares. Of course this uncertainty comes with a cost. The value of Old Yahoo will slightly trail its holdings thanks to the risk of having to pay a large tax bill in the future hovers over its head.
"Over time, the spread between the value of Yahoo stock and the sum of the values of Alibaba and Yahoo Japan will indicate the market's perception of that risk," says Mogharabi.