$1 Drinks! Fast Food $1 Beverage Summer Smackdown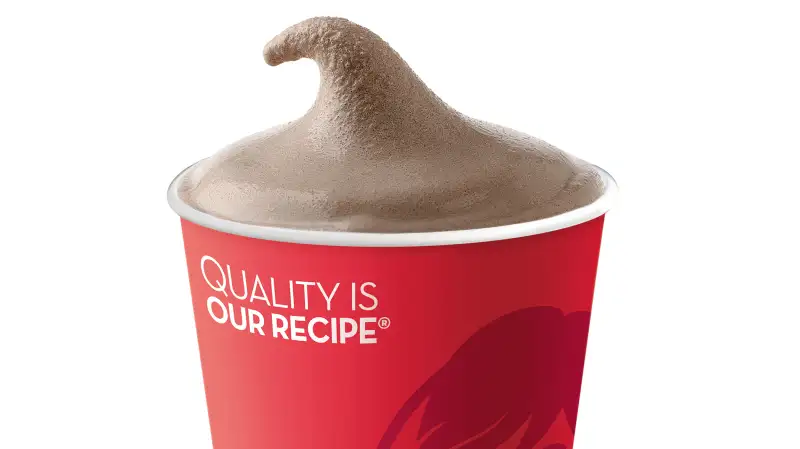 Take a look at some of the $1 cold drink promos vying for your attention this summer:
Cumberland Farms: 99¢ Farmhouse Blend coffee in any size (iced or regular), as well as 99¢ bottles of Sparkling lemonade and other juices and 49¢ refills on slushies and fountain drinks after the purchase of a $1.99 "Chug Jug," all summer long
7-Eleven: $1 medium-size Chillers iced coffees every Wednesday until Labor Day
Taco Bell: $1 sodas, Freezes, and Sparklers (regularly up to $1.99), as well as $1 "Griller" snacks during "Happier Hours" from 2 p.m. to 5 p.m. daily
Wendy's: Pay $1 for a Frosty Key Tag (a key ring that looks like a tiny Wendy's ice cream shake), in support of the Dave Thomas Foundation for Adoption, and you're entitled to free Jr. Frosties with any purchase through the end of August
In many cases, it's pretty obvious that the participating quick-serve restaurants and convenience stores earn little or no profits on these promotions. So why do they spend so much time and effort marketing them? The explanation is that these items are essentially no different than the "loss leaders" at grocery stores: They're intended to serve as magnets for customers, with the hope that these people buy lots of other stuff while they're "saving money" on the goods that are on sale.
A special like a $1 drink comes with the added bonus that it can get the customer into the habit of returning again and again, where they'll be tempted to buy things other than the $1 drink again and again. This is a habit that fast food chains and convenience stores would love customers to pick up through the summer and beyond.
We can regularly see the same strategy in action with Costco's $1.50 hot dog and soda deal, $1 coffee anytime at the Wawa convenience store chain, and, for that matter, the entire dollar (or rather "value") menu concept in fast food franchises. Among McDonald's "Dollar Menu and More" options is the 32-oz. sweet tea for just $1. Advertising for this item always seems to get a bump in the summer, when consumers are understandably more likely to be tempted to swing by for a large cheap iced tea.
Or iced coffee, slushy, frosty, freezer, sparkler, or what have you.