4 Best Credit Cards for College Students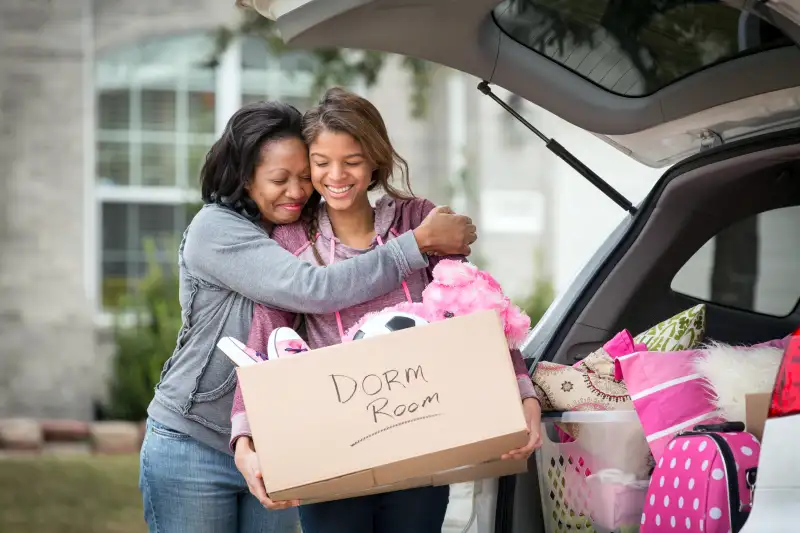 You've no doubt heard harrowing stories of college students applying for their first credit cards, then racking up thousands of dollars in debt. It's the stuff of parents' worst nightmares.
The CARD Act of 2009 lessened the potential trouble students could get themselves into. The law mandated that, in order to qualify for a card, applicants must be over 21, get an adult to co-sign or prove they earn enough money to make payments.
But it's left many parents of underclassmen with a tricky decision. Do you sign on the dotted line for your kid—thus putting your own credit score on the hook if your kid doesn't pay the bill?
Shielding Junior from having his own credit card may seem sensible, but it's penny-wise and pound-foolish. Length of credit history accounts for 15% of one's FICO score. So by protecting your son or daughter from plastic, you are inadvertently hurting his or her creditworthiness. You also miss out on the opportunity to handhold him or her through an important financial lesson.
Of course, striking a proper balance between the value of credit and the dangers of its excess is paramount. Revolving debt hurts a credit score, too, and can be very costly to a kid living on a ramen budget—with APRs averaging 15% and as high as 23%.
Three options for you to consider, depending upon how much risk you think your newly emancipated child can handle:
The Training Wheels: A secured card or a low-rate, low-limit unsecured card.
If you are worried that terms like "credit limit" and "due date" will be lost on your child, you might want to sign him up for a secured card, which uses cash as the credit limit collateral.
The benefit is that Junior won't be able to spend beyond the cap, so it's a good way to give him practice using a card of his own without doing a lot of damage to your finances or your credit score. The downsides: You'll have to front the cash. And unless you set a large credit limit, he may use a high percentage of his available credit, which is bad for his credit score (ideally he should use no more than 20%).
Alternately, if you don't want to put up your cash as collateral—or your kid has enough income to qualify on his own—you might start him off with an unsecured card that has a low rate and a low credit limit. This also pens him in until he demonstrates reliability.
Once he proves himself able to handle either of these cards, have him shift to one of the advanced cards in the next category.
The picks: Money's Best Credit Cards winners Digital Credit Union Visa Platinum Secured or Northwest Federal Credit Union FirstCard Visa Platinum.
The APR on Digital Credit Union's Visa starts at a low 11.5%. To apply for this secured card, you do have to be a member of the credit union, but that be accomplished with a $10 donation to Reach Out for Schools.
The FirstCard's rate is even lower—a fixed 10% APR (most cards today are variable rate). This card, which has no annual fee, is designed for people who don't have a credit history: It requires applicants to take a 10 question quiz on credit knowledge and has a credit limit of just $1,000.
The 10 Speed: A rewards card
Cards that offer rewards typically have higher APRs than those that don't. So if you child revolves debt on one of these cards, he'll likely erase the perks earned.
Thus, rewards cards are best reserved for those students who've already proven themselves capable of paying off a secured or low-limit card in full and on time for a year or so. These are also good choices for those students who are over 21.
The picks: Capital One Journey Student Rewards Card and Discover It for Students.
The no-fee Journey gets your kid 1% cash back on everything, but the reward is bumped up by 25% every month he pays his bill on time. "This is a good card for incentivizing students to have the right behavior," says NerdWallet.com's Kevin Yuann. There's no foreign transaction fee (a plus for those studying abroad), but a late payment fee of up to $35 and a steep 19.8% APR should scare away parents who aren't sure about their child's bill-paying vigilance.
The It, which also has no annual fee and no foreign transaction costs, gets your kid 2% cash back on the first $1,000 at gas stations and restaurants each quarter, and 1% for everything else. Because of the extra rewards for gas, the It is a good card for commuters, says Yuann. Cardholders also receive a free FICO score, derived from TransUnion data, on monthly statements.
While there is no fee on the first late payment, your child will pay up to $35 after that; and after a six-month no-interest window, the APR ranges from 13% to 22%.
Whichever card you end up co-signing for your child, definitely make sure you ask to get account access—and sign up for balance alerts so that you know when you need to swoop in for a teaching moment.
RELATED:
Best Credit Cards of 2013
Money 101: How Do I Pick a Credit Card?