Pot Shops Are Celebrating 4/20 with Tons of Deals & Giveaways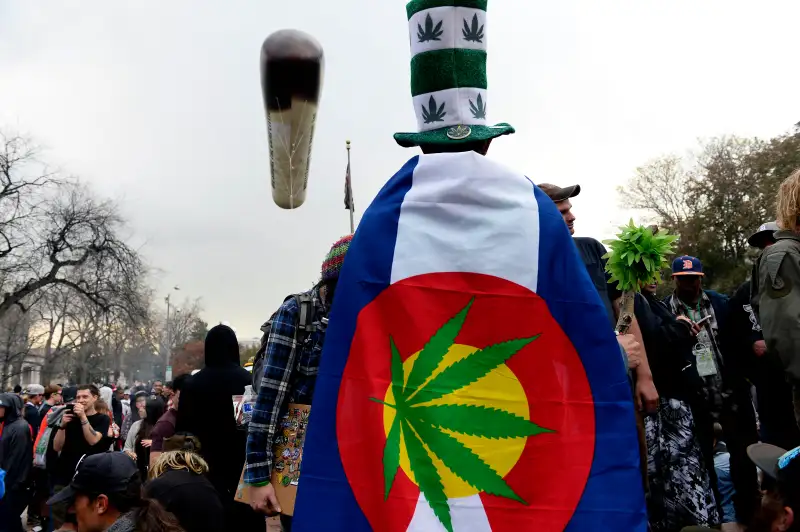 Helen H. Richardson—Denver Post via Getty Images
With April 20th upon us, pot smokers across the United States will be lighting up today to mark the unofficial marijuana holiday that is rapidly going mainstream. Plenty of retailers in pot-friendly states are promoting deals as well, making it inevitable that this year's 4/20 weed sales will smoke those from years past.
Pot shops in states where recreational marijuana consumption has been legalized at the state level are going all out to commemorate the day. Uncle Ike's in Seattle, Washington, for example, is throwing "Uncle Ike's Epic 420 Extravaganza," offering joints for as little as $3 at an event with live entertainment, raffle prizes, and, of course, food trucks. Cannabis City—which bills itself as Seattle's first cannabis shop—is also offering a deep discounts ($75 ounces).
In San Francisco—where smoking weed just for fun isn't quite legal, but, well, it's San Francisco … the vaporizer company PAX is throwing a free pizza party starting at 4:20 p.m. The company is also giving away 420 free pizzas at other locations around the U.S.: the Civic Center in Denver, Washington Square Park in NYC, South Beach on 5th in Miami and 4th and Congress in Austin. As SFGate.com reported, other 420 deals abound, at dispensaries in San Jose, Los Angeles, and Colorado.
There are a ton of special 420 offerings online, like those listed on this helpful Reddit thread of vaporizer sales.
Naturally, along with savings offerings on pot and paraphernalia, 420 comes with food deals too. For those toking right in the nation's capital, Room 11 offers an entire pop-up menu of munchies like Taco Chacos and Bizones (biscuit calzones) perfect for pot-pairing. Here's a roundup of last year's 420-inspired munchie deals around the District from last year, to give you an idea of what to expect today.
Read next: Here's the Insane Amount of Weed We'll Buy on 4/20
Elsewhere around the country food sellers are stepping up to meet the demand of hungry stoners too. In Denver, one of America's pot-smoking capitals (no relation to yours truly), eateries on this handy list are offering deals like $4.20 for a sandwich, chips, and drink, and dinner specials featuring cannabidiol-infused craft beers.