It's Free Slurpee Day at 7-Eleven Today! Here's Everything You Need to Know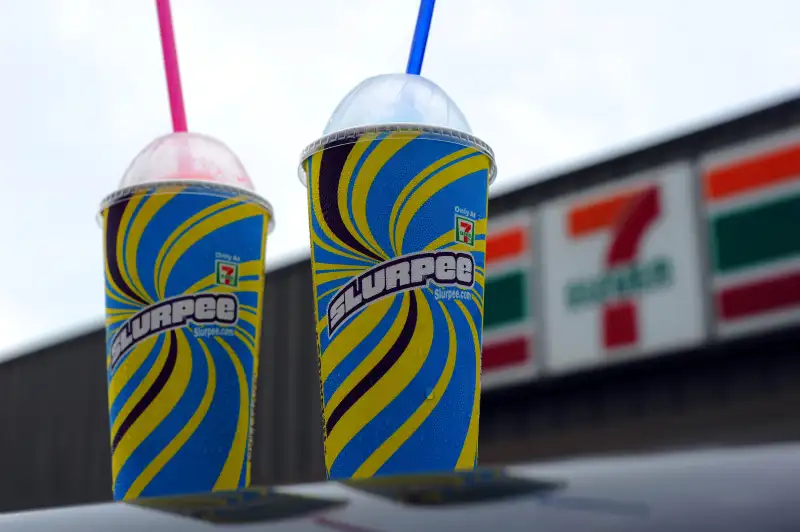 TIM SLOAN—AFP/Getty Images
Every year on July 11 — a.k.a. 7/11 Day — 7-Eleven gives away free Slurpees to all customers.
In 2019, 7-Eleven Day falls on a Thursday — that's TODAY! — so here's your chance to snag a totally free Slurpee at 7-Eleven stores nationwide.
To get a free Slurpee at 7-Eleven today, all you have to do is head to a nearby 7-Eleven location between 11 a.m. and 7 p.m. and ask for one. The free Slurpee deal today is available in one specific size — small — and there is no purchase required whatsoever.
If you want even more free Slurpees this summer, sign up for the 7-Eleven 7Rewards program and get the 7-Eleven app scanned at a store on Thursday while picking up your free Slurpee. Your 7Rewards account will then have a coupon good for another free Slurpee — in any size you want — redeemable for 30 days starting on Friday, July 12.
7-Eleven Slurpee flavors can vary by location, but most have options like wild cherry, Coca-Cola, pina colada, and blue raspberry. This year, the new featured flavor is blueberry lemonade.
7-Eleven expects to give out upwards of nine million free Slurpees on 7-Eleven Day every year. The deal is available at 7-Eleven stores in the U.S. and Canada.