4 Surprising Things Apple CEO Tim Cook Said in That Big Washington Post Interview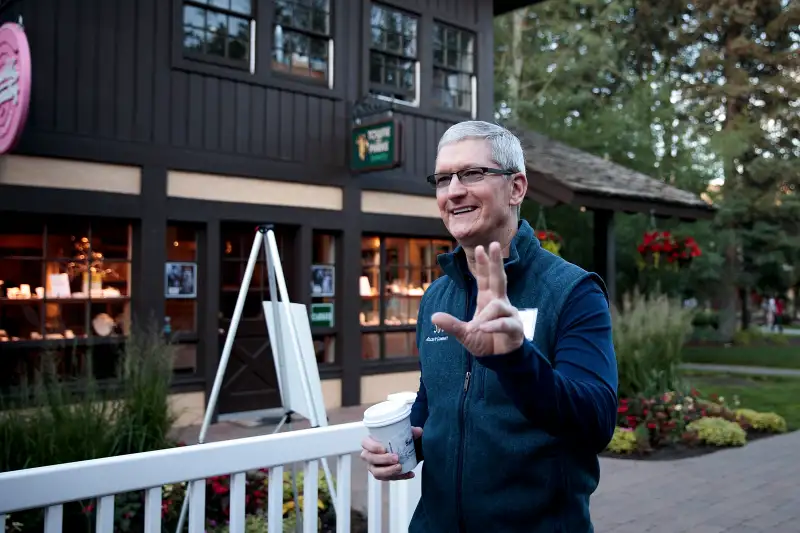 Drew Angerer—Getty Images
Over the weekend, the Washington Post published a huge 10,000+ word Q&A with Apple CEO Tim Cook. During the wide-ranging talk, Cook covered plenty of ground that will be familiar if you keep tabs on this sort of thing. He discussed the importance of publicly coming out as gay (which he's done many times before) and delved into Apple's standoff with the FBI over privacy matters (the subject of a TIME cover story and Q&A earlier this year).
Cook also provided a fair amount of predictable, rah-rah boosterism for his brand. He downplayed declining sales in China and the company's largely poor performance in the stock market for 2016, and contended that without a doubt Apple is a long-term growth company that isn't anywhere near its peak. Unsurprisingly, Cook refused to comment on specific future developments and products that haven't already been discussed publicly during the interview.
On other hand, Cook did said a few things that are somewhat surprising, and certainly interesting for people who follow Apple mostly from the consumer perspective. Here are five noteworthy tidbits Cook offered up during the interview:
One day everyone on earth will have a smartphone. Right now, there are about 1.4 billion smartphones in the world. Cook thinks that sometime down the line, the market will expand five-fold (or more), so that there's one smartphone for each human being on the planet.
Read Next: The Best Way to Come Out to Coworkers and Bosses
"Over time, I'm convinced every person in the world will have a smartphone," Cook said. "That may take a while, and they won't all have iPhones. But it is the greatest market on earth from a consumer electronics point of view."
Siri will soon be able to order you an Uber. Apple has opened up Siri to third-party app developers, and the result, which should become reality as soon as this fall, is that "whatever kind of ride-sharing app you might use, Uber or Lyft in the United States, you could just — using your voice — order the car."
Siri will know where you parked too. No time frame was offered on this one. But Cook promised that Apple's voice-activated assistant will become so smart it'll automatically remember where you parked the car—so you'll never have to wander cluelessly hunting around the parking lot again.
He didn't acknowledge Apple Watch's struggles. During the interview, Cook admitted several mistakes he's made as CEO, including one notable bad hire and a misguided decision to replace Google as the default map app on iPhones. Yet Cook didn't hint that anything was awry with the Apple Watch, despite the lukewarm consumer response to the device that some have described as irrelevant and a flop.
Read Next: The Big Risk of Donald Trump's Fight With Apple
The worst the Washington Post intro would say about the Apple Watch—the "first all-new device during [Cook's] tenure"—is that it's "not yet a mega hit." Cook would only say that the Apple Watch has enable the company to get "into wellness and in health," and that, "We keep pulling that string to see where that takes us."