The Average Car Payment Just Hit a New Record High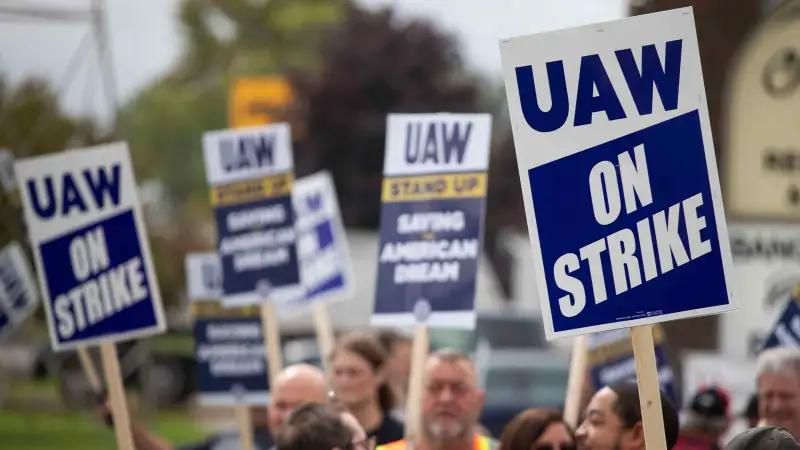 Car payments now average well over $700 per month for new vehicles — a new record high — and experts say Americans could be looking at even steeper costs in the future.
The Federal Reserve refrained from raising interest rates in September, but car shoppers are continuing to deal with the consequences of the 11 rate hikes enacted since March 2022. Aimed at slowing inflation, the central bank's rate increases have also caused auto loan interest rates to skyrocket, impairing vehicle affordability.
The average auto loan interest rate for new vehicles was 7.4% in the third quarter (July through September). That's the highest level since 2007 and up from an average of 5.7% a year ago.
As a result, the average new car payment in the third quarter was $736 per month, which is $33 higher than the level a year ago when the average was $703, according to an Edmunds report released Tuesday.
Jessica Caldwell, head of insights at Edmunds, noted that benchmark interest rates are expected to remain high (and could even rise) before the end of the year. But interest rates are not the only reason to think car payments will continue to be extremely high in the months ahead.
"Spiked interest rates remain the biggest impediment to affordability in both the new and used car markets today," Caldwell said in the report. "Looking ahead, the ongoing UAW [United Auto Workers] strike could wipe out any inroads made on inventory and the return of incentives, further elevating pricing, at least among Detroit automakers."
That's because if the UAW strike ends up lasting for many weeks and creating an inventory crunch, dealers and manufacturers may try to increase the prices on their dwindling supply of vehicles. For car shoppers, that means it could become harder to find discounts or financing incentives on American vehicles.
Why cars are so expensive right now
The inventory of new vehicles has improved in the past year, which generally means buyers have more leverage to negotiate prices at the dealership. But when it comes to monthly payments, higher financing costs have hurt vehicle affordability even more.
The Fed hoped its interest rate hikes would cause car prices to come down; however, that effect has only really materialized in the used vehicle market. The average price of a new car was $48,451 in August, which is basically flat compared to a year ago, according to Kelley Blue Book.
While car prices are unchanged, you could have to pay thousands more in interest if you take out a new car loan now compared to a year ago.
The fact that interest rates will likely remain high into 2024 and mounting concerns about the auto workers strike are bad signs for consumers who intend to finance a new car purchase. On the other hand, if vehicle supply continues to improve, discounts and incentives could come back.
What about used car prices?
Average used car payments have increased by just $2 in the past year, rising from $565 to $567, according to Edmunds.
Used car prices are down about 6% in the past year, according to Cox Automotive data, partially because high financing costs have reduced demand. Average used auto loan rates increased to 11.2% in the third quarter, up from 9% a year ago, according to Edmunds. The average car payment for a used vehicle is slightly higher than it was a year ago thanks to this increase in loan rates.
There are also ongoing inventory problems in the used vehicle market. Due to pandemic-era supply shortages, fewer new cars were produced and sold from 2020 to 2022. That means there's very limited supply of 1- to 3-year-old used cars — 28% less than in 2019, according to a study from iSeeCars.com. If you want to buy one of these lightly used vehicles, expect to pay up.
The average price of a 3-year-old vehicle is $32,493, which is an increase from $23,048 in 2029, according to the study.
More from Money:
What Actually Happens if You Don't Buy Car Insurance?