9 Reasons It's Hard to Be a Baseball Fan Today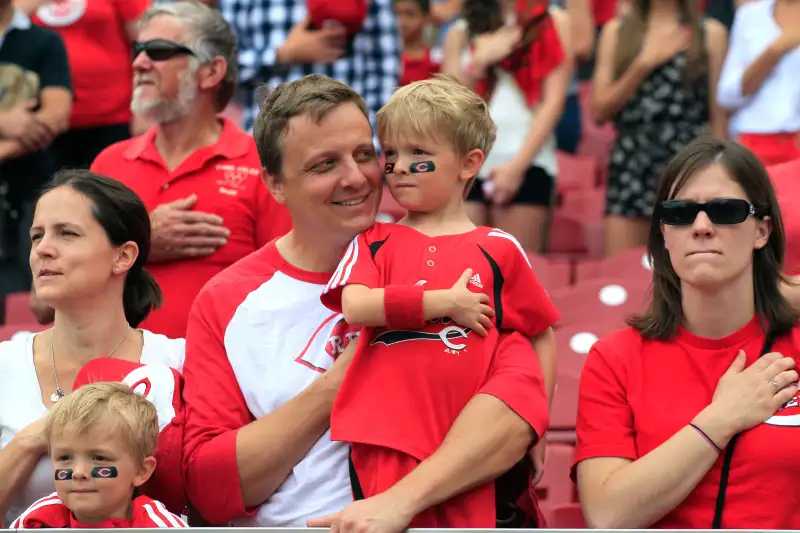 The 2014 Major League Baseball regular season boasted the seventh best attendance of all time, and revenues reached a record $9 billion. So baseball's doing pretty great. Except that it's not.
The consensus has it that the future success of the game—and pro baseball as a product—is in dire jeopardy because young people aren't interested in playing, or even watching, the game. But kids aren't the only ones who find it hard to be fans lately. Here are nine reasons why interest in baseball is fading—one reason for each inning.
It costs a bundle to go to a game. According to the Team Marketing Report 2015 Fan Cost Index, the average cost to bring a family of four to a Major League Baseball game is $211.53, a 2.5% increase over last year. Tickets account for less than half of that amount—the average "non-premium" seat is about $29—because the index also includes expenses such as parking, one hot dog and soft drink apiece, two of the cheapest beers at the stadium, and two souvenir caps. To get good seats for the game, you'll spend a lot more: League-wide, the average premium ticket runs $97, while the average premium seat at Yankee Stadium is a whopping $305. For one ticket!
They charge extra to watch batting practice … in spring training. Fans have come to expect to pay a premium for anything sold in or around the ballpark. A beer at the stadium priced at $6 or $7 seems "cheap," and the $4 beers at Cleveland Indians and Arizona Diamondbacks games are downright bargains. What's truly amazing is the endless variety of creative upsells and add-ons that baseball marketers come up with to get more money out of fans. For instance, the Atlanta Braves offer a Batting Practice Experience, allowing fans to watch BP in a gated area behind home plate for a little over an hour. It costs $55 to $90 depending on the day of the week and which team the Braves are hosting (Yankees cost the most, Marlins the least). All fans must buy a regular admissions ticket as well, which isn't included in the "Experience" price.
Traditionally, fans who head out to the ballpark a couple of hours before the first pitch are rewarded by being able to watch batting practice free of charge, and this is still a free perk at many stadiums. But this little extra increasingly costs extra, even at spring training facilities. At Florida's Rogers Dean Stadium, where the Marlins and Cardinals play their pre-season, fans had to pay an extra $5 if they wanted to watch batting practice. And it cost an extra $25 if you wanted to watch batting practice down on the field.
It's expensive to watch on TV too. There are more and more ways to drop cable and still watch nearly all the TV programming you want. But the TV rights of local sports teams are generally held by sports networks that are only available with a pay TV package—meaning it's virtually impossible to cut the cord if you want to watch your local ball team on a regular basis. Basic cable packages average $67 per month and can go much higher, and sometimes the networks broadcasting local pro sports cost extra.
Sometimes local fans can't watch at all. A contract dispute that began last year meant that millions of Los Angeles-area Dodgers fans could not watch their team on TV for the entire season. The issue still hasn't been resolved as the current season begins. It's been estimated that at the start of the 2015 season, 70% of Angelenos can't tune in to Dodgers games regularly because providers like Verizon, DirecTV, and Charter Communications refuse to pay the costs demanded by Time Warner Cable, which has local distribution rights for broadcasts via the SportsNet LA channel.
Games take forever. In 2014, the average Major League Baseball game lasted 3:08. That's more than a half-hour longer than the average in the mid-'70s through the mid-'80s. The games have gotten so long—thanks to pitcher and batter behavior, endless pitching changes, and TV advertising, among other factors—that baseball has instituted a few rule changes this season to speed up and (hopefully) add excitement to the games. The baseball regular season and playoffs stretch out far longer than any other pro sport as well, resulting in the widespread feeling that any individual regular season game is fairly meaningless.
Not enough scoring. As the New York Times detailed last week, scoring in baseball has taken a dramatic dip: Teams scored 5,000 fewer runs and hit 1,000 fewer home runs last year compared to 2000, and pitchers tossed 6,000 more strikeouts than in 2000. Simply put, critics say there's just not enough action to keep casual fans interested. The lack of buzz to the game translated to dismal World Series TV ratings last year, including record low viewing for Game One.
It was worse when there was lots of scoring. One word explains why scoring in baseball was so much higher in the late '90s and '00s: steroids.
The fan base is overwhelmingly male, white, and old. A demographic profile of sports fans shows that Major League Baseball fans are 70% male, 83% white, and 50% ages 55 and over. It's not exactly the hip, young, and diverse crowd many marketers dream about. And it's hardly the environment that tends to attract millennials.
Baseball has no LeBron James. As Ben McGrath of the New Yorker noted in an essay late last summer, very few Americans would recognize Mike Trout if he was walking down the street or sat down at the next stool in a bar, despite the fact that the Los Angeles Angels' outfielder is "widely considered the best in the world" and "a once-in-a-generation talent."
Why isn't this phenom already an icon, or at least famous enough so that he'd be recognized on the street? It probably has something to do with the culture of baseball itself, and how that culture is quieter and less brash than that of other sports. "Baseball has a very conservative culture where you don't draw attention to yourself. You play every day, so you have to get along. Baseball's culture is less celebratory, and that's a problem for a lot of kids today," John McCarthy, who runs Home Run Baseball Camp in upper Northwest Washington, explained recently to the Washington Post. "Baseball has no LeBron James, who doesn't take [guff] from anybody."