Bernie Sanders' Fundraising Is Crushing All the Other Democratic Presidential Candidates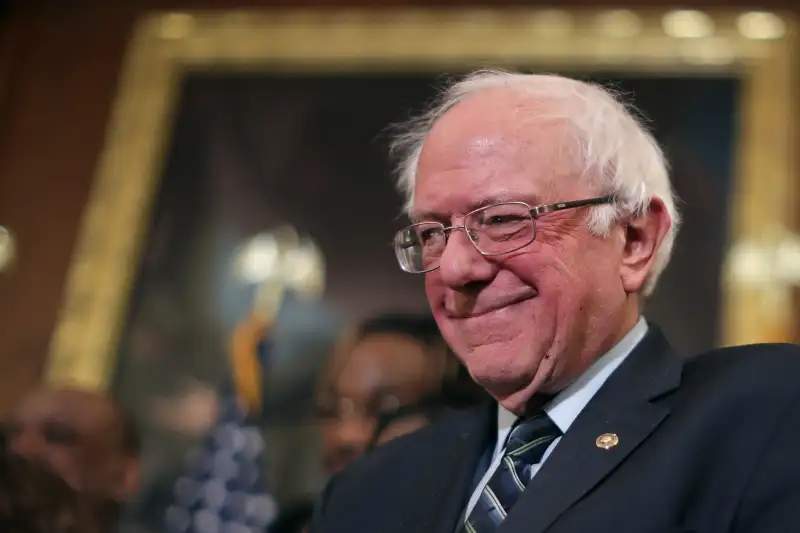 Chip Somodevilla—Getty Images
Bernie Sanders' fundraising is blowing the rest of the 2020 Democratic presidential candidate field away.
Granted, it's super early — the 2020 presidential election is more than a year and a half away, and several candidates have been in the running for less than one month — but Bernie Sanders, the independent "Democratic socialist" Senator from Vermont, has a huge lead on the competition.
Less than one week after Sanders officially announced his 2020 candidacy, his campaign has raised $10 million, according to his campaign. Perhaps even more impressive, the New York Times reported on Monday, Bernie Sanders' fundraising total comes from roughly 360,000 different donors — suggesting true grassroots support, with an average contribution of less than $30 from each person.
Presidential campaigns release fundraising figures at different times, and the information can be selectively announced in order to make a candidate look more compelling — or more urgently in need of donations from supporters. So until all of the 2020 campaigns report their fundraising totals at the end of the first quarter as required by the Federal Election Commission (FEC), it's difficult to compare fundraising totals in an absolute apples-to-apples manner, in real time.
We've reached out to all the campaigns listed below for updates on their fundraising totals. Here's what we know about some of the 2020 Democratic candidate fundraising efforts so far, to give an idea of how far behind they are compared to the $10 million raised by Bernie Sanders' campaign:
The 2020 campaign for Elizabeth Warren, U.S. Senator from Massachusetts, has not released any fundraising totals to the public. According to CNN, however, there are indications that Warren's campaign took in roughly $300,000 in online donations during the first 24 hours after she announced her candidacy on New Year's Eve. Warren also has $11 million in cash raised from previous election cycles that she has not spent, according to OpenSecrets.org, and that money can be transferred to her presidential campaign.
All of the major Democratic candidates officially in the 2020 race, including Warren, have said that they will not be accepting money from corporate PACs (political action committees). This week, Elizabeth Warren took things a step further by telling supporters in an email that she would be skipping private fundraisers and phone calls seeking money from wealthy donors. Instead, she will focus on campaign events open to the general public and utilize grassroots fundraising from anyone willing to give.
Kamala Harris, the junior U.S. Senator from California, raised $1.5 million from 38,000 individuals within the first 24 hours of announcing her 2020 campaign in January. Her campaign has not released any other fundraising totals since then.
Minnesota Senator Amy Klobuchar's campaign said it raised $1 million in the 48 hours after she announced her run for the 2020 Democratic presidential nomination on February 10.
The U.S. Senator from New Jersey has raised roughly $26 million between 2013 to 2018, according to OpenSecrets.org. But Cory Booker's 2020 presidential campaign has not released any specific fundraising totals since his candidacy was officially launched on Feb. 1.
New York Senator Kirsten Gillibrand has not released any fundraising totals since she entered the 2020 race as of mid-January. Gillibrand did, however, say that her campaign had received donations from all 50 states within a day of throwing her hat into the ring.
Andrew Yang, the entrepreneur and extreme-long shot presidential candidate running on a promise to pay every American adult a universal basic income of $1,000 per month, raised $180,000 in 2018 for his 2020 campaign, according to the FEC. Yang also recently Tweeted that his campaign raised $400,000 over the past two weeks, with donations coming from 20,000 individuals.
How important is fundraising for the 2020 Democratic presidential candidates? It's been estimated that a candidate will need $150 million or more in order to remain viable in the race through Super Tuesday on March 3, 2020.
Fundraising will become an even bigger issue if and when more than one billionaire enters the 2020 presidential campaign. People associated with Michael Bloomberg, the former mayor of New York City who has a net worth of $58 billion, say he could very well spend $500 million of his own money if he winds up running for president.
Then there's our billionaire president. Donald Trump's disclosures from the 2016 election season indicated that he used $66 million of his own money for his campaign against Hillary Clinton. It's not clear how much of President Donald Trump's own money (if any) he might spend on a reelection run in 2020.
What we do know is that Donald Trump has never really stopped fundraising, even after he won the 2016 election and took over as president. Between January 1, 2017, and December 31, 2018, according to FEC reports, Trump's presidential campaign took in nearly $28 million in contributions and received $35 million in transfers from other committees, for a total over $65 million.