Best Buy Has an Out-of-This-World 'Star Wars' Deal Right Now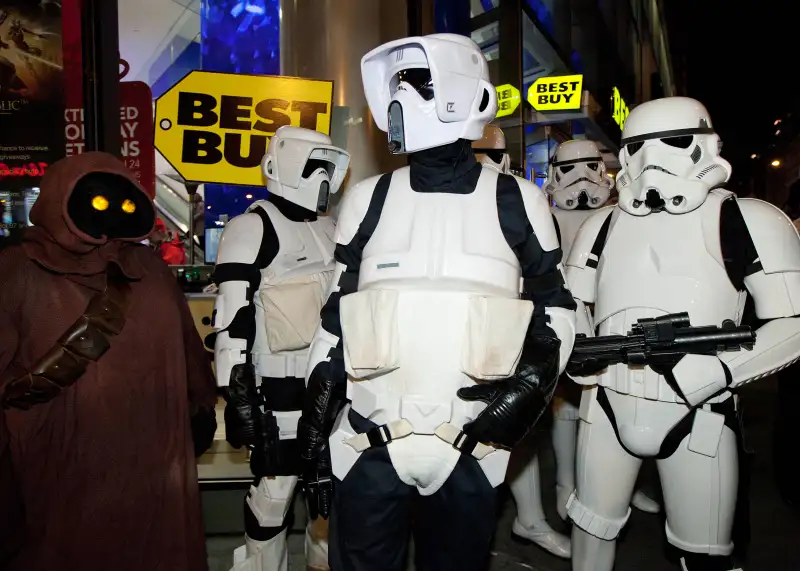 Dario Cantatore—Getty Images
Best Buy rolled out a very special deal on Tuesday that could be the perfect gift for the Star Wars lover in your life: A collection of the original six films on Blu-ray is selling at a price far, far away from what movie fans normally would have to pay.
Star Wars: The Complete Saga on Blu-ray is available from Best Buy on Tuesday for only $49.99. The original price is $109.99, for a savings of $60.
What are other retailers charging for Blu-ray versions of this six-film collection? We checked around to make sure Best Buy had the lowest price, and indeed it does by a long shot. Star Wars: The Complete Saga Blu-ray was listed at $112.97 at Amazon, $85 at Walmart.com, and $89.99 at Target as of Tuesday morning.
All of these collections come with Blu-ray versions of the same six films: Star Wars (a.k.a. Star Wars: Episode IV - A New Hope), The Empire Strikes Back, Return of the Jedi, Star Wars: Episode I - The Phantom Menace, Star Wars: Episode II - Attack of the Clones, and Star Wars: Episode III - Revenge of the Sith.
Tuesday's Star Wars deal from Best Buy is part of the retailer's ongoing "20 Days of Doorbusters" sale-a-thon, with a new handful of special deals popping up each day before Christmas. Best Buy's Tuesday doorbusters also feature an HP 15.6-Inch TouchScreen Laptop for $399.99 (normally $529.99) and 50% off some small kitchen appliances.
On Monday, Best Buy's main doorbuster was an amazing deal on Sony noise-canceling headphones: The wireless model normally sells at a list price of $249.99, but was available for $114.99. And the same Sony headphones were being sold by Amazon only $113.
Out of curiosity, we looked to see what Best Buy and Amazon were charging for these headphones one day after the deal ended. As of Tuesday morning, Best Buy's price was $179.99, which was still $70 off the regular retail price. But Amazon's price was only $114.99 for the headphones in black, and $148 if you prefer green.
We've included affiliate links into this article. Click here to learn what those are.