This is the Best Online Bank in America. Here's Why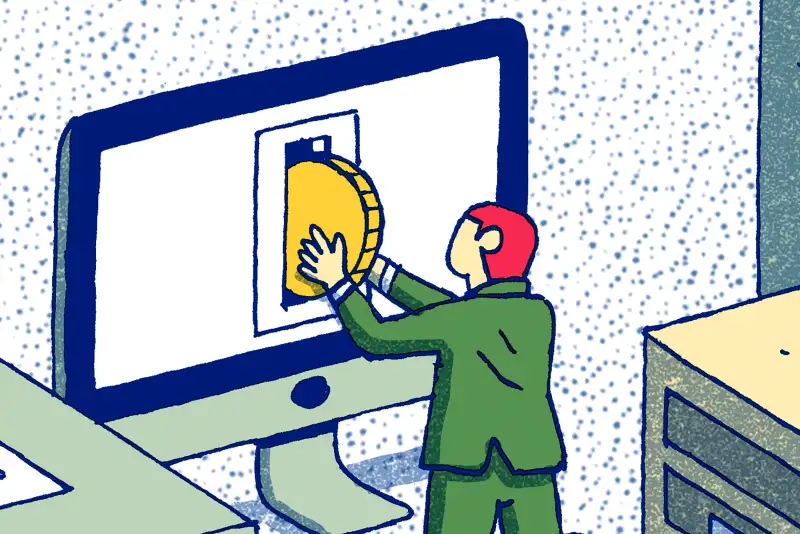 Illustration by Wren McDonald
Can't remember the last time you visited a bank branch? It may be time to move your money elsewhere.
If you can forgo physical branches and embrace features such as mobile check deposit and online bill pay, you can avoid nearly all common banking fees. You'll also snag an interest rate that puts the payouts from the country's biggest banks to shame, according to data from FindABetterBank.com.
Although acceptance of online banking has grown widely in the past few years--the American Bankers Association says 72% of Americans today do most of their banking via online or mobile platforms--there are only a handful of serious players that allow you to take your checking and savings accounts entirely online. Yet even with a limited pool of online banks, competition to win the top spot was fierce. As with all our Best Banks winners, Money focused on the banks offering free accounts and ATMs. But since all your banking would be digital, in this category we weighed customer satisfaction with online and mobile banking features heavily.
Winner: Ally Bank
Why it wins: Ally's checking account is geared for convenience, with free ATMs, $10 in ATM surcharge refunds, and zero requirements to earn 0.1% interest. Plus, it has an outstanding savings account, boasting an industry-high rate of 1.9%. Ally also stood out for mobile app ratings higher than those of its competitors and around-the-clock customer service.
Caveat: One of the best checking accounts is offered by Axos Bank (formerly Bank of the Internet USA), a two-time winner in this category. But that account requires jumping through some hoops for the perks: You need a $1,000 direct deposit and 15 debit card purchases a month to qualify for the 1.25% interest rate.
Key Ally Accounts
Interest Checking
Monthly service fee: $0
Outside ATM fee: $0, with $10 per month to refund charges by ATM owners.
Interest: 0.1% on all balances
Online Savings
Monthly service fee: $0
Interest: 1.9%
---
Money partnered with FindABetterBank.com to produce this year's Best Banks rankings. FindABetterBank.com provided account terms for more than 175 financial institutions, and our team reviewed account minimums and qualifications, ATM fees, overdraft fees, and interest rates. When selecting finalists, priority was given to checking and savings accounts with no or easily waived monthly fees, free ATMSs, and higher interest rates. We also used mobile app ratings from the Google Play and iTunes stores. Money's edit team independently fact-checked information in August and September.