20 Amazing Hotels in the 20 Best Places to Travel to Right Now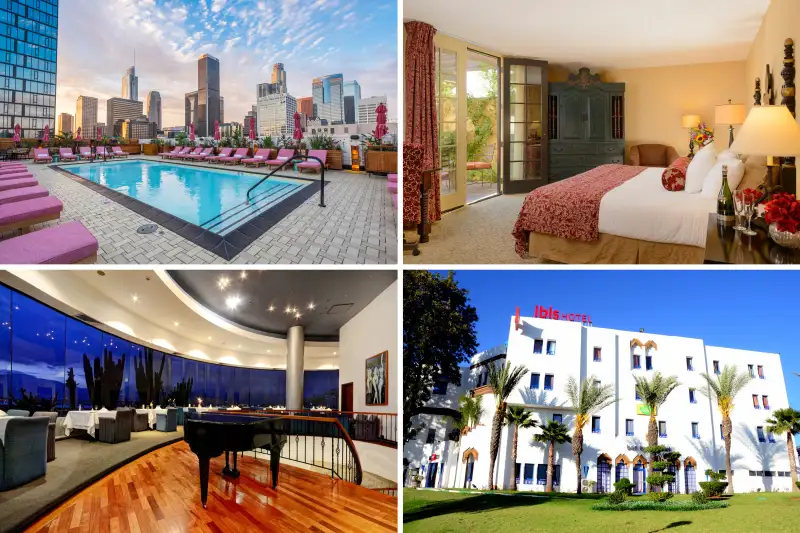 (clockwise from top left) Courtesy of Freehand LA; Hotel Encanto de las Cruces; Ibis Meknes; Hotel Dann Carlton
Money's fourth annual Best in Travel guide highlights 20 destinations in the U.S. and around the world that are mindful of both your wanderlust and your wallet. To create our list, we employed a rigorous methodology featuring more than 43,000 data points collected from dozens of sources, including our main partner, Kayak.com.
We turned that same careful eye to the hotels in each winning destination. To determine our list of where to stay, we began by narrowing down the hotels in each location to ones with an average Kayak user rating of 7 or higher. To ensure our picks were affordable, we also excluded any hotels where the average nightly price exceeded the destination's overall average hotel fare by more than 25%.
Finally, we chose the most popular of the hotels that remained, based on Kayak's users interest. Here are the 20 top-rated hotels in our 20 best places to go in 2019.
U.S. Destinations
Jekyll Island, Georgia
Peacock Photo and Video—Jekyll Island Club Resort
Built in 1886 as a private winter retreat for some of America's richest families (think: Rockefellers and Vanderbilts), the Jekyll Island Club Resort will run you about $269 a night and sits in the state-owned 240-acre historic district. The resort is a main attraction for anyone who visits the island — and a great place to stay: It got an 8.9 from Kayak, with an "excellent" rating, based on 367 reviews.
Ponce Inlet, Florida
Michael Butler Jr.—The Shores
Since Ponce Inlet doesn't have many hotels within the area, you'll have to venture seven short miles north to reach The Shores Resort & Spa, one of Daytona Beach's most relaxing stays. The hotel sits directly on the beach, where you can book a private cabana, or sign up for excursions like fishing or surf lessons. Head indoors to immerse yourself in milk and honey body wraps or warm bamboo massages at the resort's Indulge Spa.
Las Cruces, New Mexico
Scott Weaver—Hotel Encanto de las Cruces
After exploring New Mexico's arid, scrub-dotted landscape, Hotel Encanto De Las Cruces is a welcome oasis. The hotel's earthy color palette, arched doorways, and tiled floors are quintessentially southwestern, while a lounge and outdoor pool offer visitors a place to wind down after a long day in the desert.
Stowe, Vermont
Guillaume Gaudet—Spruce Peak
Dust off your skis and snowboards before you head to The Lodge at Spruce Peak, New England's only luxury ski-in/ski-out hotel. The Lodge offers basic one-bedroom hotel rooms or slightly bigger suites, as well as entire penthouses and cabins that come with kitchenettes, hot tubs, and floor-to-ceiling windows. During warmer months, the hotel scores you exclusive access to golf at The Mountain Course, where you'll swing your clubs 1,800 feet above ground.
San Antonio, Texas
Courtesy of Omni La Mansion del Rio
Today, the Omni La Mansion del Rio's historic facade is part of modern San Antonio's magic, but the hotel is more than just a pretty face: Built as a school in 1853 and converted into a lodge in 1966, the luxe hotel offers a courtyard pool, five different restaurants and bars, and a highly-rated on-site spa. A stay along one of San Antonio's most picturesque attractions runs $220.
Sag Harbor, New York
Eugene Gologursky—Getty Images/Hamptons Magazine
Walk the same halls that John Steinbeck, Paul Newman, Jackson Pollock, and Truman Capote once did at the waterfront hotel Baron's Cove. While the 1960s era hotel still has a "Dirty Dancing-feel," according to Travel + Leisure, Baron's Cove completed a top-to-bottom renovation just four years ago. Since then, guests can enjoy more modern amenities like a saltwater pool and access to its award-winning eatery The Restaurant.
Los Angeles, California
Wonho Frank Lee—Freehand LA
As one of the only premium hotels that offer hostel-type shared rooms, Freehand stands apart from the ritzy hotels sprawled around Los Angeles and Beverly Hills. For as low as $59, you can stay in a shared space with other travelers while still enjoying the hotel's amenities like room service and complimentary in-room WiFi. The hotel boasts a lively social scene at the rooftop pool and communal lobby with salon-style cocktail service.
Cincinnati, Ohio
Mark Bealer—Hotel Cincinnati Netherland Plaza
Hilton Cincinnati Netherland Plaza is located in the Center Business District, right between the Ohio River and the Over-the-Rhine district, making it well worth the $187 median price per night. It's a destination you'd want to visit anyway, considering its rich history and architectural beauty, all covered in a hotel-hosted tour. It's earned national accolades, including placement on the National Historic Register, National Landmark status, Preservation Honor, and charter membership of the Historic Hotels of America.
St. George, Utah
Courtesy of Best Western Coral Hills
A block away from Ancestor Square, the Best Western Coral Hills is in the heart of the historic downtown area, and at $98 a night, it's well within an affordable price range. It's a great option for St. George visitors who are there to hike the neighboring national parks, because it offers the perfect environment to come home to after a long day outdoors: walking distance to local restaurants and conveniently located right off of the highway.
Mystic, Connecticut
Dominic Miguel Costa—Hilton Mystic
Decked out in nautical decor honoring the village's seafaring history, the ambiance at the Hilton Mystic is less cookie cutter and more boutique — except when it comes to the bill. An average night at the recently-renovated hotel costs just $145. The Hilton Mystic offers lodgers locally-sourced seafood at its restaurant and a trendy, fire-lit courtyard for relaxing after a long day at the village's famous aquarium, which is just a five-minute walk from the hotel's front door.
International Destinations
Meknes, Morocco
At Ibis Meknes Hotel, you'll be walking distance from the city's most popular attractions, like the Mausoleum of Moulay Ismail and the historic Bab Mansour gate. Eat a traditional Moroccan breakfast at the hotel's all-you-can-eat buffet, or lounge by the private swimming pool after exploring the city.
Cozumel, Mexico
Courtesy of Fiesta Americana Cozumel
The Fiesta Americana Cozumel, not to be confused with sister property The Explorean Cozumel, is an all-inclusive 4-star hotel on the western coast of the island that runs $247 a night. To get the most value out of your stay, eat at The Peninsula and Rosato — the hotel's most popular restaurants — and book on the third floor or higher for ocean views.
Havana, Cuba
Removed from the busy streets of Old Havana by a 20-minute drive, the Meliá Habana is a vacation of its own. The hotel, situated along Cuba's northern coast, offers guests beach access, as well as two pools, complete with swim-up bars. At first glance, rooms may appear on the pricy end, but frequent deals offered by the chain can push prices down to just over $200 per night, according to its website.
Montreal, Canada
Claude-Simon Langlois—Hotel Bonaventure Montreal
Swim surrounded by snow banks in the winter at Hotel Bonaventure Montreal's heated rooftop pool. The hotel, located on the top floors of the downtown Place Bonaventure building, draws in travelers for its pools and spa treatments, as well as the retro French bistro Le Kube. Median prices per night at the hotel cost about $203, but rates drop to $159 during the winter.
Nanjing, China
A high-rise with historical significance, Jinling Hotel epitomizes Nanjing's skyscraper-meets-history persona. Once the tallest building in Nanjing (until the '80s), it's now known as a highly rated hotel for business and casual travelers alike. At $92 a night, it's extremely well-priced for its location at the intersection of two major subway lines, with a posh look and feel and plenty of amenities. Visit the Plum Garden, one of seven restaurants in the Jinling Hotel, and try the much-discussed salted duck.
Monteverde, Costa Rica
El Establo Mountain Hotel, located on a private 150-acre farm between the Monteverde Cloud Forest Reserve and the Santa Elena village, claims to offer the best views of the Nicoyan Peninsula and the Gulf of Nicoya right from your bedroom. The hotel offers guests Tree Top Canopy Tours and night walks to observe the rare wildlife in the Monteverde Cloud Forest Reserve.
Medellin, Colombia
Courtesy of Hotel Dann Carlton
Right in the heart of El Poblado — the lively Medellin neighborhood that's become a favorite nightlife spot among tourists — is Hotel Dann Carlton. The luxury feel in the most expensive part of the city will make you believe you're paying far more than the hotel's average rate of $97 a night. And the rate includes a number of amenities like free breakfast, free WiFi, and free self-parking. Plus, the rooftop terrace is a nice touch.
Crete, Greece
Courtesy of Avra Imperial Palace
Named one of Telegraph's 10 best Cretian hotels in 2017, Avra Imperial Hotel sits in the relatively secluded seaside village Kolymbari, near Chania. The hotel's architecture mimics a traditional Minoan palace, according to Telegraph, with high ceilings and columns. The hotel offers 118 shared and private pools, including two for kids and a massive glass-walled pool.
Prague, Czech Republic
Courtesy of Hotel General
Prague's Hotel General is located a half-hour walk from the city's popular Old Town area, but the Baroque-style hotel is well worth a stay. Located in the city's up-and-coming Smichov neighborhood, the hotel's common areas and guest bedrooms are opulently decorated, with plush furniture and portraits of famous leaders and military generals.
Tainan, Taiwan
Courtesy of the Far Eastern Plaza Hotel Tainan
Located in Tainan's downtown, right near the National Cheng Kung University, the 333-room Shangri-La's Far Eastern Plaza Hotel serves as an excellent base while exploring the city. The hotel, part of an international luxury hospitality chain, offers five restaurants, a spa and sauna and a rooftop pool — all at a relatively affordable price. The average nightly stay will run a traveler just $118 per night.
This article has been updated to correct the number of floors for Montreal's Hotel Bonaventure. The hotel is not 17 stories tall. It is on the top floors of a 17-story building.