Meet the Students Trying to Transform the College Tour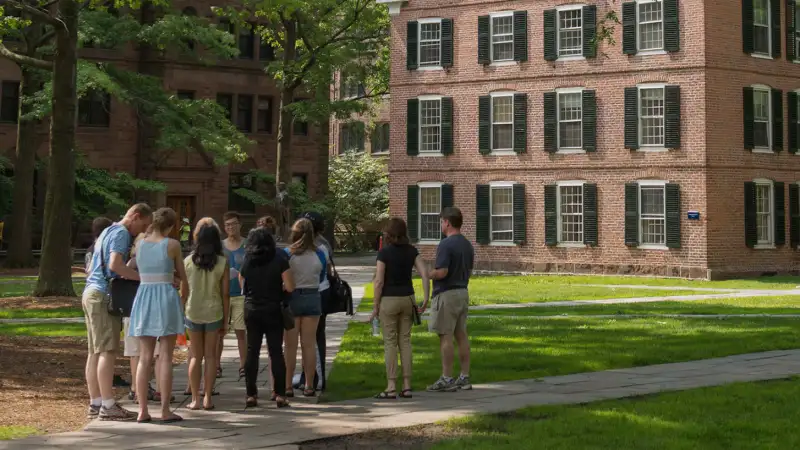 Craig Warga—Bloomberg/Getty Images
David Patou remembers the experience well. His months-long college application process was hectic, complex, and time-consuming.
In a word (or rather, two), it was "amazingly stressful," he says. The college tours he went on were no exception.
He visited dozens of colleges over his junior and senior years—including seven or eight along the East Coast in a matter of days. After a while, it was hard to remember what was different about each one.
Patou's experience and exasperation aren't unique—at least, that's what he and his Campus Sherpa co-founder Alex Mitchell are betting on with their new business venture.
Their company offers peer-to-peer personalized campus tours. Prospective students are matched with current students for a behind-the-official-tour-scenes look at campus life.
Mitchell and Patou were freshmen at Georgetown University last fall when they started working on the idea. They talked to dozens of high school students, guidance counselors, and college admissions counselors about what makes a good tour.

NEWSLETTER: COLLEGE_PLANNERSign up for COLLEGE_PLANNER and more View Sample
Each invested $5,000 of his own money, and by April, they were offering their first tours in a limited research and development phase. Now, after a summer of interviews and networking, they've lined up $130,000 in investments and vetted more than 400 sherpas, or guides, on more than 60 college campuses.
Families sign up for a tour via an online form, indicating their academic and extracurricular interests. Campus Sherpa then lines up a guide, who responds with a suggested itinerary.
When Mitchell and Patou, now sophomores at Georgetown, were touring colleges, they found that the best visits usually included an unofficial tour from friends or family acquaintances. Sure, the official college tour delivered a load of vital information about meal plans, financial aid, and available majors. But what they didn't learn—and couldn't in a crowded and structured group tour, they say—was what it was like to actually be part of a particular campus.
Tours run $60 for a 45-minute tour, $115 for two hours, or $275 for to shadow a sherpa for a day. Tour guides are independent contractors and earn a flat rate per tour: $15, $35, or $85, depending on the length. Mitchell and Patou also say they are working to develop a scholarship fund to offer less expensive options for lower-income students.
Find the best college for your child and your wallent
Along with concerns about the cost of the tours putting some families at a disadvantage, Jeff Fuller, director of student recruitment at the University of Houston, said he'd be curious about the level of training sherpas have. How, for example, do they ensure they have current information about campus and academic offerings?
Fuller also is president of the National Association of College Admissions Counselors, and before working at UH, he was a student and a tour guide there. Any topic is fair game for questions, he says.
"We really don't have areas that are off-limits," he says, adding that tour guides are encouraged to be honest.
Katy Murphy, director of college counseling at Bellarmine College Preparatory, tours dozens of colleges each year. She says that if you're prepared and ask good questions, you can get everything you need from an official tour, even in a large group.
Check out Money's 2015-16 Best Colleges rankings
Murphy hadn't heard of Campus Sherpa, but she said she's seen a few other private tour companies try to enter the market. The problem, she says, is quality control. You're going to see the campus only through the lens of the tour guide.
Mitchell and Patou think they can control for quality. All sherpas are vetted before giving a tour. Clients are asked to review their guide following a tour, and guides who receive poor reviews won't be used again, they said. So far, that's never happened.
They also say they don't want to compete with official campus tours. Instead, they hope to supplement them.
Suman Padhi, a sophomore at the University of California Los Angeles, signed up as a sherpa last spring. Because UCLA is a large public school he includes a visit to a 400-student lecture in his tours. If a prospective student is concerned about learning in that environment, a major public university may not be the best fit, he says.
"When you spend an hour with just one person, you don't just get the pros," he says. "You get the cons, too."
Get smart advice on picking a college and paying for it, check out Money's best college value rankings, and find the school that best fits your student, all at the Money College Planner.