Cardi B Became the First Solo Woman to Win the Grammy for Rap Album. Here's How She Makes and Spends Her Money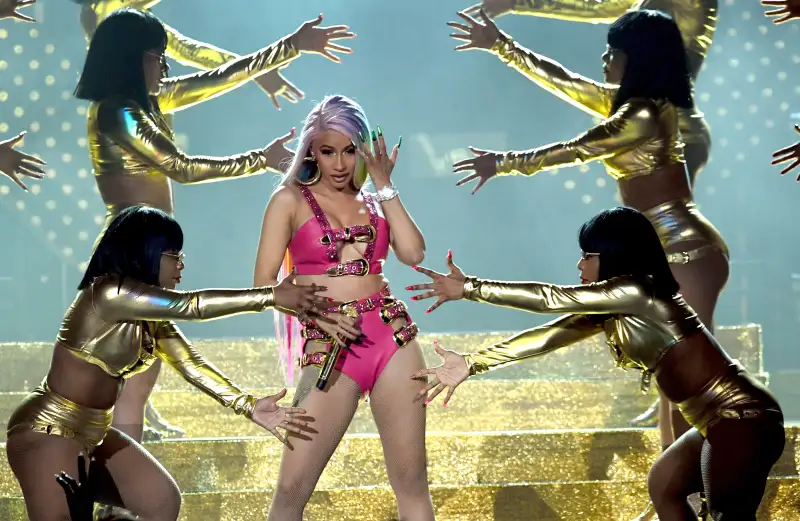 Kevin Winter—Getty Images
Money-minded rapper Cardi B added a gold-plated statue to her net worth last night.
Cardi B took home the award for the Best Rap Album of the year at the 2019 Grammy Award ceremony, becoming the first solo female artist to ever win in the category. The rapper vied for Grammys in five total categories, including Record of the Year for her track "I Like It," and performed a rendition of her hit song "Money."
Though Cardi B (born Belcalis Almanzar) now ranks as one of the country's top-selling artists, the Bronx native worked her way out of poverty and nearly being homeless through her first career of stripping and later self-branding on Instagram. After she began posting hilarious and candid videos of herself during her stripping days in 2014, Cardi now has a 40 million Instagram following and a nearly 5 million Twitter following.
So what's Cardi B's net worth after the Grammys?
According to estimates from Celebrity Net Worth, Cardi B's net worth totals roughly $8 million as of 2018.
Cardi takes pride in spending her hard-earned dollars on luxury cars, jewelry, and designer clothes. Just this month, Cardi B went on a now-deleted Twitter rant berating critics that accuse of her being too flashy: "I hate when celebrities do something very extravagant or buy something very luxurious and there's people in the comments like, 'You could have donated that,'" she said. "It's like, who are you to tell people what to do with their hard working ass money?"
Here are all the ways Cardi B earns and spends what she loves most in this world: money.
Where Is Cardi B From and How Did She Become a Star?
Two years ago, her single "Bodak Yellow" made headlines by topping the Billboard Hot 100 chart, cementing Cardi's place in history as just the fifth female rapper to earn the title. The song went platinum seven times and at one time was the most-streamed song in the country.
Cardi B repeated her success with her breakthrough album, Invasion of Privacy, the third-highest-selling album in the country in 2018 with 1.5 million copies sold.
But between all those record-shattering sales, Cardi B has to share her earnings with various management companies that are currently battling for ownership over her wealth.
In 2017, Cardi B signed a reported multimillion-dollar contract with Atlantic Records, the powerhouse recording label that represents Bruno Mars, Charlie Puth, and Ed Sheeran. One year later, just before her album was released, she signed with a new management company named Quality Control that "has seen stratospheric success in recent years modeling its business after game changing entities," Variety reported.
This move drew ire from her former manager, Klenord "Shaft" Raphael, who took her under his wing in 2015. Raphael sued Cardi for $10 million and sought 20% of her gross income. Cardi B has since countersued for $15 million and the case is still ongoing.
How Much Cardi B Makes Per Show
One of Cardi B's first performances included staring on the hit VH1 series Love & Hip Hop New York in 2015. While she never revealed the exact amount she earned from the show, she alluded to profiting big time in her song "Bodak Yellow" with the lyric: "I just run and check the mail, another check from Mona Scott". (Scott produces the show.)
Various sources report the salary for Love & Hip Hop stars ranged anywhere between $17,000 to $400,000, depending on how famous they were prior to the show or how often they appeared. Fellow female rapper Remy Ma brought in $76,000 per episode when she starred in L&HH NY.
Since her career took off, Cardi has been rumored to charge as much as $300,000 for performances, according to TMZ. While the rapper had to cancel her late 2018 tour with Bruno Mars to take care of her new baby Kulture, Cardi made $70,000 for performing at Coachella in 2018. But Cardi says she never saw any of her Coachella earnings because she had to invest it back into her elaborate stage setup, which cost $300,000.
Cardi B's Brand Partnerships: Fashion Nova and More
Now, brands like Amazon, Reebok, and Tom Ford are cashing in on Cardi B's celebrity status.
Last September, Cardi B collaborated on sold-out collections with Tom Ford for a lipstick and Fashion Nova for a clothing line. She appeared in two Super Bowl commercials in the past two years promoting Amazon Alexa and Pepsi. She recently signed a blockbuster sneaker deal with Reebok for an undisclosed amount.
Interestingly, Cardi B's first major corporate partnership was with ride-hailing company Lyft. Just before "Bodak Yellow" topped the Billboard Hot 100 chart, New York riders had the chance to turn their Lyft app logos into mini Cardi B faces and nail art using the promo code BardiGang.
How Cardi B Spends Her Money
When the checks from endorsements and album sales come in, Cardi B doesn't shy away from making luxury purchases. She recently tweeted that she has $250,000 to $300,000 in monthly expenses — meaning her annual payments cost roughly a third of Cardi B's net worth.
At last year's MTV Video Music Awards, Cardi B sported 200 carats of Colombian emeralds loaned by celebrity jeweler Lorraine Schwartz, worth a whopping $4 million. She bought her daughter $3,600 worth of designer clothes. This Christmas she showcased a treasure trove of expensive presents on her Instagram Story, including a $5,600 Chanel handbag, $1,295 sandals, $1,295 pumps, and two separate $43,600 diamond-encrusted Cartier bracelets. (Whew.)
There's one splurge that makes the least financial sense. Cardi has a soft spot for cars — despite the fact she doesn't have a driver's license. Her collection features five luxury cars: a Bentley Bentayga she bought to celebrate her first number one single, a Rolls Royce Wraith, a Mercedes G-Class, a Lamborghini Urus and a Lamborghini Aventador. If you add up the base costs for all her rides, the rapper has nearly $1.3 million worth of cars she can't drive sitting in her garage.
Cardi apparently passed her passion for riding in style onto her daughter. The six-year-old has been spotted rolling in multiple designer strollers from Fendi and Stokke Xplory, worth $1,600 and $1,149, respectively.