How Cardi B's Publicist Went From Working at Hertz to Working With the Superstar in Just a Few Short Years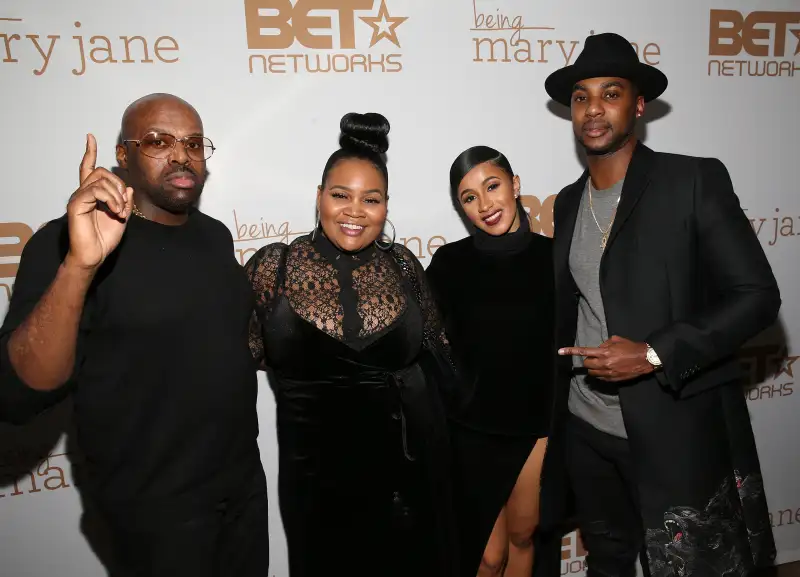 Bennett Raglin—Getty Images for BET
Patientce Foster never stops working. Not even in the middle of an interview.
In a recent interview with Money, the publicist to platinum selling rapper Cardi B took calls and texts, responding Cardi and her team's constant questions. "It could be an emergency," she explained.
Sacrificing her own livelihood to help her business and clients is part of how Foster went from a broke college graduate to the owner of two companies and PR manager to one of the world's biggest pop stars in a matter of a few short years.
Here's how Cardi B's publicist landed the career of a lifetime without any prior PR experience, and why she advocates for quitting your job immediately:
---
Foster started her first business in the sixth grade: selling gossip tabloids she made herself.
Foster says she first became an entrepreneur in middle school, after she saw a J-14 teen magazine and said to herself: "I wanted to make a magazine." Every morning, she typed up the latest celebrity gossip on a Word document, printed her pages on pricy colored paper and stapled it together to form a "magazine." She sold them to her classmates for $2.
"My teacher used to say, 'the newspaper is only 75 cents.' I'm like, 'So? What that gotta do with my magazine?'" she said. "And they would always buy it."
---
She graduated college with an English degree and took a job at Hertz Rental Car making $11.25 — and quit after she decided that wasn't cutting it.
During college, Foster worked as a freelance stylist to pay her bills and built up a loyal clientele. She used her contacts to help start her own salon business after deciding the rental car company wasn't paying her enough.
Foster took a risk quitting her job with her 4-month-old son at home, barely making ends meet. She invested every dollar she made back into the business, and even missed bill payments to keep the salon running.
Foster's sacrifices paid off: the entrepreneur's salon began thriving months later, and her employees went on to work for celebrities and influencers. Now, Foster advocates for quitting your corporate job to start your own business, no matter what financial state you're in.
"You put 40+ hours in a week doing something for somebody else and they pay you pennies. Imagine spending 40 hours of your own time into something that generates revenue," she says. "You will never work harder for anybody than you do yourself, because the only way you're going to eat is if you feed yourself."
---
Foster landed Cardi B as a client with no prior experience in public relations — she even lied about being a publicist during an unpaid internship.
At 26, Foster decided to get serious about PR and applied to an internship at PR Consulting, a major fashion PR firm in New York City. She was inititally denied the position for not being able to name 10 fashion editors at the time, but she didn't give up. She made a study guide of every major magazine's staff and went back to the consulting firm to prove her knowledge, landing the gig.
That moment proved pivotal. During her internship, Foster went to a fashion show that replaced models with Instagram influencers — one of them was Cardi B. Foster recognized Cardi after she first met the rapper while she was working as a stripper, when Cardi's team hired Foster and her stylists to do her hair and makeup before an event at a strip club.
After the fashion show, Foster went back to catch up with Cardi B's manager at the time who asked what she was doing in New York. Foster replied saying she was a "publicist," and says the manager had been looking for a publicist at the time. The team invited Foster to dinner, and introduced Foster to Cardi B for the first time as "her new publicist."
"That's how I got the job."
---
As Cardi B's career flourished, so did Fosters. Cardi made sure to open doors for her team
Since Foster began working as Cardi B's publicist, the artist's debut single reached number one on Billboard, she appeared on multiple TV shows, and she graced the cover of magazines such as Rolling Stone, Cosmopolitan and New York Magazine. The two have also formed a familial relationship. Cardi arranges childcare and hotels at her events for Foster's mother and son to come along.
"Had Cardi not turned the lights on for me, I would've made it by any means, but the way that this happened I wouldn't have ever imagined," Foster says. "She put me in a position to win. Now I feel obligated to elevate as well."
Additional reporting by Sarah Harley.