The New Coffee Shop Trend is the Cat Café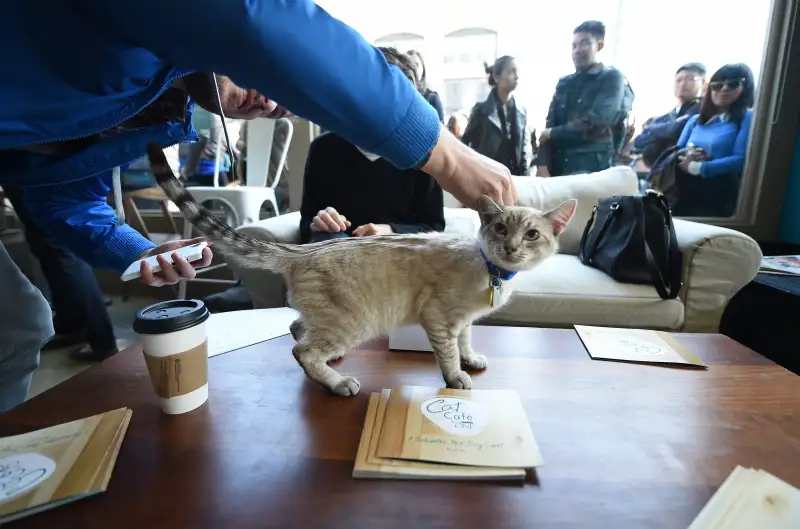 EMMANUEL DUNAND&mdash ;Getty Images
If you have cat allergies, the notion of drinking your morning coffee in a room full of felines may strike you as the stuff of nightmares. But apparently some people can't get enough of it. So here come cat cafés.
Coffee shops. With cats. Lots and lots of cats.
The latest of these cafés may well be the Orlando Cat Café, which, the Orlando Sentinel reported Tuesday, is expected to open in early 2016. The 750-square-foot café in Clermont, FL, will be a space where, through a partnership with the South Lake Animal League, customers can mingle with adoptable cats. The café will have a separate space for litter boxes.
Owner Sandra Cagan, who will break ground on the space with her husband, Jeff, to the tune of $75,000 this October, explained the concept to the Orlando Sentinel as one that might appeal to customers who like cats but for whom owning isn't feasible. "We have many residents and visitors who may not want their own pet; or work long hours and travel and do not want the responsibility of owning a pet," she said.
Cagan did not elaborate on her business model, but maybe it will mirror a reservations- and "cuddle-by-the-hour"- model adopted by many of the cat cafés that have opened across the nation in the past year, beginning with the first permanent café on U.S. soil, Cat Town, which opened last October in Oakland, CA. (The cafés were already popular in Japan.) In fact, "café" is a slight misnomer for many of these coffee and cat lounges, because health regulations typically mandate that the cats are kept separate from most usual café activity (namely, food preparation and consumption).
In the past year alone, cafés have spread through U.S. cities including San Francisco, New York, D.C., Dallas, Seattle, Portland, Los Angeles, Denver, and San Diego. And for the cat lovers for whom cuddling isn't quite cutting it, some even offer cat-side yoga.