Certified Check Vs. Cashier's Check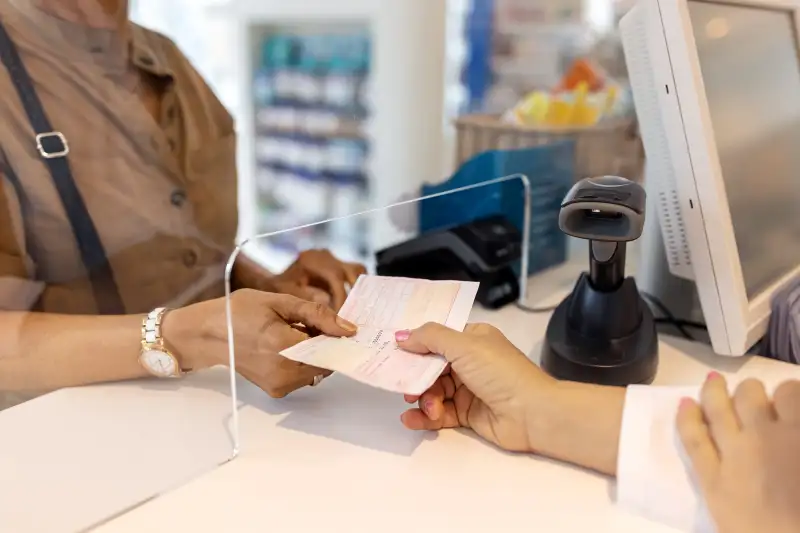 Whether you need to purchase a car or make a security deposit on a rental property, you might need forms of payment other than a personal check, credit card or cash. Certified checks and cashier's checks are convenient and safe ways to make large purchases. However, these types of checks differ in how they look and work, and they vary in the level of security provided to the person paid.
Here's what you should know about using a certified check versus a cashier's check, including how to find, write, cash and replace these checks.
What to know about Certified Checks vs. Cashier Checks
Certified checks and cashier's checks both involve the financial institution assuring the availability of the check's funds. These differ from regular personal checks, which you write out, sign and give to the payee without a guarantee that your account has sufficient funds.
Certified and cashier's checks use funds set aside in either the check writer's account or the bank's account. Plus, these checks have features that identify them as certified or official. They also usually clear quickly, by the next business day. They're an excellent option for large purchases where carrying cash is unsafe or where there's a concern that a personal check could bounce.
What is a Certified Check?
A certified check works similarly to a personal check since the check funds will come from your bank account. The difference is you fill out the certified check in front of a bank employee who will verify your information and account balance to confirm it.
The employee then freezes the money in your account to cover that check only. The money stays in your account until the check gets cashed. The bank employee adds a special stamp or another marking on the front of the check to show the certification.
Where to find one
You can only get bank-certified checks through the financial institution where you have a bank account. However, not all banks and credit unions offer these types of checks. Contact your institution to confirm availability and learn about fees and check amount limits.
Getting a certified check requires a trip to a local branch where bank employees can help with the process. That means you likely won't have the option if you do business with an online-only bank. In that case, you could open a new bank account locally or use another form of payment.
How to write a certified check
When you head to a bank branch, have a blank personal check and your photo identification ready. Tell the bank employee that you'd like to write a certified check. You should fill out a personal check in front of them with the following information:
The date
The payee's name
The check amount in numerical and written forms
A memo with a note on the check's purpose (optional)
Your signature
The bank employee will confirm that you properly filled out the check and ask for your identification. They'll verify that you have sufficient funds in your bank account before they freeze the check amount and mark the check as certified. After you pay any required certified check fee, you'll receive a receipt with the check.
Where to cash it
If you receive a certified check, you could take it to your bank to have it cashed or deposited into your account. Alternatively, you could visit the check writer's bank to get the check cashed. You can also check with third-party check-cashing services such as grocery stores and check-cashing stores.
You'll need to endorse the back of the certified check before you can cash it. The financial institution or check-cashing service will likely need to see your photo identification unless you use a mobile or ATM deposit option. You might also incur a fee or deal with check amount limits unless you use your bank or the issuing one.
How to replace it
Getting official bank checks replaced is challenging. Unlike a regular personal check, you usually can't just put a stop payment on the check and write a new one immediately. Instead, you'll need to contact your bank, ideally with the check's receipt and any police report at hand.
Your financial institution will have you complete a form reporting the check as stolen, damaged or lost. This document should list options, including depositing the money into your account or receiving a new check. The bank may charge a fee for your request.
In addition, your bank may make you get an indemnity bond for the check's amount. You can obtain this through an insurance company, which helps protect the bank if someone uses the lost check. Even after you complete all these steps, getting a replacement certified check can take up to 90 days.
What is a Cashier's Check?
A cashier's check offers more assurance to the payee than a certified check since the bank itself guarantees the check amount. Rather than the bank simply designating the funds in your bank account, the money gets transferred to the bank's account. This means you provide the check's funds immediately.
In addition, the bank's employee signs the check rather than you. When the payee goes to cash the check, the money gets drawn from the bank's funds. This means the payee doesn't have to worry that they received a bad check from a personal bank account lacking sufficient funds.
Where to get one
When comparing getting a cashier's check versus a certified check, the processes are very similar. You can only get a cashier's check at a credit union or bank, and you'll often go where you already have an account. Sometimes, you might get a check from another financial institution if you present cash.
The difference involves the broader availability of cashier's checks, as more financial institutions offer them than bank-certified checks. In addition, the best online checking accounts may provide the option to request a cashier's check that gets mailed to your home. While you'll need to account for the delivery time, the online option offers more convenience than visiting a branch in person.
How to fill one out
The process for filling out a certified personal check versus a cashier's check significantly differs. You won't need to bring a personal check or fill one out since the bank prints the cashier's check with the information on it. Instead, you'll just need your photo identification (for in-person requests) and information about the payee and the check amount.
If you visit a branch, tell the bank employee you want a cashier's check. You may pay a fee, and if you do business with a bank where you're not a member, you'll need to provide cash to purchase the check. After reviewing your identification and the information you provide, the bank employee will print and sign the cashier's check and give you the receipt.
Online requests for cashier's checks require accessing your online banking website and selecting the right option. You'll need to state the check amount, fill in the payee's information, confirm your mailing address and specify the account from which to withdraw the funds. Your bank should show you a confirmation and the estimated delivery time.
Where to cash it
You can cash a cashier's check at the same types of places that accept certified checks. Your financial institution or the issuing one should cash it without an issue. But if you lack a bank account, you can consider third-party services and local banks that may cash your cashier's check for a fee.
Bring your photo identification with you for in-person transactions. In addition, make sure you endorse the back of the cashier's check. Be aware of any check amount limits at places like grocery stores.
How to get a replacement check
As it's even less likely you can stop payment on this kind of check, you'll need to go through the same detailed process for replacing a certified check. This means letting your bank know about the issue, presenting documentation and filling out a declaration form for the lost, damaged or stolen check. Your bank will have you specify that you want the check replaced and will likely charge you a fee.
In addition, the bank may request that you get an indemnity bond for the cashier's check amount. You usually won't get your replacement check immediately — it can take up to 90 days.
Are there Certified or Cashier's Check fees?
You won't need to pay a fee if you plan to write a regular personal check that the bank doesn't certify. However, financial institutions often charge fees for certified checks and cashier's checks. The cost depends on the institution but is usually similar for both bank check types. You'll often pay up to $20, and it may cost more for a mailed check.
The best checking accounts may include a fee waiver for bank checks at any time or if you have a certain account balance. In addition, your bank could offer an add-on that saves you bank check fees. You can find specific details in your bank account agreement or contact your bank or credit union directly.
What are the biggest differences?
The main difference is that a cashier's check is written against the bank's account, while a certified check is written against the payer's personal account. Therefore, a cashier's check guarantees against the check bouncing. Further, the bank prints and signs a cashier's check, but the payer fills out and signs a certified personal check. Banks offer cashier's checks more often than they do certified checks.
Which is the safest option?
When considering a certified check versus a cashier's check, the latter offers more assurance to the payee. While rare, a certified check could still bounce if the check writer's account somehow falls short. This won't occur with a cashier's check since the bank has already written it against its account. This makes it a guaranteed check.
Cashier's checks also offer more safety because they don't reveal the payer's personal bank account information. Instead, these checks show the payee's and purchaser's names along with the bank's account, routing numbers and identifying information. In addition, cashier's checks have security features that banks can use to verify legitimacy.
Be sure to check scams and fraudulent checks
If you receive an unexpected cashier's or certified check, it could relate to one of the many bank check scams. For example, you might get a fake cashier's check with a letter that you've won some lottery, obtained a mystery shopper job or paid too much for something. The check could also claim to come from an insurance company.
Avoid cashing such suspicious checks. If the check eventually bounces, your bank can charge you a bounced check fee, and you might also incur overdraft fees if you spend the money. Plus, there are legal issues with cashing a fraudulent check.
If you receive a potentially fake check, ask your financial institution to examine it. While such checks might look real initially, they may feature a made-up bank name or invalid contact information. These checks can also lack security features such as watermarks. If the check is fake, you can contact entities such as the post office, Federal Trade Commission and attorney general to report it.
Choose the best check option for your needs
When deciding on a certified check versus a cashier's check, consider the level of assurance the payee prefers. While both are safe options, a cashier's check is the best choice for guaranteeing the funds. A cashier's check is also more likely available through your financial institution, so you might not even have the option of a certified check. If your bank does offer both check options, looking at the fees can also help inform your decision.