Auto Show's Most Talked-About Car Is One You Can't Buy This Year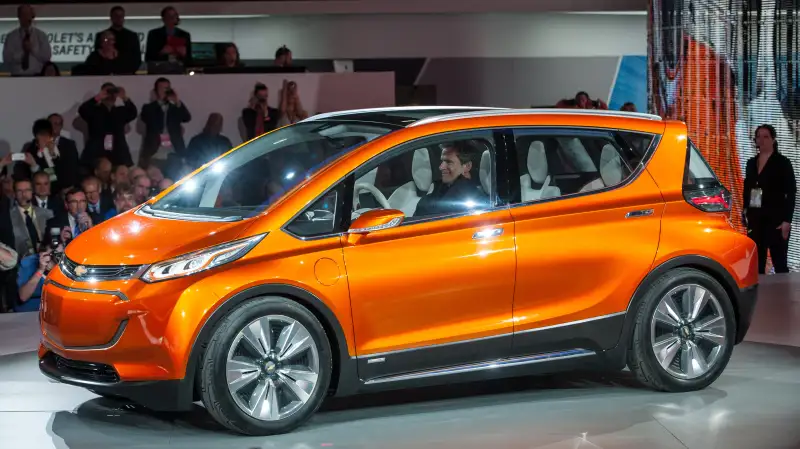 The Auto Show kicked off this week with GM's unveiling of the Chevrolet Bolt, which, despite its "concept car" label is expected to be a reality in the near future—on the market in 2017, most likely. The concept vehicle captured the imagination of many by (theoretically) solving the two big issues that have thus far stopped electric plug-in vehicles from being embraced by the mass market. Today's plug-ins are either too impractical (driving ranges under 100 miles before the battery needs a charge) or too expensive ($70,000 and up for a Tesla Model S) for the typical household. With a 200-mile range and an asking price anticipated to be around $30,000 (after credits and incentives are factored in), the Bolt has been heralded as a potential mass-market breakthrough.
Here's what people have been saying about the Bolt:
It's a game-changer, likely to be a mainstream hit.
"The Bolt EV concept is a game-changing electric vehicle designed for attainability, not exclusivity," GM CEO Mary Barra said during the model's unveiling in Detroit this week. "For most people, [the Bolt] can be their everyday drive."
Some less-biased, non-GM folk seemed to agree that the combination of affordability and expanded driving range before requiring a charge will make the Bolt appealing to the mainstream. "Getting to the 200-mile mark is when you start to see potentially a much wider base of mainstream consumers who aren't just making short commutes, and don't just want to be 'green,'" Kelley Blue Book senior analyst Akshay Anand summed up to the Los Angeles Times. "You are looking at annual sales of 100,000 vehicles," chimed in John Krafcik of TrueCar.com, a big leap up from the still-niche Nissan Leaf, which at 30,000 units sold in 2014 was America's best-selling plug-in EV.
Others are more skeptical.
"You have to wonder what the market will be for super-efficient vehicles at a time when oil is around $50 a barrel," auto industry consultant Jeremy Anwyl said to the Los Angeles Times. The assessment of Wall Street Journal columnist Holman W. Jenkins, Jr., was much rougher, writing that the Bolt is largely the product of automakers being forced by the government to meet fuel-economy mandates down the road, with the result being "cars the public doesn't want and that can only be sold at a giant loss."
It's not very cool looking.
The $70K Tesla Model S became a favorite among auto enthusiasts not because it saves on gas—not only anyway—but because it's a hot, stylish, high-performance car that's incredibly fun to drive and show off. The cheaper and more practical Bolt, on the other hand, is expected to drive more like a golf cart, with looks to match. The Associated Press described the bubble-shaped Bolt as looking "like a cross between a Volkswagen Golf and BMW's electric i3." "There wasn't much about it that was fanciful-looking in terms of features and styling," a Motley Fool post noted.
Tesla doesn't sound remotely concerned.
Despite headlines presenting the idea that the Bolt would be a "rival" and perhaps "upstage" Elon Musk's hi-tech plug-in auto brand or even prove to be a "Tesla killer," Tesla isn't exactly shaking in its boots. In a released statement that's the equivalent of a pat on the head of a cute, unthreatening puppy, Musk's company announced, "Tesla is always supportive of other manufacturers who bring compelling electric vehicles to market ... We applaud Chevrolet for introducing the Bolt and are excited to learn more about the product."
Later, in an Auto Show press conference, Musk said flatly, "I don't see it as a competitive threat." The "it" in question is the Bolt, of course. "I'm pleased to see [GM CEO Mary Barra] and GM do it. It seems that [GM] will do something significant with the Bolt, and that's great."
Oh, and the name is terrible and might be changed.
Green Car Reports proclaimed that Bolt is a "really terrible name" for Chevy's new EV. As evidence of the name's terribleness, the site pointed to quips on social media noting that the name brings to mind the phrase "bucket of bolts," the unloved old Dodge Colt, and even the 2008 cartoon movie dog named Bolt (voiced by John Travolta). The real problem, however, is that because the letters B and V sound alike when spoken aloud, "Bolt" will be easily confused with its gas-hybrid sister Chevy. "To say that there will be a great deal of confusion at dealerships between the Chevy Bolt and the Chevy Volt would be a gross understatement," Green Car Reports explained.
The Detroit News reported that while GM likes the idea of linking the electrified Bolt and Volt with names that are alike, the automaker is not committed to keeping it. "The name by itself is very good, but when you put it with Volt you know — is it too confusing for someone? — we'll find out," said GM product chief Mark Reuss. "It's a concept name. End of story."