Guide to Buying 2016 World Series Champion Chicago Cubs Gear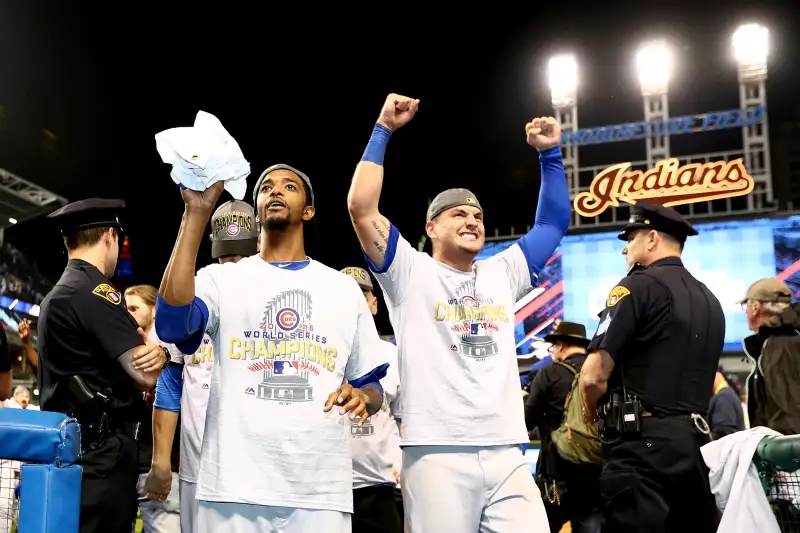 Within moments of the Chicago Cubs winning the World Series last night—something that hasn't happened since 1908—sporting goods stores throughout the Windy City opened up boxes stocked with championship hats and T-shirts and began selling them to overjoyed fans.
At stores like Clark Street Sports, which specializes in Chicago sports apparel and has a location near Wrigley Field, the doors were open and the cash registers were busy all night long. "It's basically open 24 hours, there's no way I can leave here," the store's co-owner, Jason Caref, said to Crain's Chicago Business last night. "If they win, I'm sleeping here. If I can get an hour or two (of sleep), that would be great."
The Chicago Tribune reported that some Dick's Sporting Goods locations in Chicago also opened up after the win, with no set plans for when to close up shop. The hat store Lids had World Series champ baseball caps flown in overnight from Texas so that they'd be ready for fans first thing on Thursday morning. Sales are expected to be incredibly brisk—after all, when fans are paying an average of $3,000 or so for a single World Series ticket, dropping $30 on a T-shirt or hat may seem cheap.
Another Chicago sports specialty retailer, Sports World Chicago, kept its location near Wrigley Field open until 4 a.m. Thursday morning. Within hours the store's e-retail operations, which had to stop accepting orders earlier in the World Series due to overwhelming demand, was again too flooded with business to keep up with demand. A message atop its website read:
Read Next: World Series Final Is the Most Expensive Game 7 in Sports History
Luckily for fans who can't simply stroll into any of the Chicago-area stores swimming in Cubs World Series merchandise right now, other e-retailers seem will happily sell you Cubbies gear. Here are some tips:
Prices vary from site to site. Cubs merchandise is in ultra-high demand, so shoppers should expect to pay top dollar—think $28 to $30 for a basic 2016 World Series champion T-shirt at Dick's or Modell's. You can save a little money by shopping around, however.
For example, a very similar World Series Championship Cubs cap is selling for $37.99 at Fanatics.com versus $31.99 at Lids and $28.99 at MLBShop.com. A special championship black and gray Cubs hat is also priced at $31.99 via Fanatics.com or the MLB Shop. Some sellers on Amazon, meanwhile, are listing Cubs World Series hats at $43 to $48.
There is some super cheap World Series gear. If you simply want a piece of historic Cubs memorabilia for the lowest price, check out the 2016 World Series Champions bottle opener, priced at just $2.99, or a championship window decal for $3.99, both at Fanatics.com. You might have to pay extra for shipping, however. Speaking of which...
Note shipping costs—and delivery times. Dick's is offering free shipping, with no minimum purchase required, on all Cubs championship gear. Fanatics.com has free shipping on all orders over $50 (use code: FANSHIP50 at checkout), and Lids offers free delivery for purchases of $50 or more. Read the fine print if you're expecting to be wearing your Cubs gear this week, however. Free shipping is generally only available for standard (not expedited) delivery, so it might take 7 to 10 days before your order arrives.
Read Next: Chicago Cubs vs. Cleveland Indians: A Money-Focused Look at the World Series
You'll pay double for the World Series patch. Most of the hats mentioned above look like classic Cubs caps, only they come with a special patch on the side that says "2016 World Series Champions." If you opt for a Cubs hat that merely says "2016 Postseason," however, it'll be half the price at Lids--$16 versus $32.
Uber will deliver Cubs swag today. Recode is reporting that starting at 10 a.m. local time on Thursday in Chicago, fans can purchase Cubs hats and T-shirts for $28 apiece via the Uber app—and an Uber driver will deliver your order. The service is part of a special partnership with Fanatics.com, and it's only available to customers in Chicago. Fans should tap the CHAMPS on the Uber app to place an order.