You Can Get a FREE Chick-fil-A Sandwich Today. All It Takes Is a Little Dress-Up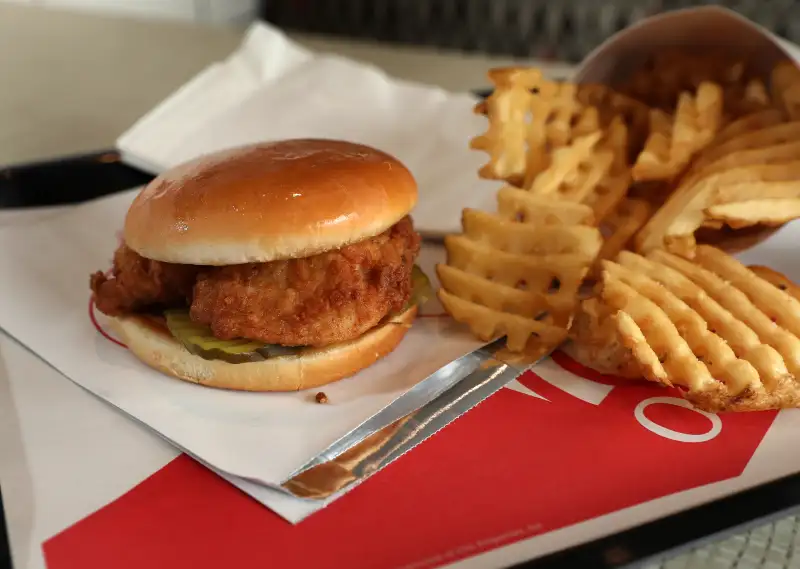 Boston Globe—Boston Globe via Getty Images
Once a year, it's easy for almost anyone to get a free Chick-fil-A sandwich. And in 2019, the day for free Chick-fil-A is today: Tuesday, July 9.
The annual free sandwich day at Chick-fil-A is an "udderly crazy" freebie event officially called Cow Appreciation Day. It's a promotional gambit that plays off Chick-fil-A's long-running advertising campaign featuring a group of cows that encourage people to "Eat Mor Chikin" — at Chick-fil-A, of course.
To participate in Cow Appreciation Day 2019 and get a free Chick-fil-A sandwich today, the guidelines are relatively simple: You must dress up with clothing, a mask, makeup, or a full costume that somehow resembles a cow. Chick-fil-A workers aren't particularly tough on participants: So long as you show a minimal amount of effort — by, say, painting some black cow spots on a white T-shirt — you'll be awarded a free Chick-fil-A entrée of your choosing on Tuesday, July 9, 2019.
Chick-fil-A Cow Appreciation Day freebies are available during breakfast, lunch, and dinner hours — anytime before 7 p.m. Adults in cow attire can choose among entrées such as a chicken biscuit during breakfast hours or an original chicken sandwich or grilled nuggets later in the day. (Health nuts beware: Salads are not available as the free entrée.) Kids dressed up as cows get a free breakfast entrée or a free kids meal, depending on the time of day.
Chick-fil-A has more than 2,400 restaurants nationwide, and they're all participating in Cow Appreciation Day. Last year, Chick-fil-A gave out nearly 2 million free entrées on Cow Appreciation Day.