Here Are All the Best Cinco de Mayo 2018 Freebies and Deals—on Margaritas, Tacos, and More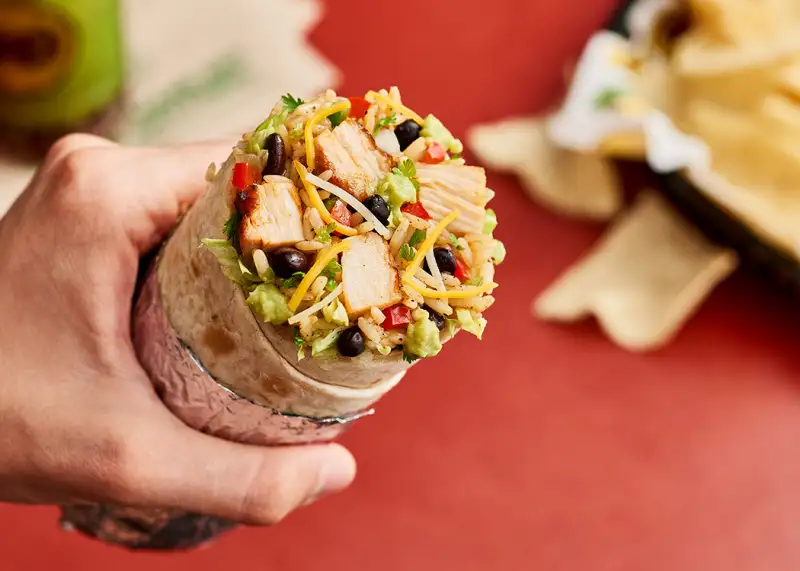 Photo via Moe's Southwest Grill
Cinco de Mayo is here—on a Saturday no less!
Because May 5 falls on the most popular day of the week for partying, the Cinco de Mayo 2018 festivities are bound to be extra lively this year. Restaurant chains like Applebee's, Chevy's, Moe's Southwest Grill, and On the Border all have Cinco de Mayo deals on Saturday, May 5—and sometimes the drink specials and food promotions stretch for days before and after the main event.
Look for special Cinco de Mayo events including live bands and T-shirt giveaways, as well as deals on margaritas, tacos, burritos, Mexican beer, and even pizza and lattes.
Here are all the Cinco de Mayo 2018 deals and freebies on margaritas, tacos and more:
The Cinco de Mayo offers at Abuelo's include a $5 special deal for a 22-ounce Mexican draft beer that comes in a collectible 22-ounce plastic cup you can take home.
The "Dollarita"—Applebee's popular $1 margarita deal—appeared on the menu in April and was extended through Saturday, May 5. Applebee's also has $2 Dos Equis beers throughout the entire month of May as well.
You can get classic margaritas for $5 each on Cinco de Mayo at Bahama Breeze.
Tacos are $1 each and bottles of Corona cost $4 at participating Bubba Gump Shrimp Co. locations on Saturday, May 5.
Special events and Cinco de Mayo drink deals vary by location. Some Chevy's restaurants have live bands and specials like $5 margaritas and $5 sangrias on Saturday, May 5.
Cinco de Mayo specials run through Sunday, May 6, and vary by location. Look for deals like $1 off Corona bottles and $5 Bloody Marys all weekend long.
Coffee Bean & Tea Lead's horchata lattes and matcha horchata lattes are priced at just $1 each from 2 p.m. to store closing time, both Saturday and Sunday, May 5 and 6, for Cinco de Mayo.
Use the promo code CINCO18 when ordering from Hungry Howie's online, and you can get two large single-topping pizzas for $5.55 each on Cinco de Mayo.
Joe's Crab Shack will have $20 buckets of Modelo Especial on Saturday, May 5 for Cinco de Mayo.
On Cinco de Mayo, Margaritas Mexican Restaurant locations will have $5 breakfast burritos and $5 shots of Hornitos tequila.
Cinco de Mayo deals at Moe's include $5 burritos and free T-shirt giveaways to lucky customers.
There are Cinco de Mayo drink deals all day long on Saturday, May 5 at On the Border—including $5 "Cinco'Ritas" and shot specials from $3.
Happy hour prices are in effect throughout Cinco de Mayo weekend at Taco Cabana.
Taco John's is selling five soft-shell tacos for $5.55 on Cinco de Mayo.
Crisp tacos are 79 cents each on Cinco de Mayo at participating Taco Time locations.
Through Sunday, May 6, Tijuana Flats has Cinco de Mayo deals like $2 tacos and $2 Mexican draft beers.