3 Things Today's College Grads Want Most out of Their First Jobs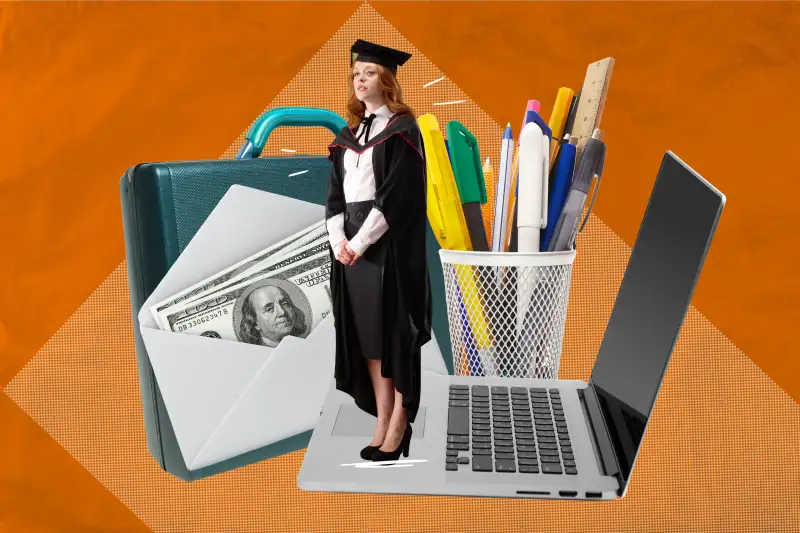 Vanessa Garcia / Money; Getty Images
The Class of 2023 is on the hunt for job stability, a hybrid work style and an adequate salary to afford post-grad life in the age of inflation.
The priorities of this year's seniors — a group that had to move out of their freshman dorms to take classes online as the country shut down in March 2020 — continue to be shaped by the pandemic and the uncertain economy left in its wake.
"What's really important to students these days is that they have a place that they can go to that feels stable, and a place where they're going to be able to grow and learn new things," says Shawn VanDerziel, executive director of the National Association of Colleges and Employers (NACE).
Recession fears can make it feel like a scary time to begin a career, but overall, the Class of 2023 is job searching in a fairly strong labor market, with unemployment at 3.4%, the lowest level in 50 years, experts say. Young people tend to have much higher unemployment rates than the working population at large, but there's also a bright spot here: Both the unemployment rate and underemployment rate for workers under 24 is lower this year than it was last year, according to the Economic Policy Institute. That means in some industries, graduates could have more job options than they would've last year.
Here's what the soon-to-be newest hires say they want.
Hybrid work is hot
Counter to the narrative that young people don't want to go to work anymore, VanDerziel notes that the Class of 2023 is much less excited about the idea of being fully remote compared to the general working public, according to NACE's surveys of students.
A recent survey from the recruiting site Handshake backs that up. Only 16% of students said fully remote work would be ideal, compared to 72% who prefer hybrid and 12% who prefer fully in-person.
This year's seniors are really familiar with a fully remote experience — they had internships and classes in this format — but most graduating students are seeking a professional schedule that blends virtual work and time in the office.
"With everything that they've been through over the last several years, the in-person interaction is really important to them and they know that they can learn from it," VanDerziel says. "There's even a pretty strong percentage who are saying, 'I'm fine going totally in person,' but my preference is to work hybrid."
Searching for job stability
Even more than other years, students are making their job decisions based on perceived job stability and the salary offer, according to Handshake's report. In previous years, students have valued working at brand-name companies, but it's the "practical bottom-line benefits" that are chief focuses right now.
NACE is forecasting that hiring of college graduates this year will be about 4% higher than in 2022, which is a sign that the job market is stronger than one might think, VanDerziel says.
Still, graduating students are worried by news of layoffs and overall economic uncertainty, and that's shaping their search.
"They're less focused on landing jobs with big-name, fast-growing companies," the Handshake report said. "Above all, they want a stable job that pays well."
The report found that 47% of graduating students were applying to more jobs than they otherwise would have due to news about the economy. In general, students are also considering additional industries and other cities to expand their search.
VanDerziel says that "overall, the prospects for graduates are really good," noting the increase in hiring and low unemployment rate, though he says students interested in certain industries where there's not much hiring right now may have to be flexible. Jobs in consulting and tech, for example, are harder to come by this year as some companies in those industries have had layoffs and instituted hiring freezes.
Inflation means pay matters even more
Graduating students are as focused as ever on pay due to higher prices on everyday necessities like groceries and utilities.
But perhaps counterintuitively, the seniors who expect to make the most money after graduation are actually the most worried about a recession affecting their jobs, according to a new Class of 2023 survey from ZipRecruiter.
The report says that companies in financial services, technology, consulting and entertainment — which tend offer higher-paying positions — are scaling back hiring or lowering wages amid financial woes.
"There certainly are people who are not finding what they were expecting and that's largely in those industries that were doing very well in 2021 and 2022, that benefited from the pandemic, that expanded headcount extremely rapidly, and that are now experiencing mean reversion," says Julia Pollak, chief economist at ZipRecruiter.
For the graduates who are getting jobs in these fields in 2023, the salary offers are typically coming in a bit lower than they were for the Class of 2021 and 2022 graduates who entered the same fields. In other industries, however, many Class of 2023 students are actually getting what they expect in terms of pay because the labor market is still tight, Pollak says. The average salary for a graduating student is about $56,000, according to the latest data from NACE.
Nearly everyone is thinking more about pay due to inflation. ZipRecruiter's survey found that 83% of students are considering adapting their post-grad plans in some way because of rising prices. A third are exploring a move to a more affordable city and 28% plan to work side jobs for additional income.
More from Money:
More Employers Are Loosening Drug Policies to Fill Jobs — Even the Federal Government
25 Internships That Pay $7,000 a Month or Higher