The $20,000 Rare Craft Beer That Comes Packaged in a Squirrel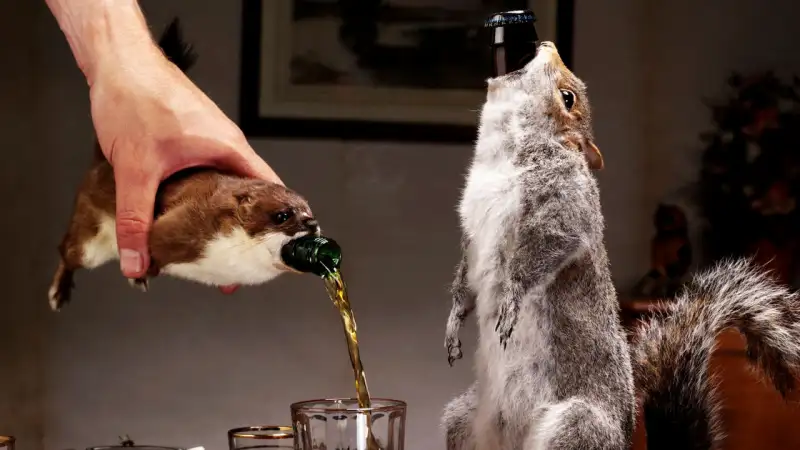 The craft beer world has never been afraid to charge a bit more for a rare beer.
Fans of Cigar City Brewing's Hunahpu late last year paid $200 for four bottles of the Imperial Stout (as well admission to a beer festival hosted by the brewery). And Goose Island fetched $60 per bottle for its Bourbon County Barrel Stout Rare, as fans quickly grabbed the beer that was aged in Heaven Hill Distillery barrels.
But those sort of price tags pale when compared to BrewDog's The End of History. To get a bottle of this ultra-rare brew (which hasn't been made in six years), you're going to have to shell out $20,000.
That is, of course, a ludicrous amount to spend for a beer - even one that comes bottled inside of a taxidermied squirrel. (And, yes, this one does.) But that money will also buy you an equity stake in BrewDog.
The brewer is in the midst of an equity crowdfunding campaign, hoping to raise $50 million for a new brewery in Columbus, Ohio and potentially brewpubs in other cities. Ohio recently lifted its ABV (alcohol by volume) limit on beers, meaning brewers could create beers with no concern about them being too potent.
That spurred the decision to make The End of History the first beer brewed at the new facility. And James Watt, co-founder of BrewDog, says the incentive has convinced people to invest.
"We've definitely seen a boost in the number of Equity Punk shareholders coming on board since we announced that the first beer we will be brewing in our US brewery will be The End of History," he says. "Craft beer lovers in America have shown that they want to join us on the crazy ride that lies ahead. We wouldn't have a US brewery without our investors, and we want to celebrate by giving them access to something extra exclusive that you just can't get your hands on any other way."
The campaign runs through February, says Kendall Almerico, BrewDog's attorney and co-founder and CEO of BankRoll, which is running the campaign. Investments start at $95. And even if the brewer falls short of its goal, the Columbus brewery will open.
The End of History is arguably the rarest beer in the world. In its first run, back in 2010, only 12 bottles were made. To make them as distinctive as possible, BrewDog struck up a relationship with a taxidermist (who goes by Simon the Stuffer) and bottled the beer inside of a squirrel.
Read: How Brooklyn Brewery Sold Out and Still Gets to Call Itself a Craft Beer
"I absolutely love the beautiful, yet disturbing nature of taxidermy, so packaging our most evocative beer in such an unconventional, BrewDog way made sense," says Watt. "Beer is art. Art is also art."
As for the taste? If you do plunk down the $20K and decide to crack open the bottle instead of keep it as a showcase or trophy, expect a Belgian style ale that's made with juniper berries and nettles. Watt says the beer carries a distinct presence of candied fruit and marmalade with an underlying peppery note.
"Everything about this beer is different to anything you're used to," says Watt. "It's convention-disrupting and limitless. It's designed to make you think differently about what's in your glass. ... I mean, it's packaged in a squirrel!"