Danny DeVito on Sneaking Into Broadway Shows, Saving Money in a 'Sock Drawer,' and How Rich Frank Reynolds Really Is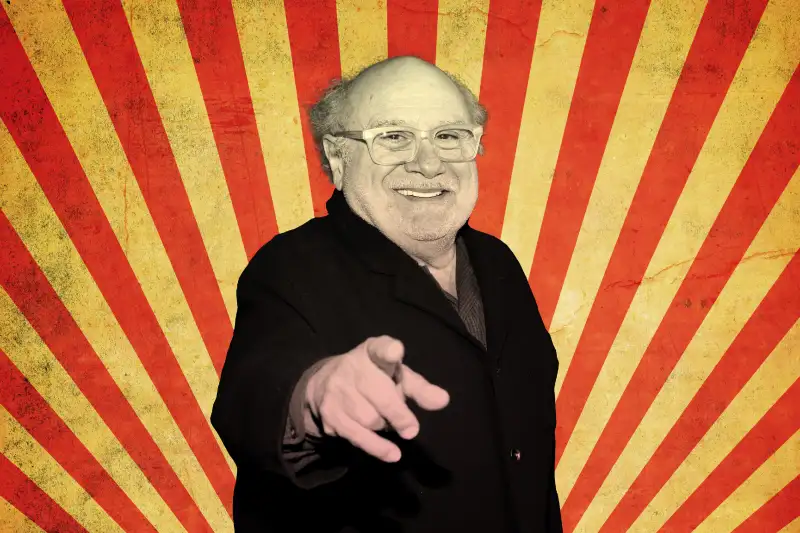 Photo illustration by Sarina Finkelstein for Money; Getty Images (2)
When Danny DeVito got his first acting job, he only earned $68 a week.
The paltry paycheck meant he and his friends had to figure out cheap ways to entertain themselves in 1960s New York City. Their solution? "Second-acting" Broadway plays.
"Everybody smoked, so at the intermission, they'd go outside," DeVito tells Money. "You'd walk over and buy a cigarette, and then when they blinked the lights and called everybody in, you'd go and watch the second act of plays. I've seen many, many plays — just the second act."
Five decades later, it's safe to say DeVito no longer has to sneak into theaters. He's starred in a wide range of movies, like One Flew Over the Cuckoo's Nest, Batman Returns, Romancing the Stone, Matilda, Get Shorty and The Lorax. And these days, he's such a mainstay in the TV show It's Always Sunny in Philadelphia, which concluded its 13th season late last year, that he often uses the pronoun "I" when talking about Frank Reynolds (you'll see below).
Opening this week, he'll appear as ringmaster Max Medici in Tim Burton's live-action version of Dumbo.
Here's what DeVito has to say about saving, spending, bottled water, and more.
How did you think about money when you were growing up?
My father had a candy store, and my mother worked with him. I went to work when I was 14 at the kiddie rides down in Asbury Park, New Jersey. I put the little kids on the ride, told them to ring the bell, steer the wheel, that sort of thing.
I always managed to stick some money in a sock drawer. I think it's good advice, too: Hold onto it as much as you can.
Fans are always trying to figure out how much your It's Always Sunny character, Frank, is worth. The prevailing guess is about $50 million. What do you think?
I think that's a conservative estimate. If you want to be honest about it, I love my peeps, and I do give a lot. I am a socialist, basically, in Sunny. I support the bar, I support the gang, whatever they need. Even if it's a prank, I'll hire a private plane. My hand was never slow. If you need money or you're asking for it, I'll go right into my pocket and get it for you.
I love the fact that Charlie lets me stay in his apartment. I do pay the rent, but it's not a lot, and we don't usually spend a lot of money on food. I spend a little bit more on my guilty pleasures than they do — unless it's, of course, Glenn [Dennis] wanting some fancy car. He's gotta have his Range Rover.
[He and Dee] have no idea about the value of a dollar. I do spoil them, my kids, even though probably they're not my kids. You know the story.
I do.
Yeah, I had a wife. I don't want to get into the heartbreak of it.
Frank does fork over — I stock that place [the bar] up. Sometimes I bring the Wolf Cola in and we capitalize on that, that's one of my investments.
It's a very difficult part to play because I do feel that Frank is using as many loopholes as he can to hang onto his dough. I don't pay any taxes, by the way.
That would be a big issue in real life.
Well, Amazon doesn't pay any taxes, so why should I? I mean, I do pay my income tax personally, I'm just saying Frank doesn't.
What do you personally like to spend money on?
I spend money if I'm going on a trip with the family [or] if there's a friend in need. I donate to media outlets. Democracy Now! is my favorite. I support other voices like that, like Truthdig.
Is there anything you don't like spending money on? Like, "oh, I can't believe I have to buy a new pair of jeans today…"
Oh, no, I don't wear jeans. But nothing against them.
If I gotta do something — like if my coffee grinder broke, say, I would go out and get a nice coffee grinder. I'm not shy about buying a salt shaker that is wood and metal — trying to stay away from plastic if I can.
You told The Guardian a few years ago you like to invest in green concerns.
I'd like to make the transition in a sensible way, really put some energy behind the Green New Deal. We have most of the scientists in the world say[ing] that we're skirting on the edge of, pretty much, catastrophe.
I haven't been to all these little islands on the planet, but I don't want them to go away before I have a chance to go visit. I certainly don't want to drown all those people who are living in those places.
Those kinds of things worry me. The whole idea of the water supply and water being sold to us for... I don't know. How much is a bottle of water these days? I get glass bottles with the ceramic dispenser in the middle. You buy water. What do you pay for a bottle of water?
Probably like $2, $3.
If you got a bigger bottle, more like $6 or $8. It's a big corporation that takes the water out of the ground, sticks it in a truck, puts it in a bottle and sells it to you for $2 for a little 8-ounce glass of water. Crazy.
Jay Maidment—Disney Enterprises
Let me ask about your career real quick.
My career! It's good, I like it.
I've got Dumbo coming out, and I'm so happy about being in it because this is my fourth time working with Tim Burton. It's going to be so beautiful, and it's for everybody. It's for young kids, for old kids and us kids. Tim's imagination is just off the charts. It's a wonder.
I just finished a little bit on Jumanji 2. I had one of the greatest experiences with Dwayne Johnson — The Rock — and Kevin Hart and Jack Black, all the folks. I went to Atlanta.
Atlanta's a good example of what's going on in the film industry. They give you a tax credit. In New Jersey, [Gov.] Phil Murphy just put forth a tax credit that I'm hoping we can nurture, because it brings jobs into the local area. It puts so many people to work. That economic model really makes a difference.
This interview has been edited and condensed for clarity.