Meet David Tepper, the Hedge Fund Manager and Trump Critic Who Just Dropped $2.2 Billion on an NFL Team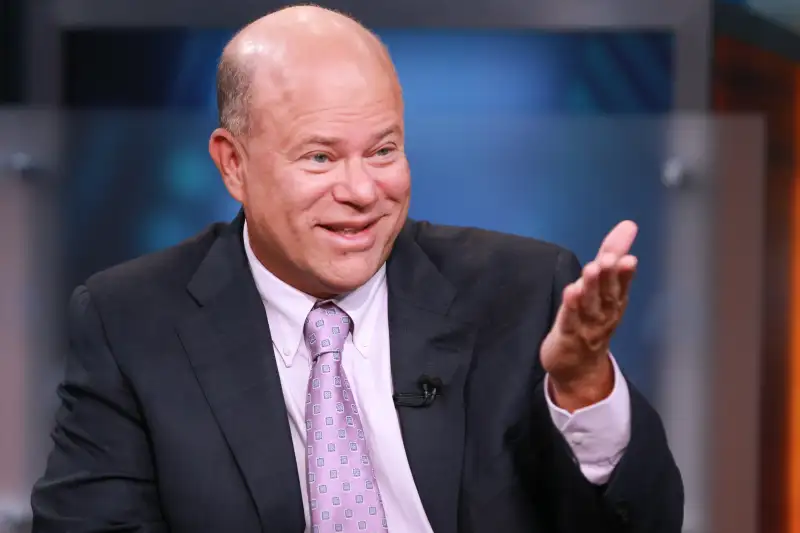 CNBC—NBCU Photo Bank via Getty Images
The proud new owner of the Carolina Panthers is David Tepper—a hedge fund billionaire based in South Florida who is an outspoken critic of Donald Trump and owns an opulent oceanfront mansion in the Hamptons.
David Tepper has a net worth of $11 billion, according to Forbes, which describes him as "arguably the greatest hedge fund manager of his generation." At the age of 60, Tepper just spent over one-fifth of his wealth—nearly $2.3 billion—to purchase the Carolina Panthers, the NFL team based in Charlotte, North Carolina. It's the highest amount ever paid for an NFL franchise, and among the most expensive sports team purchases period.
How did Tepper make enough money to buy an NFL team? After working for nearly a decade for Goldman Sachs, Tepper founded the hedge fund Appaloosa Management in New Jersey in 1993, and he became fabulously wealthy in the aftermath of the late '00s financial crash. According to a 2010 profile of Tepper published in New York magazine, Appaloosa and Tepper personally "made a killing during the crash by betting the government wouldn't let the big banks fail." Appaloosa's assets rose from $57 million in 1993 to $13 billion in 2010, and are now up to around $17 billion.
Jerry Richardson, who has owned the Carolina Panthers since the team was founded in 1993 and has been embroiled in a cloud of sexual and racial misconduct allegations, agreed on Wednesday to sell the team to Tepper.
Record High Paid for NFL Team
Tepper, who was already a partial owner of the NFL's Pittsburgh Steelers, will reportedly pay $2.275 billion to purchase the Carolina Panthers—almost all of it in cash. That would set the record high for the price of an NFL team, and it appears to be the second highest amount ever paid for any U.S. sports franchise.
The title for most money ever paid for a Major League Baseball franchise belongs to the Los Angeles Dodgers, sold for $2 billion in 2012. Three NBA teams have sold for $2 billion or more, including the overall record high among U.S. franchises: the Los Angeles Clippers ($2 billion in 2014), the Houston Rockets ($2.2 billion in 2017), and the Brooklyn Nets ($2.3 billion in 2017).
The $2.275 billion paid for the Carolina Panthers blows away the previous record high for an NFL team, the $1.4 billion purchase of the Buffalo Bills in 2014. Bear in mind, however, that these are sales prices—not valuations. According to Forbes, the most valuable NFL team is the Dallas Cowboys, which would sell for an estimate near $5 billion if owner Jerry Jones somehow decided to put it on the market.
Streeter Lecka—Getty Images
Harsh Critic of Donald Trump
In addition to his wealth, Tepper is known for his brutal criticism of President Donald Trump. Tepper originally supported Jeb Bush during the Republican primaries, then switched to John Kasich, before ultimately endorsing the Democratic candidate, Hillary Clinton, largely out of fierce opposition to Trump. In the days before the 2016 presidential election, Tepper appeared on CNBC and blasted Trump as "the father of lies" and said he is not remotely as charitable as the Trump campaign would have voters believe.
"During [Hurricane] Sandy, the big Sandy benefit, the big 9/11 benefit, not one dime. Not one dime! You can't tell me this is a charitable, generous person," Tepper said.
He also said Trump may be "demented, narcissistic and a scumbag."
Trump does not appear to have made any public comments referring to Tepper or his criticism. But Donald Trump's relationship with the NFL is complicated, to put it mildly. As Sports Illustrated reported, Trump has tried (and failed) to buy NFL teams on multiple occasions, and Trump spearheaded an effort in the 1980s to sue the NFL when he was the owner of the New Jersey Generals, part of the upstart USFL. Last fall, Trump engaged in a feud with NFL players for protesting and not standing for the national anthem before games. Trump reportedly tweeted 37 times about the issue in one month.
Moved from New Jersey to Florida to Pay Lower Taxes
David Tepper was the richest person in New Jersey until he fled the state, moving both his hedge fund business and his official residency to Florida in early 2016. The New York Times noted that Tepper's move was viewed as a sign that New Jersey was losing its wealthiest taxpayers to states like Florida, where there is no personal income tax. "Tax experts say his move to Florida could cost New Jersey — which has a top tax rate of 8.97 percent — hundreds of millions of dollars in lost payments," the Times reported.
Jeff Greenberg—UIG via Getty Images
When Tepper opened his hedge fund office in South Beach, he instantly became the second-richest person in Florida, behind Thomas Peterffy, the online brokerage pioneer with a net worth of $25 billion.
David Tepper Real Estate
While still based in New Jersey, Tepper reportedly lived a fairly low-profile life. For more than two decades, he lived and raised three kids in a stone house in Livingston, not far away from the inconspicuous Appaloosa Management headquarters.
Tepper did, however, splurge on a stunning house in the Hamptons: In 2011, he purchased an oceanfront mansion in Sagaponock for $43.5 million, and then had the place razed and replaced with a 15,000-square-foot Georgian-style estate. Curbed described the property as a "revenge mansion," complete with a phallic-shaped pool. Tepper bought the house from the ex-wife of his former boss at Goldman Sachs, Jon Corzine, the former U.S. Senator and governor of New Jersey.
Tepper's Appaloosa Management office is now located 10 minutes from downtown Miami in South Beach, in an eye-catching seven-story building that glows in different colors at night.