The 7.45-Carat Engagement Ring Donald Trump Gave to Marla Maples Is for Sale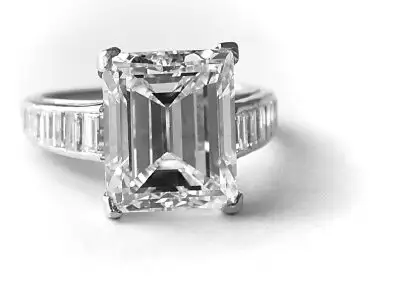 The engagement ring Donald Trump gave to Marla Maples back when he was just a bombastic playboy and not a presidential candidate, and back before she became a "Dancing with the Stars" contestant, is being put on the auction block.
The auction is being handled by estate jewelry auctioneer Joseph DuMouchelle, and the ring could command as much as $300,000 or even more.
The presumptive GOP candidate for president proposed to Maples with the 7.45-carat Harry Winton ring in 1991. Maples put the ring up for auction following their 1999 divorce, where it sold for $110,000, which she donated to charity. "It seems pretty tacky to me. It's really ridiculous," Trump said at the time of Maples' decision to auction off the ring.
The buyer has returned to Joseph DuMouchelle to auction the ring—now worth an estimated $300,000—once again, perhaps at quite a handsome profit. The auction will be held at the Lotte Palace Hotel in New York City on June 29.
Read Next: 5 Super Dumb Financial Moves Encouraged by Trump University
"Provenance is often hard to come by when jewelry or artwork changes hands. The Harry Winston ring has multiple levels of provenance including the fact it was made by Winston and owned by Marla Maples and Donald Trump," says jewelry auctioneer Joseph DuMouchelle. "Fortunately, this ring has it all. The pieces included in this sale are heirlooms of investment quality."