Cheap Gas Helps Pull the Plug on Electric Cars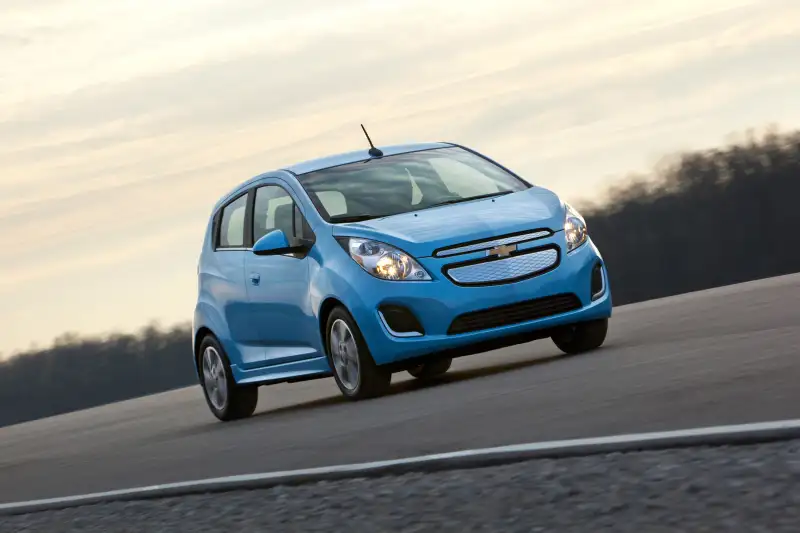 How does the price of gas correlate to electric car sales? One might reasonably assume that the higher gas prices go, the more likely battery-powered vehicles are to appeal to the masses. When gas prices are cheap, on the other hand, interest in electric cars would tend to fade, as the difference in the cost of charging versus fueling up shrinks.
Jessica Caldwell, director of industry analysis at Edmunds.com, has said that gas prices "certainly" have an effect on electric car sales. This week, Edmunds released some data that may seem particularly alarming to green car enthusiasts: Thus far in 2015, 22% of owners who traded in hybrid or electric cars did so while buying an SUV; only 12% did such as swap three years ago.
"For better or worse, it looks like many hybrid and EV owners are driven more by financial motives rather than a responsibility to the environment," Caldwell said in a press release timed to coincide with Earth Day. "Three years ago, when gas was at near-record highs, it was a lot easier to rationalize the price premiums on alternative fuel vehicles. But with today's gas prices as low as they are, the math just doesn't make a very compelling case."
Edmunds is hardly the only auto industry observer to take note of how low gas prices affect car purchases. John Krafcik, the former CEO of Hyundai Motor America and current president of the car-buying website TrueCar.com, explained to NPR, "During months when gas prices are low, less fuel-efficient cars tend to take a greater share of the market and vice versa. It's a fairly one-to-one relationship."
Yet other data indicates that falling gas prices have little, or perhaps no, impact on sales of electric vehicles. The Los Angeles Times pointed out that plug-in EV sales were up 3% in January 2015—when the national average price for a gas was a cheap $2 per gallon—compared with sales in January 2014. Sales of the plug-in Nissan Leaf remained strong last fall and hit a record high for 2014, even as gas prices plunged and fuel-efficient hybrids like the Toyota Prius struggled to win over buyers. Some electric car enthusiasts have therefore concluded that "gas prices don't affect electric car sales," or that there is "zero correlation" between gas prices and plug-in electric vehicle sales.
Let's look at how things have played out over the past few months, however, during a time when gas has remained cheap, and when forecasts indicate that prices at the pump will stay low for some time to come.
Indeed, EV sales in January 2015 surpassed the same month in 2014, and sales in the first three months of this year are above the corresponding period from 2014. According to Inside EVs data, 23,339 plug-in cars were purchased in the U.S. from January to March 2015, compared with 22,671 for the same three months in 2014. Yet 2015's total includes 2,681 sales of the BMW i3, a vehicle that wasn't on the market during the same period in 2014. What's more, sales of the $70K+ Tesla—which, presumably, few buy for the sake of saving money on fuel—have taken off lately. Through March 2015, an estimated 4,700 Tesla Model S vehicles have sold, compared to 3,500 a year ago. Remove the i3 and the Model S from the equation, and EV sales in 2015 have fallen behind the 2014 pace.
Notably, the world's best-selling electric car, the Nissan Leaf, is in a sales slump. Just over 4,000 Leaf purchases have been made in the U.S. during the first three months of 2015, down more than 20% compared with roughly 5,200 for the corresponding period a year ago. The #2 best-selling plug-in, the gas-electric hybrid Chevy Volt, has fared even worse: The prospect of the forthcoming 2016 redesign, as well as anticipation of the long-range Chevy Bolt down the road, seems to have dampened enthusiasm for the current Volt. Sales are down roughly 50% compared with last year, and Chevy announced it would halt production of the Volt in May with the hopes of clearing out a backlog on dealership lots.
A couple of other GM electric cars are showing obvious signs of weakness as well. Cadillac just cut the price of the ELR plug-in hybrid, while Chevy dropped the price of the Spark EV—essentially bringing the takeaway cost to under $15,000 in some places once incentives are factored in—and has also begun offering leases for as little as $139 per month.
That's "cheaper than the average family's monthly phone bill," as Kelley Blue Book's Karl Brauer put it in a USA Today story. "Automakers are doing what they can to get these vehicles out of showrooms and into consumers' hands."
It's foolish to say that the price of gas is the only reason more people aren't buying these cars. Still, the cheap price of gas can only hurt the case for owning such a vehicle.
As for what's the smartest approach when it comes to deciding which car to go with, it's unwise to buy into an idea just because it happens to be trendy at the time, just as it's unwise to make a big-ticket purchase based on the price of gas at any given time. Most car buyers expect to own their vehicles for the long haul, and they should fully expect gas prices to fluctuate over the years. Edmunds.com put it this way: "The best rule of thumb is that the longer you intend to keep a vehicle, the less you should rely on the present price of fuel when determining whether your budget can handle the monthly operating costs."