For Electric Cars, High Gas Prices Can't Come Back Quickly Enough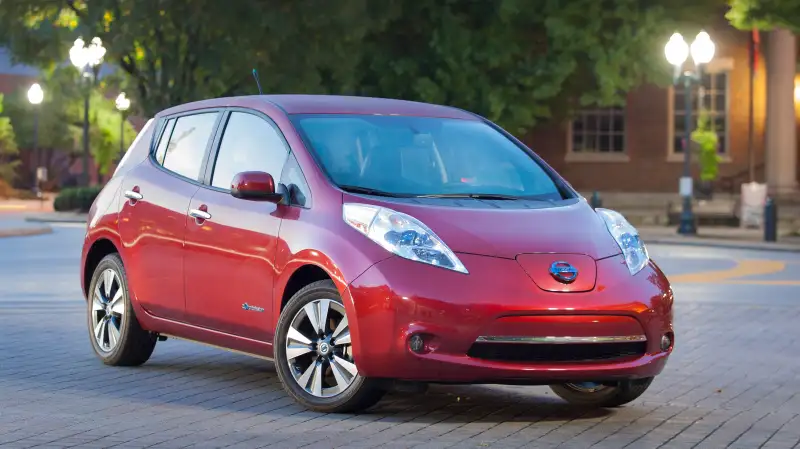 Thanks to the dramatic decline in prices at the pump, the average American household is expected to spend $750 less on gas in 2015 than it did last year. We've already seen how some of this "saved" money is being spent, what with restaurants, casinos, hotels, and recreational activities all seeing a bump in business lately. Cheap gas seems to have affected big-ticket purchase decisions as well, exhibited most obviously by the spike in SUV and luxury car sales.
It's an entirely different story, however, when it comes to the impact of cheap gas on electric cars such as the Nissan Leaf. Nissan just released its February numbers, and sales for the brand were up 1.1% compared with last year. Sales of the all-electric Leaf, however, were down 16%. That follows on the heels of a 15% decrease in January, the first such sales decline for the Leaf in two years. Overall Leaf sales dropped from 2,677 for the first two months of 2014 to 2,268 this year.
The recent sales performance of the Chevrolet Volt, the gas-electric pioneer that has been vying with the Leaf for the title of most popular plug-in among buyers, has been even worse. January was the worst month for the Volt since August 2011, with only 592 units sold, a decrease of 41% compared with January 2014. According to General Motors data, 693 Volts sold in February 2015, a drop of 43% compared with 1,210 the year before.
Surely, the prospect of new Chevy plug-in models has hurt Volt sales lately. The all-electric Chevy Bolt, expected to cost $30,000 and get 200 miles on a single charge, is planned to hit the market in 2017, while the 2016 Volt should be available for purchase during the second half of 2015. Many would-be Volt buyers are simply waiting for the newer model, which can be driven 50 miles on electric power, up from 38 miles for the current one.
That explains some—but not all—of the decline in Volt sales. Certainly, cheap gas prices have done damage to sales of the Volt as well as the Leaf, other plug-in vehicles, and even hybrids like the Toyota Prius to boot. After all, one of the big reasons to buy an electrified vehicle is that powering it is cheaper than filling up at the pump. Consequently, when the price of gas plummets, like it did month after month for nearly half a year recently, a prime argument for going the plug-in route is weakened.
It isn't just new plug-in models that have taken a beating thanks to a combination of cheaper gas prices and emerging new tech that makes older models seem outdated in a hurry. According to the Wall Street Journal, the resale value of used electric cars has absolutely tanked:
Nissan is coming off of the best-ever year for any plug-in, with Leaf sales in the U.S. topping 30,000 in 2014. The way things have started in 2015, it will be difficult for the automaker to beat last year, though Nissan has blamed bad weather for the Leaf's recent struggles, and it expects a strong rebound in the spring. Meanwhile, at the start of 2014, Nissan CEO Carlos Ghosn said he anticipated selling an average of 3,000 Leafs monthly that year, and 4,000 Leaf purchases monthly sometime in the near future.
Recent sales notwithstanding, Nissan isn't giving up on electric cars anytime soon. Neither are many other automakers. At the auto show in Geneva this week, BMW, Volkswagen, and Fiat Chrysler were among the car companies showing off high-tech battery-powered vehicles that demonstrate their commitment to electrified cars.
At some point, rising gas prices will likely steer more interest back to alternative-fuel cars too. But that hasn't happened yet. "Gas prices inched back up this month, but it didn't appear to have much impact on shoppers' choices," Edmunds.com senior analyst Jessica Caldwell said in a report focused on February sales. "We're still seeing a strong market for trucks and SUVs—especially compact crossover SUVs, which continue to ride an impressive wave of popularity."
At least if the Leaf and Volt are struggling, Nissan and GM can take solace in the fact that some of their larger, less fuel-efficient and less environmentally friendly siblings are faring quite well during this winter of cheap gas, cold temperatures, and lots of snow. Two Nissan SUVs, the Pathfinder and Rogue, had record sales months in February, while GM pickup sales were up 37% for the month.