Here's How Much TV Actors, Actresses, & Other Professionals Earn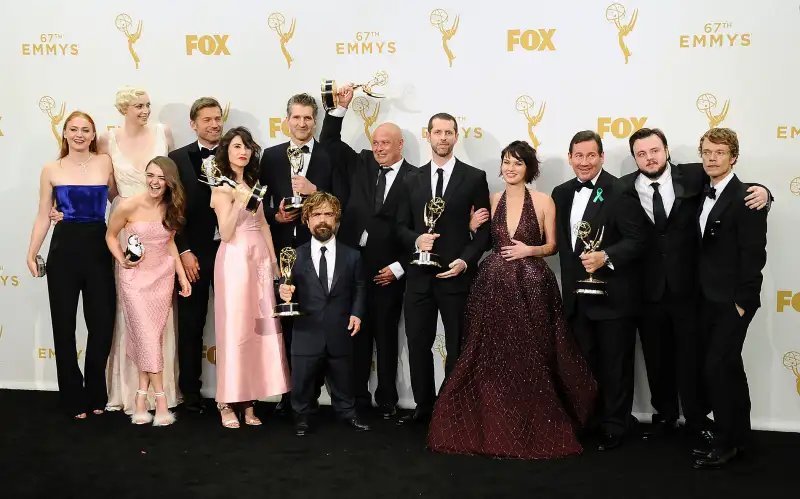 Jason LaVeris—FilmMagic/Getty Images
As the 2016 Emmy Awards approach, it's time to reflect on a few issues:
Why it took so long for The Americans to be nominated for Best Drama
Whether or not Julia Louis-Dreyfus has room in her home for one more award
And how much all those celebrities take home each year
Since we're all about money here at Money, we decided to take a look at the salaries of the actors, actresses, directors, and writers of your favorite TV shows.
Actors & Actresses
The stars on the small screen, unsurprisingly, comprise the 1% of television earners. FORBES ranked Sofia Vergara as the top-earning actor of either gender on its annual list of the highest paid actors and actresses. The Colombian actress brought home a reported $43 million between July 2015 and June 2016. But it isn't her work on Modern Family that gave her such a big payday; most of Vergara's income is tied to endorsement deals, according to FORBES.
It's The Big Bang Theory's Kaley Cuoco who commands the biggest acting-related income of any other star: She and her cast mates Jim Parsons and Johnny Galecki each take home $1 million per episode for the high-rated CBS sitcom. (FORBES' 2016 list of highest paid actors isn't out yet, but last year the top-earners were Parsons and Galecki, bringing home $29 million and $27 million, respectively, and Mark Harmon who brought home $20 million from working on NCIS.)
Read Next: Why You Should Care About the Hollywood Wage Gap
As for Emmy-nominated thespians, Deadline reported earlier this year that five cast members of HBO's Game of Thrones negotiated top-tier salaries. Peter Dinklage, Kit Harington, Lena Headey, Emilia Clarke, and Nikolaj Coster-Waldau are reportedly bringing home $500,000 per episode for the sixth season (not that that means their characters will survive to the end).
The rise of prestige TV also means that salaries are following suit, as more and more top-tier film stars grace the silver screen. One such example: TV Guide's annual salary report put Kevin Spacey at $500,000 per episode for Netflix's House of Cards in 2015.
Of course, top-earners are very much the exception. Salaries for those without starring roles depend on SAG designation (this is true across job title, not just for actors and actresses). For example, between July 2015 and July 2016, a day performer was guaranteed $906 per day. A "major role" performer's rate for a half-hour show is $4,983, based on five days of work, while the same role earns $7,973 for a one-hour show, which is based on eight days of work.
Directors
Rates for directors between July 1, 2015 and June 30, 2016 set by the DGA (Directors Guild of America) are complicated: It depends if the show is network prime time, non-network non-prime time, basic cable (which is then broken down by budget of the show, how long the show has been airing, and length of program). But rates varied from $11,189 minimum per episode for a non-network, non-prime time, half-hour show, to a $123,146 minimum per episode for a network prime time, two-hour show/production. Directors of pilots are in their own category, and earned between $43,982 to $171,036 (all of these rates see a slight bump for the next calendar year).
Read Next: Jane the Virgin Offers a Refreshingly Real Take on Money and Family Finance
Directors aren't credited for every episode in a season, particularly for series with 22 episodes per year, but, as the Hollywood Reporter writes, they often pick up some extra cash with an Executive Producer credit (top stars also occasionally get an EP credit, and a salary boost).
Writers
Like directing, the payout for scripts and teleplays is...complicated. Where the show broadcasts, what season the show is in, if it's episodic or not, how long it runs for, and how many writers work on the scripts are all factors. One example: A 60 minute network primetime show earned a single writer a minimum $37,368 for the script and teleplay from May 2, 2015 to May 1, 2016, as stipulated by the Writers Guild of America. That's paid out over three installments.
However, the script and teleplay for a one-hour, basic cable, high budget drama in the second or a subsequent season nets a writer $27,078. A rewrite earned $10,621 for a 60-minute show and a story outline brought $4,927.
If you're not submitting a script but rather are on a writing staff, the math is a lot more complicated. Pay depends if the show airs once a week or more, is a variety or comedy show or standard series, how long it is, whether the employee in question is the head writer or a staff writer, etc. Many writers are paid weekly.
Interestingly, the WGA also breaks SVOD shows—meaning those on Hulu and Netflix—into a different category. Those payments are based on length of show and budget like their network and cable counterparts, but also on number of subscribers.
Script writers also earn fees for reruns on ABC, CBS, FBC, and NBC in prime time.
Program Hosts and Judges
Jimmy Kimmel, the host of the 68th Emmy Awards, pulls in about $10 million per year on Jimmy Kimmel Live! To host the Emmys, the comedian can expect to earn in the high six figures at the least, if the paychecks of former Golden Globe hosts Tina Fey and Amy Poehler are any indication (although given that he'll be the sole host and is, ahem, a man, he may cut a seven-figure check).
Kimmel's $10 million late night salary is fairly standard for a late night host. Estimates put The Tonight Show's Jimmy Fallon at around $12 million per year. David Letterman's salary reportedly peaked at $40 million per year, and by the end of his term on The Late Show he was pulling in $20 million per year.
Read Next: Why Stephen Colbert Is Taking a Pay Cut for 'The Late Show'
In other parts of TV, Good Morning America host Michael Strahan is earning in excess of $20 million per year, according to People. Meanwhile, his former co-host Kelly Ripa makes a reported $15 million on Live!
And on the reality TV circuit, TV Guide reported that Jennifer Lopez made $17.5 million on American Idol. Big time hosts like Ryan Seacrest can pull in similar sums.
National Median Pay
Payscale provided Money with the national median pay for over 40 job titles in the television industry, including:
Production Director—$97,600
Executive Producer—$92,600
Casting Director—$67,400
Video Engineer—$66,500
Art Director—$61,800
Production Manager—$59,100
Marketing Executive—$55,600
Cinematographer—$52,000
Sound Designer—$48,900
Writer—$48,800
Associate Producer—$45,900
Makeup Artist—$35,800
Personal Assistant—$32,100
No TV? Here's how you can stream the Emmys online.