Jane the Virgin Offers a Refreshingly Real Take on Money and Family Finance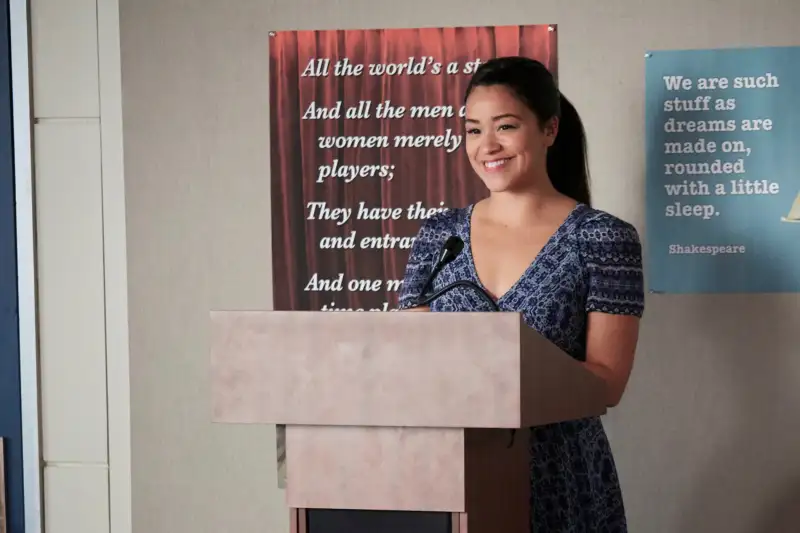 The second season of the most realistic show on TV weaves together plot lines involving evil twins, blackmail, a fake FBI raid, two kidnappings, and multiple drug lords stirring up trouble. In fact, its entire premise is that a 23-year-old virgin becomes accidentally artificially inseminated by a millionaire hotelier who just might turn out to be the love of her life.
Yes, the CW's Jane the Virgin is the most realistic show out right now—for the way it portrays how individuals and families relate to money, dream careers, and class structures. Jane is one of the rare shows that doesn't shy away from addressing the often unglamorous aspects of personal finance and adult responsibility. (The Season 2 finale airs tonight.)
Jane Gloriana Villanueva, played by the wonderful Gina Rodriguez, is a single mother in her early 20s, dealing with a surprise pregnancy, family strife, a love triangle, graduate school, and the uncertainty of her future career as a writer. She grew up in a working-class home with her grandmother, Alba, a home healthcare nurse, and her mother, Xiomara, who teaches dance and dreams of becoming a singer.
Read next: How Can Lorelai Gilmore Afford a $2.8 Million Home?
In the show, Jane's grandfather bought their house in Miami for a good price when he moved to the U.S. from Venezuela, and Alba takes great pride in the life and home she has built for her daughter and granddaughter. But as an undocumented immigrant (at least when the show begins), her career options are limited, and while the family isn't poor, they must work for everything they have.
Jennie Snyder Urman, Jane's showrunner, says growing up in this environment has shaped Jane in profound ways, and the show makes a point of portraying how money and class influence their characters.
"There are so many things that go into making you who you are and who your family is," Urman says. "How much money you have really affects so many choices, so many opportunities, that you think you have or don't have."
This background informs why our heroine is unfailingly practical in her career and financial decisions, despite her aspirations to be the next great romance novelist. She works as a waitress at the Marbella hotel and a teaching assistant to support herself and her child, Mateo, and makes a pro-and-con list for every major (and not so major) decision. "Jane has always been really responsible and resourceful and has been a real planner, she doesn't want to spread herself too thin," says Urman. "She took six years to finish college so she could work throughout, because she wanted to be careful about starting life with too much debt."
In the aptly titled episode "Money Issues," just as she and her fiancé Michael are about to put down money on their dream home, Michael loses his job, throwing a wrench in their perfect plan. The soon-to-be-weds don't miraculously come up with the funds (though baby daddy Rafael does offer to pitch in). Instead, they have a real conversation about what they want and decide to forgo a new abode until they are once again a two-income household. It's a situation plenty of new couples find themselves in, and Jane handles it with the weight such a life-changing predicament warrants.
Read next: Funny Money Wisdom from 10 Beloved TV and Movie Moms
"That's how most people do it, you have to do a lot of things to cover the bills," Urman says. "Situations aren't always perfect."
But it's other not just the money part of life that Jane gets right—it's other parts of career and family balance as well. "Money Issues" adds a layer of complexity in its depiction of just how much Jane struggles with leaving Mateo to pick up more shifts once Michael is out of a job. That's a situation many mothers can relate to, especially in the U.S., where paid parental leave is provided to so few.
Urman acknowledges she herself has struggled with the issue: You want to feel fulfilled and do good work, but it isn't always practical to go back for a paycheck that will barely cover childcare costs. And as Jane demonstrates, you may need to go back to work far sooner than you're emotionally ready to.
"We want to make sure we're not living in this bubble world where you just make choices and follow your heart and go where the wind takes you," she says. "Because that's not how life is. You're always balancing the practical with the more wild yearnings of your heart."
Issues of money and class also provide countless sources of tension between Jane and Rafael, the aforementioned millionaire, about how to raise their son. Rafael has grown up with a very different relationship to money, never wanting for anything and comfortable with indulgences and luxuries Jane could scarcely imagine before she met him. "Practical" is not an adjective anyone would use to describe him. "Their expectations are so different," says Urman. "Jane doesn't want [Mateo] to be spoiled too much, she values that she had to work for everything in her life. She wants Mateo to have the same values."
Of course, not every monetary situation on Jane is 100% realistic—this is a telenovela, after all. Jane may not accept a new home or extravagant gifts from Rafael, but the fact remains that the multimillionaire has the means to provide a secure future for her child, as well as a free luxury hotel room when her house is undergoing renovations. Not only that, but because she waitresses at the hotel Rafael owns, she also doesn't need to worry about angering her supervisor or taking days off to spend with their son. Many working-class Americans can only dream of that kind of flexibility.
But for every eyebrow-raising element on the show, Jane addresses countless other true-to-life financial struggles people grapple with on a daily basis.
"We try to shoot it through everything and everybody," says Urman. "Money defines the way you see the world and look at the world and dream about the world."