This 19-Year Old Plays FIFA Video Games for a Living. He Could Be $250,000 Richer by Week's End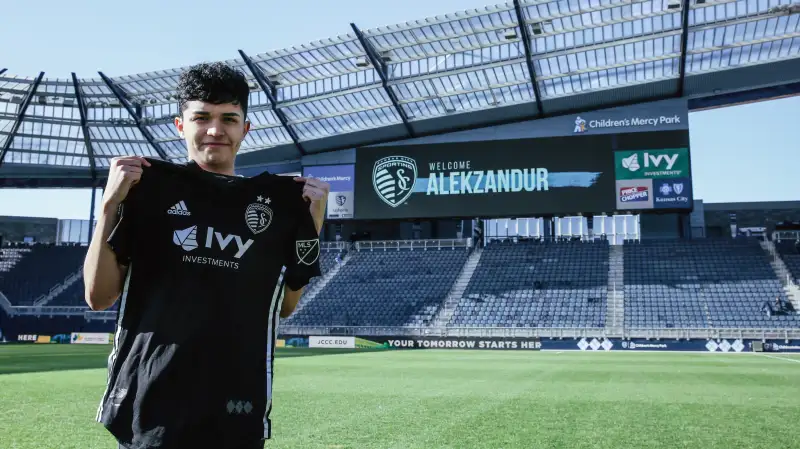 Call it a virtual World Cup: This week in London, 32 players will face off for the chance to win $250,000 by being the best FIFA player — that's the video game, not the actual sport of soccer — in the world.
Just one of them, however, is American: 19-year-old Kansas City native Alex Betancourt.
Only American Contender
Betancourt, who competes under the gamer tag SKC Alekzandur, has already played his way into the final showdown. He secured his slot — and picked up $10,000 in prize money — by finishing in the top eight at the Global Series Playoffs in May in Amsterdam, which brought together 128 top players who had qualified from around the world.
Although one of the younger, less experienced players in this week's field, Betancourt isn't exactly flying under the radar. He has the backing of Major League Soccer team Sporting Kansas City, which signed him in March to be the club's first professional FIFA player.
"It's pretty mind blowing," he says. "They've given me a lot of support and helped me build my brand." The job comes with a steady salary — he declined to disclose the amount, but says it's more than enough for a 19-year-old to live on — as well as other promotional support.
He also has found an agent, who helped him negotiate his Kansas City contract and now manages his sponsorship deals, including one with Adidas: "I get all kinds of gear," Betancourt says.
A Second, Virtual World Cup
Just a few weeks after the World Cup wrapped up, the FIFA eWorld Cup takes place this week at London's O2 Arena, with matchups running from Aug. 2-4, 2018.
The annual video game tournament has grown massively since its inception in 2004, and the $250,000 top prize is the biggest yet — last year's winner got $200,000. The overall prize pool, which includes payments to everyone who finishes in the top half of the draw, is $400,000 this year.
The rise in competitive virtual soccer has come alongside a surge in e-sports in general. Industry revenue is projected to hit $1.5 billion by 2020, according to experts at market researcher Newzoo, and more than 20 million players around the world competed globally online and in local tournaments in the run-up to this week's London finals.
Professional MLS teams in the U.S. have set up a parallel e-sports league of their own, with teams signing players and staging intra-league competitions. Half a dozen sponsored MLS players made it to the Amsterdam showdown, although Betancourt is the only one who advanced.
That means while the virtual version has been modestly better for American players than the actual World Cup — which the U.S. did not qualify for — it's still a bit lonely out there, says Betancourt.
"Being the only American to qualify has been absolutely crazy," he says.
In fact, just making it to the finals has been an accomplishment, he notes: "I've got nothing to lose."
Playing FIFA for Money
Betancourt grew up following professional soccer — the nonvirtual kind — because his dad was a passionate fan. "My entire life revolves around it." He even played for seven years as a kid, until several injuries sidelined him during high school. Meanwhile, he'd already picked up the FIFA video game habit — although, he notes, "I never really knew I was at such a high level until 2017."
That was the year the game's manufacturer, EA Sports, began to invest heavily in their e-sports tournaments, announcing bigger prize pools for the competitions. "I was like, OK, I'm pretty decent at this," Betancourt recalls. "Let me give it a shot."
Even as a newcomer, Betancourt says he began winning money at regional tournaments — approximately $13,000 in 2017. So far in 2018, he's earned $22,000 at tournaments, including the Amsterdam haul.
More recently, Betancourt has started to use Twitch, a video streaming platform that popular gamers use to build a following (and, ultimately, attract sponsors). He's even used the platform to host a charity stream, funneling prize money to the Starlight Children's Foundation and the American Foundation for Suicide Prevention. The initial results were modest, he says, but it's something he wants to keep doing — "especially if I'm gaining a bigger audience."
During the past year, he was in his freshman year at University of Kansas, juggling his gaming career with homework and campus life. Going to class, getting work done, and still finding time to practice FIFA last year was "very, very hard," he says. "I always had to be as productive as possible."
Regardless of how he fares in London, Betancourt says that he'll probably take the coming year off college to focus on his gaming career. Fortunately, he says, his parents and siblings have been "extremely supportive of this whole e-sports stuff."
The fact that his hobby is paying for itself probably helps.
"I make enough to live off of and not have to worry," Betacourt says. "It's one of those things where your hobby turns into your job."