What to Do When Financial Opposites Attract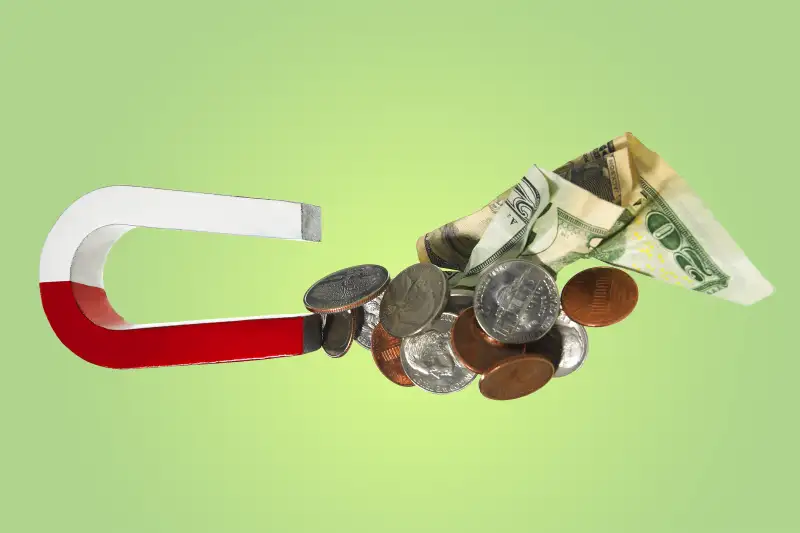 Ira Cohen and his wife, Lisa, have been married for 34 years, and they are the first to admit that they are financial opposites: "She's a "let's live for the moment" person, and I err on the side of caution," says Ira, a mutual fund executive. That created a conflict when the Sugar Land, Texas, couple remodeled their kitchen several years ago. Lisa was insistent on a $1,500 warming drawer that Ira didn't think was necessary. The couple bickered over it, then "I overrode him and bought it anyway," says Lisa, a high school administrator. He wasn't happy but finally succumbed. "If she is that passionate about this, am I really going to fight and scream over it?" he says.
In a poll last year, Money found that 70% of couples argue about money, putting it ahead of conflicts over chores, sex, or snoring. What's more, money fights are the only common spats correlated to divorce: Couples who fight about money weekly are 52% more likely to divorce than those who argue about money monthly, according to a study by Jeffrey Dew, associate professor at Utah State University.
In this year's Love & Money survey, Money identified the No. 1 source of conflict: "spending too much on frivolous purchases." A partner's frugality is another major trigger, in the top five for both generations. This classic spender-saver tension can be bad for your marriage, but can also be deleterious for your finances, particularly if the spender gets out of control.
Here's how to keep each of your opposite tendencies in check to strengthen your union.
Allow bandwidth on smaller stuff. Spenders feel oppressed by savers watching them like hawks (which may explain why American Express found that 33% of men and 40% of women have hidden purchases from their partners). Savers get anxious every time they see their spouses swipe a card. To overcome this tension, automate savings so that those funds are never in question. Also take a cue from the 54% of millennials and 51% of boomers who think spouses should keep some money separate. You'll both feel freer if you set up his-and-her discretionary spending accounts in which you ask no questions about where the money goes, says Brad Klontz, a financial psychologist and the author of Mind Over Money.
To prevent conflicts on joint accounts, set a spending cap, above which each of you has to clear purchases with the other. Around $150 seems to be a magic number for both boomers and millennials in Money's survey. Or set alerts on your accounts to let you know when you exceed a withdrawal amount or your balance falls below a certain level.
Let numbers drive bigger decisions. Larger purchases will naturally require more back and forth. Ira Cohen offers this advice: To avoid inciting anger, don't just say no to a spouse who wants something you don't want. "I tend not to debate the value of the item with Lisa, but be the voice of reason on timing and assessment of need, saying, 'Can we wait on this?' " says Ira. And if she keeps asking, he eventually cedes, recognizing it's something she cares a lot about.
Asking a spender to prioritize wants within a budget can also help you compromise without breaking the bank. Moving from Florida to Chicago this winter, Patricio Virgili, 29, an airport inspector, and his partner, Edmund Balzer, 23, a library specialist, went from one bedroom to two. "We had a lot of empty space, and I wanted to get furniture to fill it out," says Balzer. "But Patricio is conservative with money and happy with a spartan lifestyle." So he made a list of what he wanted, and they ranked items by importance. "Then we negotiated and renegotiated till we were both happy," he says.
Audit yourselves periodically. Whenever Avik and Shailja Chopra feel as if their budget is getting off track, the Millburn, N.J., couple pick a month to record every expense and then talk about what they found. "You don't realize how much you spend until you put it all down on paper," says Shailja, 48, a lawyer. "It always changes the way we handle our finances," adds Avik, 54, a technology consultant.
Flash-point budgeting like this—whether manual or automatic through Mint or Quicken—can help you uncover spending leaks. One time the Chopras discovered Avik was spending $100 a week on lunch. "When my wife saw that, she thought I should bring food from home," Avik says. But he wanted time to connect with his colleagues. So they compromised: He now brown bags lunch three days a week.
More from the Love & Money survey:
Poll: How Boomer and Millennial Couples Feel About Love and Money
Why Couples Need to Get Financially Naked
The Single Most Important Money Talk for Couples