Chick-fil-A Is Giving Away FREE Sandwiches Today. Here's How You Can Get One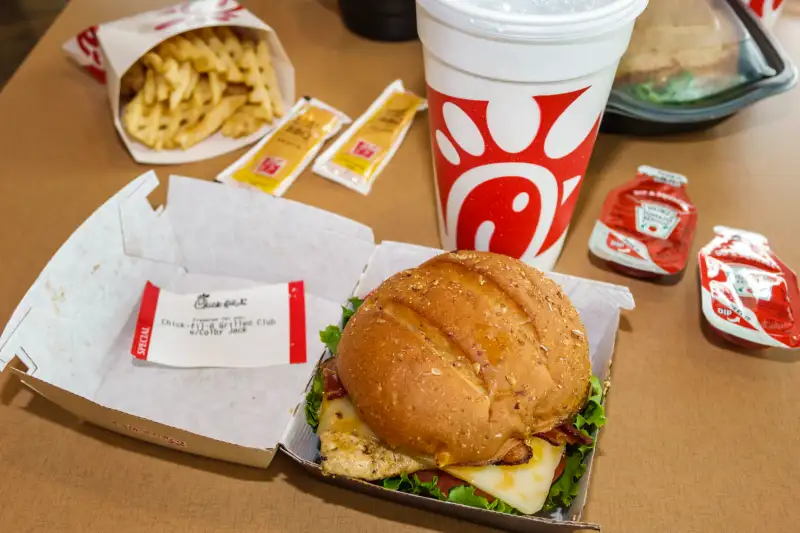 Jeff Greenberg—UIG via Getty Images
Dress the right way today, and you can get a free Chick-fil-A sandwich or other entrée—no purchase required.
Tuesday, July 10, is Chick-fil-A's annual Cow Appreciation Day. The celebration is a play on the chicken sandwich chain's longstanding advertising campaign featuring a group of mischievous cows who encourage the masses to skip burgers and instead "Eat Mor Chikin" at Chick-fil-A.
What Chick-fil-A Cow Appreciation Day means to you and other fast food fans is that it's easy to score free Chick-fil-A food today.
To get free Chick-fil-A on Cow Appreciation Day 2018, all you need to do is dress up like a cow today. Some Chick-fil-A customers go "whole hog" (if you'll excuse the mixed metaphor) by wearing a head-to-toe cow costume. Others put on a cow mask, or just draw cow spots on a white T-shirt. Lucky for you: All of those methods qualify for a free Chick-fil-A entrée on Tuesday.
You can choose from a variety of chicken sandwiches, chicken nuggets, or chicken strips, on the house. Chick-fil-A prices generally run in the range of $3 to $5 for sandwiches and other entrées. There is a limit of one free entrée per customer and customers can redeem the deal between opening and 7 p.m. at any Chick-fil-A location.
Here are some scenes from last year's Cow Appreciation Day at Chick-fil-A, which will give you an idea of how people dress up.