Here's How to Get 4 More Free COVID-19 Tests From the Government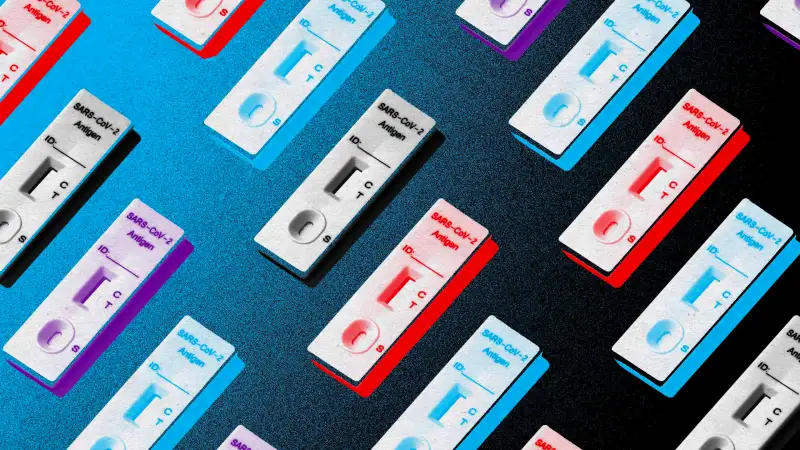 The federal government is once again distributing free COVID-19 tests from its stockpile, opening access for Americans to order four more kits at no cost.
Ordering for this iteration of COVID-19 test distribution is available as of Sept. 25, and the U.S. Postal Service will start shipping the free tests in early October, the Department of Health and Human Services (HHS) announced.
More than 750 million rapid tests have been delivered to households through the government's free rapid testing program, but orders had been suspended since May. This is the fifth round of shipments of the free antigen tests, which provide quick results but are less accurate than lab tests.
The tests come with set expiration dates and don't last forever, and officials decided it would be best to ship them out now ahead of colder fall and winter months when respiratory viruses are known to spread.
"We'd rather folks have these tests in their medicine cabinets that they can use now, than sitting in a stockpile somewhere," Dawn O'Connell, assistant secretary for preparedness and response at HHS, told CBS News.
Additionally, the government said that it's replenishing its stockpile of tests, announcing $600 million in contracts with 12 companies to produce 200 million over-the-counter tests for the federal government.
COVID-19 isn't as prevalent as it once was. Still, you never know when you could be exposed, so you might as well claim your free tests and hopefully avoid having to pay for over-the-counter kits at the pharmacy, which will likely run you more than $20 for a two-pack.
How to order free COVID tests
To order four new free COVID-19 tests from the government, you'll simply need to complete an online form, entering your name and the address where you want the U.S. Postal Service to deliver the tests. You can also include your email if you'd like to get shipping updates.
The website is easy to use, but you can also call the Centers for Disease Control and Prevention's hotline at 800-232-0233 for assistance.
Government website for free COVID-19 tests
You can order up to four tests per household using the government website COVIDTests.gov. The site will ask you to enter your name and address for the delivery. The tests are expected to ship starting in October, and the Postal Service will send them out via its First Class Package Service for deliveries in the continental U.S.
If you need immediate testing, there is also a government website for finding free community-based testing options at pharmacies and other locations.
Do I need insurance to get free COVID tests?
No, you do not need health insurance to order free COVID-19 tests online. Part of the purpose of the test delivery program is to make testing available to uninsured Americans who have fewer free options.
Ordering tests for delivery through the U.S. Postal Service is a convenient option that's totally free, whether you have insurance or not.
Health insurance companies used to be required to cover at-home COVID-19 tests. Up until May, you could get up to eight tests per month through private health insurance with no out-of-pocket costs. However, that ended when the federal public health emergency expired, and many major health insurance companies immediately stopped covering over-the-counter tests.
How to tell if a COVID-19 test is expired
It's unclear how long the free home tests that the government is shipping will last, but officials said they "are intended for use through the end of 2023." The tests will come with instructions for checking the exact expiration date.
Rapid tests have a shelf life, so it's a good idea to check the expiration date on the box whenever you take one.
If the expiration date has passed, there's still a chance the test is good. That's because many tests' expiration dates were extended after production, so you should consult the FDA's website to see if your test is still valid.
New COVID vaccine for fall 2023
In addition to sending out COVID-19 tests, the federal government is encouraging Americans to get a new vaccine booster as the other prong of its efforts to address the possibility of a significant outbreak of COVID-19 returning in the fall or winter.
On September 12, the CDC approved updated versions of the Moderna and Pfizer-BioNTech vaccines for people who want a shot designed to protect against more recent strains of the virus. Almost everyone is eligible to get a shot, aside from infants under 6 months old.
Pharmacies and other providers are already administering the vaccine. Even if you don't have health insurance, all Americans have options to get the new vaccine for free.
More from Money:
Best Long-Term Care Insurance Companies of 2023
Health Insurance Premiums Are Set to Surge in 2024
Retirees Are Heading Back to Work, and It Could Affect Their Social Security Benefits