Frontier Airlines Is Adding 85 New Routes With Flights Starting at $24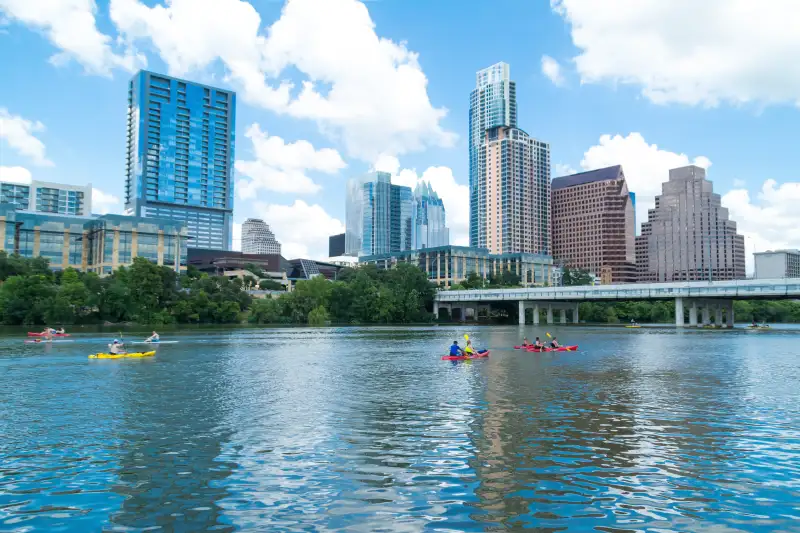 Frontier Airlines, the ultra-low-fare carrier known for occasionally rolling out $20 flight deals, just announced new routes all over the country—and there are some great airfare bargains in the mix as well.
Earlier this week, Frontier said it added 21 new cities to its list of destinations, bringing the total up to 82. However, the company's press release was a little misleading. As USA Today pointed out, the airline had previously flown to 18 of these "new" cities before recently discontinuing service.
The three truly new cities reached by Frontier Airlines are:
• Buffalo, N.Y.
• Charleston, S.C.
• Pensacola, Fla.
The 18 cities with restored service from Frontier Airlines are:
• Albuquerque, N.M
• Boise, Idaho
• Calgary, Alberta, Canada
• El Paso, Texas
• Fargo, N.D.
• Fresno, Calif.
• Grand Rapids, Mich.
• Jackson Hole, Wyo.
• Jacksonville, Fla.
• Little Rock, Ark.
• Louisville, Ky.
• Oklahoma City
• Ontario, Calif.
• Palm Springs, Calif.
• Reno, Calif.
• San Jose, Calif.
• Spokane, Wash.
• Tulsa, Okla.
The airline said it is adding a total of 85 new routes, and is expanding existing service in the winter to getaway destinations like Tampa, Fort Myers, and Cancun, Mexico. Service will also be increased year-round to gateways such as Austin, Long Island/Islip, Miami, Providence, and San Antonio. Frontier will soon offer flights between Miami and 15 cities, up from only six right now. Some of the new routes are on sale right now, while others won't be available for booking until spring 2018.
Perhaps most importantly, for new and existing routes alike, Frontier has some amazing flight deals available right now. Have a look below at the discounted fares below available to members of Frontier's Discount Den loyalty program, which costs $50 per year. Non-members can expect to pay a bit more (around $5 to $15 each way) than the prices listed here.
• Albuquerque to Denver, from $24
• Atlanta to Houston, from $25
• Austin to New Orleans, from $24
• Buffalo to Orlando, from $34
• Cincinnati to Orlando, from $25
• Columbus to Tampa, from $34
• Denver to Oklahoma City, from $29
• Detroit to Miami, from $34
• Grand Rapids to Orlando, from $39
• Knoxville to Orlando, from $24
• Long Island/Islip to Miami, from $34
• Long Island/Islip to New Orleans, from $34
• Las Vegas to San Jose, from $24
• Miami to Trenton, from $34
• New Orleans to Austin, from $24
• Raleigh-Durham to Austin, from $44
In most cases, flights must be booked by Thursday, July 20, to get the lowest prices. The cheapest tickets are generally only good for travel only on Tuesdays and Wednesdays. Availability is limited, and some routes don't launch until the fall of early winter of 2017.
Also, before booking with Frontier or another ultra-low fare airline like Spirit, take note that flight prices cover only basic transportation. Services like checked or carryon baggage, food or beverages on the plane, and seat reservations almost always cost extra. A study on airline fees published this week showed that Frontier and Spirit collected nearly $50 in "ancillary revenues" (any revenues outside of airfare) for each passenger boarding a flight.
In other words, the typical customer winds up spending about $100 above the cost of a round trip on Spirit or Frontier.