Expect Gas Prices Under $2 at Least Until Summer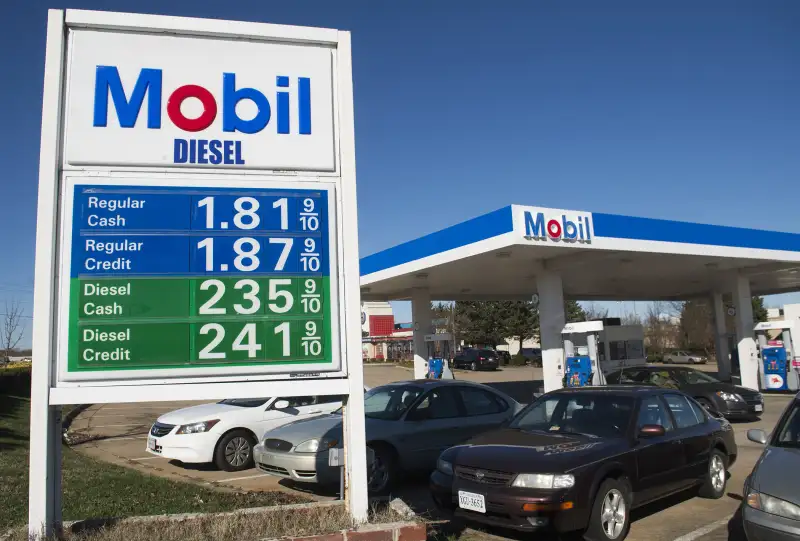 Saul Loeb—AFP/Getty Images
According to AAA, the national average for a gallon of gas just dipped below $1.80, and 43 states are currently averaging less than $2. It's been more than a decade since gas prices were so cheap at this time of year.
Monday's $1.79 national average is the lowest it's been at the start of February since 2004, GasBuddy noted, "when Janet Jackson's 'wardrobe malfunction' was the talk of the Super Bowl half time show and when the national average stood at $1.59 per gallon."
Such low prices at the pump come as a result of cheap oil prices, caused in turn by booming global oil production that has been outpacing demand. "The imbalance between supply and demand and the resolution of distribution and refinery issues is contributing to falling prices at the pump," AAA reported this week. "Market fundamentals continue to point to supply outpacing demand."
Normally, the world's biggest oil producers would address plummeting prices by mutually agreeing to scale back production. But strife in the Middle East between OPEC members means that they're unlikely to agree to curb production, and distrust among other major oil producers is yielding the same results. So the glut of oil remains, with the benefit for drivers being that oil prices—and, consequently, consumer gas prices—are incredibly cheap.
Read next: Gas Prices Are Falling at an Incredible Rate—And Why That's a Problem
Some have been speculating that an agreement will be reached soon to slow production, thereby boosting oil prices. However, the consensus opinion seems to be that such an agreement won't happen anytime soon. "It is a lot of noise," Eric Lee, oil analyst at Citigroup, said to USA Today regarding the theory that a global pact to scale back oil production will be made. "From my perspective, I think it's not very likely."
In the absence of a global handshake deal regarding oil production, Tom Kloza, analyst for the Oil Price Information Service, says he anticipates that the national average for a gallon of regular gas will stay below $2 through the spring and into summer. Prices might go up to perhaps $2.40 at the very peak of summer driving season. Last summer, gas prices were 40¢ to 50¢ higher than that, on a national basis.