Hawaii's Teachers Are Struggling to Keep Up With the Cost of Living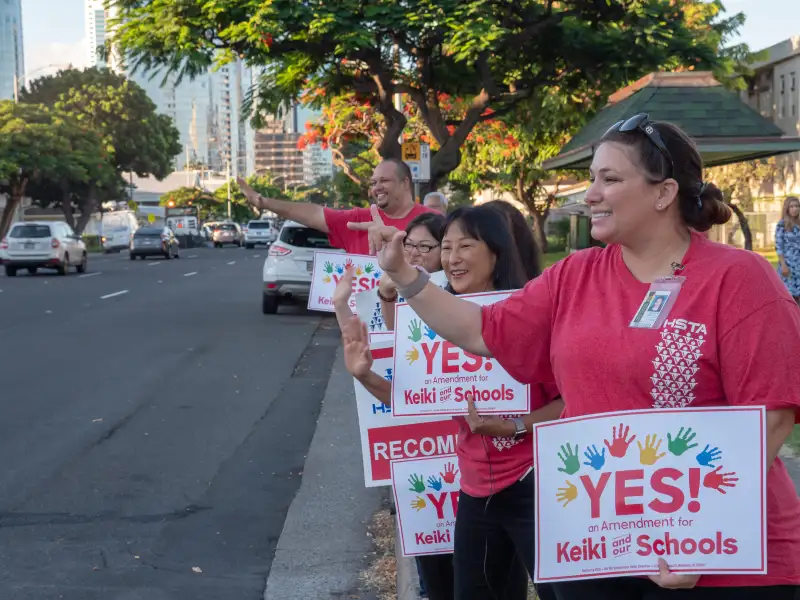 Courtesy of the Hawaii State Teachers Association
To return to Hawaii, Reene Hatakeyama took a $15,000 pay cut.
The elementary school teacher with more than a decade of experience had been working in Washington for her whole career, but, upon having children, she felt the urge to return home to Hawaii — closer to family and closer to her native Hawaiian culture.
But a similar job in Hawaii meant thousands off her paycheck. Her family moved from a three-bedroom home in Washington to a 700-square-foot apartment in Maui, with the same average monthly mortgage payment and monthly rent of $1,500. A year after she returned to Hawaii, she altered the trajectory of her career, leaving her 10-month-a-year classroom job for a 12-month-a-year curriculum coordinating job to earn slightly more a year — but still about $5,000 less than her teaching gig in Washington.
And from Maui, she watched teachers in Washington earn higher wages — further widening the gap between what she could be making there and what she makes now.
Hatakeyama's experience reflects many of those seen by other educators in Hawaii as they struggle to make ends meet in a state where the median home price is $800,000 and 48% of publicly educated students are considered economically disadvantaged, according to the state's Department of Education. Ranked as the worst state for teachers based on a number of factors in a recent study from WalletHub, Hawaii is suffering from a demonstrable teacher shortage crisis — one that has increased class sizes and, in turn, placed a third of students in classrooms taught by long-term substitutes or emergency hires. Educators are teaching with outdated textbooks, insufficient supplies, and dealing with hefty shipping costs they often have to front themselves.
"The lower income affects everything: what our children have access to, what our teachers have access to. Just paying teachers better so that we'd at least attract and retain teachers, make our class sizes smaller — I could go on and on," Hatakeyma, speaking to Money from her office where she was working during a fall break holiday, says. "We are so far behind."
The Hawaii State Teachers Association, the union that represents 13,000 teachers in the state, has been fighting for more funding for years. They have proposed different funding mechanisms and bills to the state legislature year after year, offering solutions and alternatives, with no avail. This month, the teachers may have had their biggest disappointment yet. The Hawaii Supreme Court removed the union's proposed constitutional amendment from the November ballot after critics slammed its vague language. The amendment would have, ideally, paved the way for a property tax on second homes worth $1 million or more that would have gone directly toward public education funding.
"We think of stuff in Hawaii as paradise, but the hard part is our education system, unfortunately, is underfunded and creating huge problems for creating education opportunities for our students," says Corey Rosenlee, the president of the HSTA and a social studies teacher in Oahu.
Critics worried the constitutional amendment would spur property tax hikes for middle-class families and make Hawaii's already expensive housing market even worse. Hawaii is the only state in the U.S. that does not fund public education, in part, by property taxes, and the union had estimated that introducing this amendment specifically would have brought in hundreds of millions more a year to the state's school system.
The decision abruptly ended months of campaigning and canvassing for teachers. They wrote more than 9,000 pieces of testimony – detailing the hardships they've endured in their profession – for the state legislature to consider. They squeezed in phone calls and on-the-ground work between their classes and second jobs. Educators who spoke with Money say they are disappointed voters will no longer get to decide the fate of the funding initiative they spent so long putting together but, they say, the fight will still go on.
"We must continue this conversation, and this conversation must lead to results," Rosenlee says. "The stakes are too high."
After all, teachers in Hawaii aren't alone. Educators across the country have held walk-outs, protests, and demonstrations over the last year to demand better pay and working conditions. Many have worked second or third jobs to make ends meet, and others have left the profession entirely as a result of low wages. Some are running for office, and others are renting out their homes to be able to afford to live in the cities they teach in. For a variety of reasons, teachers across the country have worked to dispel misconceptions about their jobs and demand better working conditions and pay.
Similar ballot initiatives will be considered in states like Utah, Colorado, and Missouri this November — but through different kinds of tax hikes. In Colorado, for example, voters are considering a measure that would increase the state's corporate tax rate and create a graduated income tax for residents earning $150,000 a year or more.
But teachers in Hawaii will have to keep working to get any kind of ballot initiative considered. On a national level, teachers in Hawaii find it hard to explain their plight, especially as millions of tourists flock to the islands each year for vacation and idealize the state for its tropical beaches. Recent estimates from the National Education Association show Hawaii teachers earn, on average, $56,049 — a figure that places them in the middle of the pack for teachers nationwide, too. But educators say that's not enough to afford to live there — and Hawaii's steep cost of living is a large reason why WalletHub ranked it the worst state for teachers.
"People say it's the price of paradise," says Lisa Morrison, a student activities coordinator at a middle school in Maui. "But you don't find teachers on the beach grading papers."
Courtesy of the Hawaii State Teachers Association
The state's education system has seen a 61% increase in teacher vacancies since 2010, says Rosenlee, the union president. With just one school district across the entire state, teachers who spoke with Money say they feel limited in their options. And some public school teachers feel undervalued, in part due to the state's historically high percentage of private school enrollment. (Honolulu was the second-highest city in the country for private school enrollment, according to 2014 research from Trulia.) The issues come amid decades of hardship for teachers and students, perhaps best seen in 2009 when a state budget crisis led to a furlough program that shortened the school week to four days, prompting uproar from parents and residents.
"Simply being able to afford a place to live and a certain quality of life? That's not the worst thing for a teacher to want," Morrison adds. "When teachers are struggling to be able to continue in their profession, we have the one job where it directly affects children. If we're not around, who else is going to do it?"
With damaged buildings and outdated facilities that could take years to fix, teachers in Hawaii want better funding to improve the classroom environment for their students. Logan Okita, HSTA's secretary-treasurer and a first-grade teacher in Oahu, says she looks out her window each day to see a playground that has been out of commission at her school for five out of the six years she has worked there. Working under these conditions — while pushing for better funding — is exhausting, she says, but "because it's for our students and it improves their learning conditions, it's a battle worth fighting."
Despite opposition to the constitutional amendment from business groups and the state's four counties, the effort to spread awareness did make an impact: most residents agree schools should get more funding, in one way or another, teachers and state lawmakers say. That includes the constitutional amendment's strongest opponents, the Affordable Hawaii Coalition, which formed with the purpose of taking this initiative off the ballot.
The next steps are unclear, and instituting any kind of additional or heightened tax in the future is sure to face pushback. The state's governor says he will be looking at "all" funding options to better aid public schools, and state Superintendent Christina Kishimoto says Hawaii's Board of Education and Department of Education will use a third party to conduct research on salary compensation for teachers adjusted for the state's cost of living to better put their earnings in perspective.
"The better our schools are going to be, the better our future is going to be," says Sarah Tochiki, a band teacher in Kauai who spent at least an hour a day canvassing for the constitutional amendment. "There could be a cure for cancer sitting in one of our classrooms. Or the next Einstein. Or the next Ruth Bader Ginsburg. We have to be giving them the best education we can."
For now, it's back to the drawing board.
This post was updated to clarify the amount of money HTSA's proposal would have brought in for Hawaii's school system.