How Do Student Loans Work?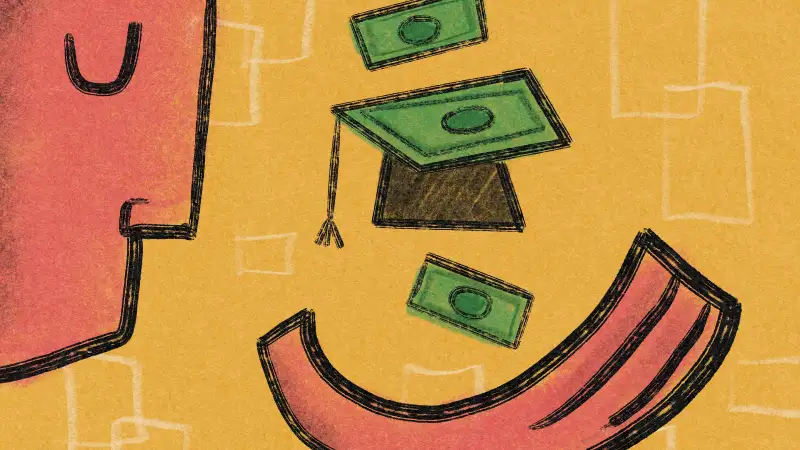 Student loans are a common way to pay for college. In fact, a 2022 study found that 41% of families reported borrowing money to cover the student's undergraduate costs. But you should borrow money with caution; student loan interest rates can be high, and taking on too much debt can make life after graduation difficult.
How do student loans work? Understanding the types of student loans available, how interest accrues and what repayment options are available can help you make informed decisions before taking out a loan.
Table of contents:
Types of student loans
When it comes to student loans, there are two main categories: federal and private. Which type of loan is best for you depends on your citizenship status, your school's cost of attendance and your credit.
Federal student loans
Federal student loans tend to be the primary starting point for students who need to borrow money; federal loans make up approximately 93% of outstanding student loan debt.
Federal loans are appealing because they typically have lower interest rates than private loans, and they have more repayment options and protections for student loan borrowers experiencing financial difficulties. Most federal loans are available without a credit check, and they don't have minimum income requirements, making them a good choice for students with limited credit histories who aren't working full-time.
Federal loans are issued by the U.S. Department of Education, and there are four types of federal student loans for those pursuing a degree or professional credential:
Direct Subsidized: Direct subsidized loans are only for undergraduate students that have significant financial need. The government pays the interest that accrues while the student is in college, during the grace period — six months after the student graduates or leaves school — and during any periods of deferment.
Direct Unsubsidized: Direct unsubsidized loans are available to both undergraduate and graduate students. Unlike subsidized loans, the borrower is responsible for all interest that accrues.
Direct Parent PLUS: Parent PLUS loans are for parents who want to borrow money to pay for a child's undergraduate education.
Direct Grad PLUS: A Grad PLUS loan is for graduate or doctoral students.
All federal student loans have fixed interest rates.
Tip: There are also federal Direct Consolidation loans, but they are for borrowers who have existing federal student loan debt.
Private student loans
Private loans make up about 7% of the student loan market. They're issued by banks, credit unions and other financial institutions. There are private loans for undergraduate and graduate students, and some lenders also have options for parent borrowers.
Private loans are usually credit-based, meaning the student needs to meet certain credit score and income requirements (or have a creditworthy cosigner). And they can have fixed or variable interest rates. If you opt for a variable-rate loan, the rate can change over time.
Rates, terms and policies vary by lender, so it's a good idea to shop around and compare student loan options before choosing a lender.
How to apply for student loans
The application process varies based on the type of loan you're applying for, but you can start the process by following these tips:
Applying for federal student loans
Not everyone qualifies for federal student loans. Students need to meet the following eligibility requirements:
You must be a U.S. citizen or eligible noncitizen.
You must have a valid Social Security number (students from the Republic of the Marshall Islands, Federated States of Micronesia and the Republic of Palau are exempt from this requirement).
You must be enrolled or accepted for enrollment as a student in a degree- or certificate-granting program.
You must be enrolled at least half-time.
You must maintain satisfactory academic progress as determined by your school.
You must have earned a high school diploma, GED or its equivalent.
To apply for federal student loans, you must complete the Free Application for Federal Student Aid (FAFSA) by the federal, state and college or university deadlines. The federal deadline is June 30, but states and schools may require you to submit the FAFSA earlier.
After you apply, you will sign a master promissory note that outlines the terms and conditions of the loan.
Applying for private student loans
To qualify for private student loans, you typically need to meet the following requirements:
You usually have to be a U.S. citizen, though some lenders will work with international students.
You must have a valid Social Security number, unless the lender works with international or undocumented students.
You need good to excellent credit — meaning a score of 670 or better — to qualify for most private loans.
You need to meet lenders' income requirements.
Most college students won't meet private lenders' requirements since they're unlikely to work full-time and they may not have an established credit history. Students can qualify for private loans if they can add a cosigner to their application that meets the lender's requirements. In fact, a 2022 study found that approximately 91% of undergraduate student loans were cosigned.
You have to apply for a loan through the specific lender you choose. Lenders usually have online applications, and you'll have to provide your personal information, details about your income and consent to a hard credit check, which can affect your credit score.
Tip: If you qualify for a private loan with a higher interest rate than you expected, you may be eligible for student loan refinancing later on. If you refinance your loans, you could qualify for a lower rate and save money over the life of your loan. Get quotes from leading student loan refinancing lenders to find the best rates.
How much can you borrow in student loans?
Depending on the type of loan you choose and the lender, there may be limits on how much you can borrow.
Federal loan maximums
The federal government sets borrowing limits on loans issued through the Direct loan program. Federal student loan limits are partially based on your dependency status and year, such as dependent undergraduate, which is determined by the information you submit on the FAFSA. Below are the borrowing maximums for Direct subsidized and unsubsidized loans.
Year
Dependent Students
Independent Students
$5,500 (No more than $3,500 can be subsidized)
$9,500 (No more than $3,500 can be subsidized)
Second-year undergraduate
$6,500 (No more than $4,500 can be subsidized)
$10,500 (No more than $4,500 can be subsidized)
Third-year undergraduate and beyond
$7,500 (No more than $5,500 can be subsidized)
$12,500 (No more than $5,500 can be subsidized)
Graduate or professional level
Not applicable (all students at this level are independent for financial aid purposes)
$20,500 (unsubsidized only)
$31,000 (no more than $23,000 of this amount may be subsidized)
$57,500 for undergraduats (No more than $23,000 may be subsidized)
$138,500 for graduate or professional students, inclusive of loans used for undergraduate degrees (No more than $65,500 may be subsidized)
Direct PLUS loans work differently; they do not have annual or aggregate borrowing limits. Instead, students and parents can borrow up to the total cost of attendance.
Private loan maximums
With private student loans, how much you can borrow varies by lender. With some private student loan companies, you can borrow up to 100% of the school-certified cost of attendance. But some lenders have annual and aggregate limits for undergraduate loans or graduate loans, such as $50,000 per year and $200,000 over the student's lifetime.
What can student loans be used for?
How much you can borrow is based on the school's certified cost of attendance (COA). This is a number that is determined by the college or university financial aid office, and it's based on what students typically spend on allowable expenses.
Once you are approved for a federal or private student loan, you can use the money for the following college costs:
Tuition
School-required fees
Room and board, including dorm fees
Textbooks
Transportation, such as bus passes or gas for your car
Dependent care, including child or elder care
Loan fees
Study abroad expenses
Student loan repayment options
Repayment options vary by loan type. Generally, loan terms can range from five to 25 years.
Federal loan repayment options
If you have federal student loans, the default repayment term is 10 years. Federal loans have six-month grace periods after you graduate or leave school before payments are due.
If you cannot afford your payments, you can enroll in an income-driven repayment plan. Income-driven repayment plans base your payments on an extended repayment period of 20 or 25 years and a percentage of your discretionary income. There are four IDR plans:
Income-Based Repayment (IBR)
Income-Contingent Repayment (ICR)
Pay As You Earn (PAYE)
Revised Pay As You Earn (REPAYE)
If you are enrolled in an income-driven repayment plan and still have a balance at the end of your loan term, the federal government will forgive the remainder.
As another benefit, eligible federal loan borrowers may qualify for federal student loan forgiveness programs, including Public Service Loan Forgiveness, if they work in public service.
If you lose your job or become ill, another option is to apply for a federal loan deferment or forbearance. If your request is approved, you can postpone your payments for several months until your situation improves.
Private loan repayment options
How does a student loan work if it's from a private lender? When you apply for a private student loan, you can choose your own loan term and repayment plan. Private loans typically have terms between five and 20 years. And you may have the following repayment options:
Immediate: When you enroll in an immediate repayment plan, you begin making payments right after the loan disbursement date, so you have to make payments while you're in school. The student loan payments will cover a portion of the principal and the interest that accrues as calculated by your loan term and interest rate. This payment option will give you the highest in-school payment, but the lowest overall repayment cost.
Interest-only: If you opt for an interest-only repayment plan, you make payments while you're in school that cover the interest that accrues each month. By making interest payments, you'll have a lower monthly payment than you would with immediate repayment, but you'll have a higher total repayment cost.
Flat: With a flat repayment plan, you pay a fixed amount while you're in school, such as $25 per month. This will give you a lower monthly payment than immediate or interest-only repayment, but you'll pay more over time in interest.
Deferred: The deferred payment option is best for students that don't want to worry about making payments while they're in college. A deferred plan allows you to postpone payments until after graduation, but it has the highest overall repayment cost.
Some private lenders have forbearance programs for borrowers experiencing financial issues, but not all do. Review your loan agreement or contact your loan servicer to see what alternative options are available.
How does student loan interest work?
Borrowers often underestimate the impact that interest can have on their student loan repayment. Depending on the rate and loan term, you could pay thousands more than your initial loan balance over the life of the loan.
With federal loans, interest rates are set by Congress, and they're fixed, so they never change. Interest can be capitalized, meaning it's added to the principal, following your grace period, periods of deferment or when you choose to leave certain repayment plans.
Private loans can have fixed or variable rates. Interest typically starts accruing while you're still in school, even if you don't have to make payments until after graduation.
What happens if you don't pay your student loans?
Not paying your student loans can have severe consequences.
You're considered in federal loan default if you miss a payment by 270 days or more. When that happens, the loan servicer can take the following steps:
The loan is accelerated, meaning the entire balance and interest is immediately due.
You're no longer eligible for federal deferment or forbearance.
The loan servicer reports the default status to the major credit bureaus, which can significantly damage your credit.
The government can seize your tax refund and other federal benefit payments through treasury offset.
The lender can garnish your wages without getting a court order.
Private student loans work differently. Your loans enter default if you are 90 days late on your payments. The lender can send your account to collections and report the default to the credit bureaus. Lenders can also take you to court to get a court order to garnish your wages.
Keep in mind that any student loan default will stay on your credit report for seven years, so falling behind on your payments can have long-lasting consequences. If you're struggling to afford your payments, contact your lender right away to see if there is an alternative payment plan or forbearance program available.
How do student loans work FAQs
How long does it take to pay off student loans?
How long it takes to pay off student loans depends on your loan amount, loan type and selected loan term. With federal loans, the standard repayment plan is 10 years. But if you choose an IDR plan, your loan term could be as long as 25 years. Private loans give you the option of choosing a term between five and 20 years. With both loan types, you can make extra payments to pay off your loan faster. The law prohibits federal and private student loan servicers from charging prepayment penalties.
Do student loans affect your credit score?
Student loans can impact your credit in several ways: 1.) Late payments: When you fall behind on your payments, the late payments are reported to the credit bureaus. Missing a payment by 90 days or more can cause your score to drop by over 100 points. 2.) Payment history: If you make all of your payments on time, your loans can help you build credit by establishing a positive payment history. 3.) New inquiries: When you apply for a private student loan, the lender will perform a credit check, which can cause your score to drop by a few points.
How much do student loans cost?
There is no fee to apply for federal student loans or private student loans from reputable lenders. However, some loans, including those from the federal government, do have origination fees or disbursement fees that are deducted from the loan amount before the funds are disbursed. Review the loan agreement to ensure you know what fees are charged.
Summary of Money's How Do Student Loans Work
How do student loans work? Many students take out loans to pay for college without fully understanding what they're getting into, so that's a common question. Student loans can be a useful way to pay for higher education, but it's wise to take the time to research what loan options are available, how much the loan interest rate will affect your repayment and how long you'll be in debt.
A good rule of thumb to follow is to borrow no more than what you expect to earn in your first year after graduation. You can also use the Debt/Salary Wizard tool from Mapping Your Future, a nonprofit organization, to get an estimate of how much you can afford to borrow.
And before taking out student loans, make sure you explore other financing options, including scholarships, grants and work-study programs. To find possible awards, check out our picks for the 10 best scholarship websites.
More from Money:
How Much Money Should You Borrow for College? Experts Offer Some Hard Truths
7 Reasons Why Private Student Loans Are Riskier Than Federal Loans