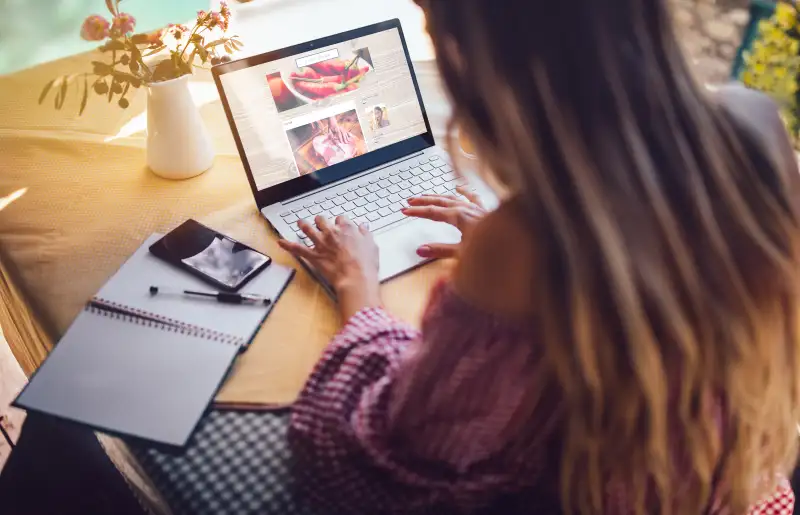 *Content includes branded mentions of our sponsor Hostinger.
When you're exploring how to start a business online, it's natural to wonder about things like how to buy a domain name, where to host it and how much it costs. Using a domain registrar such as Hostinger can simplify the process and help you put your best online foot forward.
Read on to learn more about domain names, what they are, how they function and how to get the most out of your dollar when it's time to buy your domain.
What is a domain name?
A domain, or domain name, is the unique name associated with a particular website. You can think of a domain as simply the name people can enter online to find your website. When you visit a website directly, you're putting the website's domain into your browser's address bar. Money.com and Hostinger.com are both examples of domain names.
4 simple steps to buy a domain name
When looking into how to buy a domain name and the rules of domain registration, it's easy to get lost. Here are four steps every business must go through to get its online presence up and running.
1. Create your perfect domain name
First, you'll need to come up with a list of possible names, preferably short and easy to remember. You can try brainstorming exercises with coworkers to think up names or rattle off terms that you would associate with your business.
Once you have a few possibilities on the list, search for your top pick. Type a domain name into your browser's search bar for a quick indication of whether it is available. If your search returns with no results, it's probable that the name is available. If it pulls up a site, the name is already taken.
If it's taken, you might still be able to buy it. Search the domain name on the WHOIS database to learn who owns the domain you want. But before you contact the owner of the domain you're trying to buy, consider the outcomes.
Perhaps they have no intention of selling the name and want to keep it. On the other hand, it could be that they are just holding onto the domain in the hope that someone will buy it from them, or they may be looking to move on from the name. Either way, you should determine how much you're willing to pay and be prepared to make an offer.
If the domain name you want is unavailable for any reason, you can also use a domain host's search function to find alternatives. Perhaps the name ending in dot com is taken, but the name ending in dot net is still available.
2. Choose a hosting site and domain name registrar
Your hosting site is where the site information itself is located. The domain name is that location's address. Once you've purchased your domain name, the host is where the servers that answer to that name actually live. While many companies, such as Hostinger, offer both, they are two distinct services you need for your site to live on the internet.
You should be aware that some companies only offer hosting. While it may seem like a pain to have two different entities involved, you could choose to deal with multiple service providers for hosting and domain registration.
The best domain registrars offer an easy way to check for domain name availability, easy-to-use domain name registration and walk you through the domain registration process. If your search reveals the site you want is taken, registrars can help you get in touch with the current owners. It's very important to do research during this step, as registrars vary widely in terms of what they offer and how easy they are to use.
When you're searching for a domain registrar, it's not all about the upfront cost. You should understand what the registrar guarantees and how refunds work, what all the upgrade options are, and make sure that its basic features are things you'll use. There can be differences in the subscription period — meaning how long before you need to renew your registration — and differences in the quality of the actual servers.
Additionally, some registrars offer valuable perks, such as pre-installed WordPress on your domain, that may help get your business up and running.
3. Purchase the domain name extension and finish the registration
Registering a domain name is not expensive, but it is probably one of the first costs an online business incurs. The registrar offers a registration period — typically one year — and gives you the option to auto-renew when it's time. Consider buying more than one year when you make your initial purchase because prices could be significantly higher in a year's time.
Some domains require additional information — including country code top-level domain sites with a .us or .ca at the end — and you'll need to choose your domain privacy protection options when you register. The contact information you offer at registration goes into the public contact information database — WHOIS.
4. Verify ownership of the domain
When you register a domain, the domain host must verify the contact info you offered to make sure the site being hosted is what — and who — it says it is. The host will send you an email with information on how to get your domain name verification underway. Finally, you need to sign in to your host's website to confirm the account contact information has been verified. After this step, your site will be operational.
Common types of domains
When you look at a domain name — like Money.com — the characters to the left of the dot are called the second-level domain (SLD). This is to differentiate it from the top-level domain (TLD) to the right of the dot, also called the domain extension.
You've probably seen a "DNS Error" message on a website that wasn't loading: the Domain Name System (DNS) tells computers where to go when looking for a website. On your site's end, the directions of where to go are called nameservers, and pointing them where they need to go is one of the main services a web registrar offers.
TLDs — Top-level domains
Top-level domains are the name to the right of the dot in the middle of the URL. Top-level domain names are usually highly recognizable — .com, .net, .co or even more unique ones like .beauty and .ly. These are managed by a handful of registrars who regulate everything within that top-level domain.
SLDs — Second-level domains
To the left of the dot is the second-level domain. It's called the second level because of the DNS hierarchy, which takes you to the top level first (.com) and then the second level of the address (Money).
In the case of websites that look like "blog.Money.com", blog is not a secondary domain. It's called a subdomain, which can be created in your account at the registrar.
Why does owning your domain name matter?
You want to own your domain name for two reasons:
It's a valuable business asset that gives your brand credibility and accessibility
It gives you control over the name and brand
You should register your domain in case there's a similar business out there that also intends to purchase the name. This is also why opting into auto-renewal is recommended, as your ownership will be codified for the year before it ever comes up for auction.
How difficult is it to purchase a domain name?
Most registrars want to make it as simple as possible for you to purchase a domain from them. You'll just need to follow the on-page instructions, verify that the domain you're interested in is available, and pay for it.
Most registrars offer a monthly flat rate that can vary, usually between $10 and $20 for the year's ownership. The cost is determined by several factors including the popularity of the domain, the services the registrar offers, and any extra features such as additional domain privacy or email accounts.
Is paying for a domain name necessary?
You can sometimes get a free domain name bundled with other things your new business might need, but for a professional site, you will likely need to pay for your domain.
Website builders like Squarespace and Wix often offer free domain names when you purchase a site. You can sometimes get a free domain with your email or WordPress hosting. Remember that your domain is not your site, you'll still need to find a host to store your website files and information.
Other alternatives are usually ad-supported and lack functionality. You might also find a free site with a strange-looking domain extension. Going either of these routes can result in a site that's unattractive or hard to market, which can hurt your brand. Don't lose sight of the reasons you're getting a domain in the first place: credibility and ownership.
How long do domain name contracts last?
Although some might wonder if they can buy a domain name permanently, the reality is that it can't be done because domains are registered yearly.
However, by prepaying or setting up auto-renewal, you can keep the domain name indefinitely. Some hosts offer up to ten years for prepayment, which can also guarantee you keep paying the current price.
How long does it take to register a custom domain name?
Once you pay the registration fee and confirm your contact info, processing takes a few minutes. The registration period, which is when your site is replicated across the web, can take 24 to 72 hours. After 48 hours, you can see your public WHOIS entry that lists you as the site's owner.
There are other situations that might extend the time such as transferring domains which can take three to five days longer for security reasons.You should be aware of this possibility and take the necessary steps to avoid having your business interrupted.
What if your domain name is taken already?
If your chosen domain name is already taken, and you can't find the owner's WHOIS information because it's private, you can go through your registrar. Most registrars can act as brokers (for a price) to get the exact name you want. But the current name owner is not obligated to part with it, and can ask for a hefty price if they're so inclined..
It may be worth considering alternatives if you can't easily get the domain you wanted—there are always lots of options, and it's easy to forget about them in that rush of finding the perfect name. If not, be prepared to pay a large sum of money.
Find the hosting plan and domain that is perfect for your business
Along with the best VPN service and best password managers, finding the right registrar is an important step to take for your business to succeed. Looking at the scope and scale of your business will give you an idea about the overall budget that you'll operate with, which will inform the hosting plan you choose.
Just remember to not be hasty, take your time learning and don't get overwhelmed or intimidated by the choices available. Domain hosts are there to help you build your site into exactly what you want it to be — and that is the first step toward building the online business you want.