How to Get Free Ice Cream on National Ice Cream Day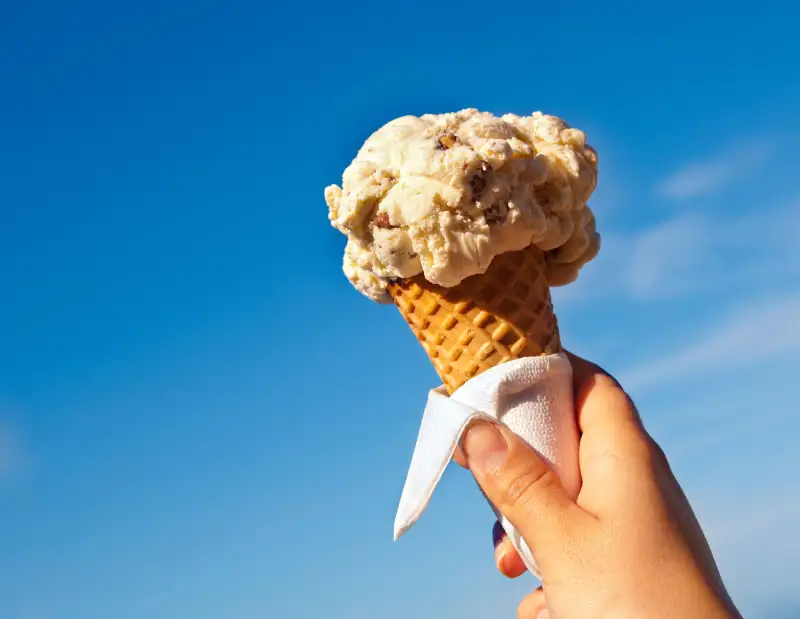 This weekend's fake food holiday celebrating ice cream is perfectly timed: It's in July, arguably the month when you need ice cream the most, and it's being held on a Sundae (get it?). Anyway, here's where you can grab some free ice cream this weekend—typically with the requirement that you buy another ice cream at the same time.
National Ice Cream Day 2016: Where to Get Free Ice Cream for National Ice Cream Day
Friendly's: The freebies start early at Friendly's, which is celebrating its 80th birthday on Saturday, July 18, with buy-one-get-one-free cones—which are priced at $1.99 for a single scoop all summer long. The same buy-one-get-one-free deal is available for National Ice Cream Day on Sunday, July 19, as well. The offer is in effect from 11 a.m. to closing on both days, at Friendly's locations in 14 states (Maine, Massachusetts, Rhode Island, Connecticut, New Jersey, New Hampshire, Vermont, Florida, Maryland, Virginia, Pennsylvania, New York, Delaware, and South Carolina).
Carvel: All day long on Sunday, soft-serve cones are available on a buy-one-get-one-free basis—any size and flavor you want.
Dippin' Dots: All customers at participating locations are welcome to free samples of the new Redberry Sherbet, which is made with Sour Patch Kids candy. No purchase required.
PetSmart: Yes, even pets get to enjoy the tasty benefits of National Ice Cream Day. From noon to 4 p.m. on Sunday, all PetSmart locations with PetsHotel facilities are giving out complimentary four-ounce samples of dog-safe ice cream.
Lyft Partner Shops: This unusual freebie possibility requires the booking of a ride with the Lyft car service on Sunday. Show your Lyft receipt to participating ice cream shops in Atlanta, Austin, Brooklyn, Miami, San Francisco, and other cities, and you'll get a free scoop.
Monkey Joe's: Participating locations of this chain of indoor kids play areas will give out free ice cream to all guests who pay admission on Sunday (around $15 on weekends).
Baskin-Robbins: Instead of participating Ice Cream Day on Sunday, Baskin-Robbins is celebrating July as National Ice Cream Month. For the whole month, customers get free waffle cone upgrades on double scoops, and on Friday, July 31, all ice cream sundaes are 31% off.
BONUS FOOD DEAL: Wienerschnitzel: To celebrate its anniversary, this hot dog chain with 300+ locations in 10 states in the Midwest and West is offering Chili Dogs, Mustard Dogs, and Kraut Dogs for 99¢ apiece all day on Sunday, July 19. Take advantage of this deal plus one or another of the ice cream giveaways and you'll probably make some folks in your family quite happy on Sunday.