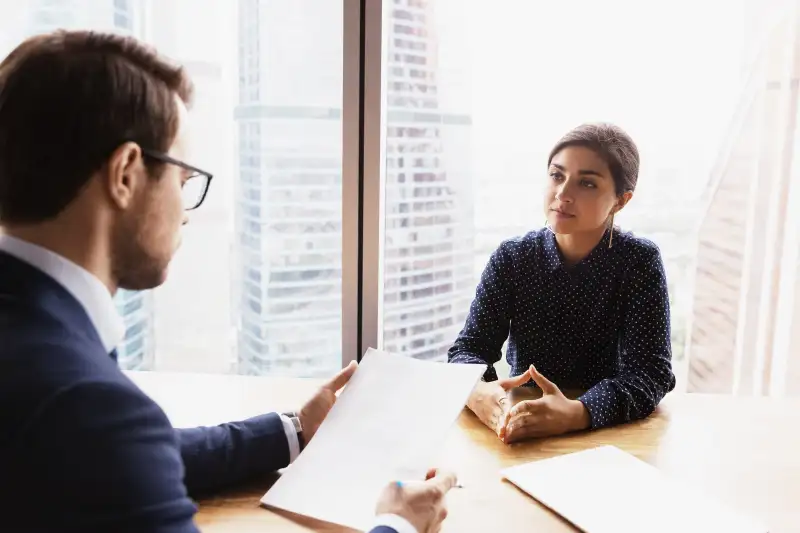 *Content includes branded mentions of our sponsor ZipRecruiter.
Legal issues are unfortunate but commonplace. When you are stuck in a dispute or have pressing legal matters, it is a good idea to hire an attorney. This article will walk you through how to find and hire the right lawyer for your case.
There are many online resources if you're an individual looking to hire a personal attorney. But if you're a business owner looking to hire a lawyer, ZipRecruiter can match you with thousands of candidates in minutes.
When is it time to hire a lawyer?
There are plenty of times when it is appropriate to hire lawyers, even if you don't have a case going to trial. You may need to hire a lawyer to write a letter, provide legal advice, assist in filing a case, look over a contract or review other types of documentation.
You should contact a professional when you are in a serious legal dispute, feel uncomfortable representing yourself or do not know your rights. Some examples of when to hire a lawyer include:
You are charged with a crime and could go to jail
You could lose a lot of money
You or another party has a bodily injury
You need to create or understand a contract
You need to resolve a business-related issue
You need to write a letter that requires precise and clear communication
Remember, not every legal dispute requires you to hire a lawyer. There are instances where it may be more cost-effective and beneficial to represent yourself, such as:
Divorce court, when both parties agree on how to divide financial assets and custody of children
Traffic court for minor violations or infractions
Small claims court, which deals with minor disputes below a specific dollar amount
Tips for finding a lawyer
Understanding how to find a good lawyer is vital for your case because different lawyers specialize in various branches of law. Finding a lawyer for hire that practices the law you need, with whom you feel comfortable communicating and that is within your budget is the first step towards success.
You need to decide what type of lawyer is the best fit for you. Lawyers can be technologically savvy or pen-and-paper types, relaxed or formal in conversation, expensive or cheap. Do your due diligence by making a list of prospective attorneys and meeting with each one to discuss your case before making a final decision.
Ask family and friends for recommendations
Getting recommendations from friends and family is a great way to start your search for an attorney, but you shouldn't hire a lawyer based solely on a recommendation. A recommended lawyer from someone you know may not be a lawyer specializing in your issue, though you can still contact this lawyer and use them as a resource.
For example, if you've been in a motorcycle accident, but the recommended attorney deals with divorce, they might not be suited for your case but may be able to point you in the direction of a firm or individual that's one of the best motorcycle accident lawyers.
Use a lawyer referral service
In certain situations, you may not want your loved ones to know you need to hire a lawyer but there are other options available for when you can't ask for recommendations. A lawyer referral service helps individuals who are looking for a lawyer to represent them. Many state and local bar associations will offer lawyer referral services as a public service, but private referral services that charge a fee also exist.
Lawyer referral services include a vast pool of lawyers that have voluntarily applied for membership. Lawyer referral services have different standards depending on the state, but most require lawyers to be in good standing with the state bar and possess professional liability insurance. Before beginning your search, familiarize yourself with the required qualifications and screening process for the lawyer referral service in your area.
Research lawyers online
Using online resources to find a lawyer is also an excellent way to expand your search. Simply searching online for the best truck accident lawyer will yield pages full of results which you should then carefully go over. By reading through the lawyer's website, you can filter out some lawyers that aren't a great fit and find ones that do seem like useful for your case. Remember, you should not hire a lawyer online without first having a consultation.
Tips for hiring a lawyer
Once you've found some prospective lawyers for your case, you can begin the filtering process. Narrow down your list to a few candidates. Schedule consultations with each of them to determine if any are a good fit to work on your case.
Schedule a consultation at their office
Schedule as many consultations as needed to find the perfect lawyer to represent you. To save time for you and your attorney, learn as much about the lawyer and their firm before the initial consultation.
If you take the time to draft an outline of your needs in advance, you may be able to forward that information and meet with some lawyers for free. Free consultations may only last a half hour but will allow you to get a sense of the attorney's personality and ask crucial questions to help you decide.
Not every attorney offers free consultations, though, with some charging an hourly fee or a flat rate which could cost you up to $300.
Once you go to the lawyer's office and meet face to face, pay attention to the chemistry between the two of you. You will need to work with and trust the attorney you choose so make sure you find one who you are comfortable speaking to and being around.
Ask plenty of questions
During the consultation, asking many relevant questions is of the utmost importance. Bring a notebook and a pen to jot down the answers so you can compare them with others you met with. You want to get a feel for the lawyer's personality and how they would handle your case. A reasonable attorney will be honest and upfront with their answers. Some potential questions to ask are:
How long have you been a practicing attorney?
Do you have experience working cases like mine, and if so, what were the outcomes?
How would you handle my case?
How will I be kept informed about my case's progress?
Based on your experience, what are your expectations for my case?
How often do you settle, and how often do you take cases to court?
You should not ask if the lawyer can guarantee to win your case. Guaranteeing victory can constitute malpractice and any lawyer who makes this guarantee should not be trusted or hired.
Breadth of experience
Finding out an attorney's length of service, the number of cases they've had and the results of those cases can help you make an informed decision. Some lawyers have more experience at trials, while others are better negotiators. Use their firm's website, online searches or even social media to discover this information.
A lawyer with experience will have more perspective to evaluate the strategies and risks present in your case. It is easier for an experienced lawyer to find creative solutions for your particular problem and to also inspire confidence that they can get you through the legal process.
Area of expertise
There are different lawyers for every area of expertise, from intellectual property lawyers to personal injury lawyers. Asking specific questions about your case will give you an idea if the attorney is an expert in this field.
Finding a suitable specialist will give you a better chance of winning. A lawyer familiar with the field you need assistance in will be aware of the latest developments and understand the legal nuances of your issue.
For businesses in particular, you need to make sure to hire an attorney that is knowledgeable in corporate law and who has experience in the specific issues of your case. Employers who post on ZipRecruiter can receive leads for quality candidates almost immediately.
Case success rate
To find out about a prospective lawyer's case success rate, check their website for past results, including settlements. Searching the lawyer's results on a bar association website will show past results, background and any disciplinary action against that particular lawyer. Lawyer review sites are also available online where clients can provide details about their experience with a specific attorney.
Getting a broad scope of perspectives on an attorney's reputation is good. You can also consult with other lawyers for a second opinion on an attorney's past performance or ask your prospective attorney for references from past clients, as well.
How your case will be handled
You may prefer to have only one attorney dedicated to your case, or you might be fine with multiple attorneys working on it, but you should understand how a firm will handle your case before signing any agreement.
You must communicate with many people if multiple lawyers work on your case. This could make you feel uncomfortable in your client-attorney relationship if you need to speak about your case with several different attorneys. However, you might find it a benefit to have more attorneys reviewing your case because they may provide additional perspectives on how to proceed.
If you only want one specific attorney working on your case, you have the right to request that happen. If you want further clarity regarding how the firm will handle your case, you can also request it in writing.
Fees and payment agreements
Before signing or agreeing to anything, the rates and payment methods should be clearly stated and understood. There are different methods of payment:
Hourly
Flat fee retainers
Contingency
Find a rate that you are comfortable paying. If the payment is hourly, ask for an estimate of how many hours the case will take to find a ballpark figure of the total. If you agree to pay hourly rates, the average cost of a lawyer can range anywhere from $100 to $1,000 an hour.
Flat fee retainers are an option when the case is routine and straightforward. An attorney will propose a total fee for their service that you will pay partially or in full upfront. Depending on the expenses throughout the case, you may be entitled to have some of your initial retainer payment returned or may need to pay more. You need to establish this before signing an agreement so there are no surprises in the future.
If you need to know how to hire a lawyer with no money, consider paying a contingency fee. In a contingency fee arrangement, you will pay your lawyer part of the monetary settlement only if they win the case. Contingency fees can be expensive as they usually range from 30% to 40% of the winnings. A contingency fee is better if the agreed-upon percentage is lower or risk is involved in winning the case.
Check into their law firm's reputation
There are several ways you can check an attorney's or a firm's reputation. You can look at the many reviews of legal firms on third-party websites where previous clients leave testimonials. You can also learn about qualifications, certifications or awards earned by the firm. And, to determine if the firm is adequately accredited and licensed, you can check with the state's bar association.
The qualities of a good lawyer
Many qualities make up a good lawyer. Some may be more relevant to your case or preference. Some traits to look for are:
Driven: A driven lawyer will continue to fight for you. They will remain motivated throughout the entire legal process with a desire to succeed—research how the attorney has dealt with difficult cases that have lasted for an extended period.
Communicative: Lawyers must communicate clearly with you, the jury and the judge. A good attorney needs to be effective with verbal and written communication. When consulting the lawyer, see if they clearly convey their points to you.
Knowledgeable: A good lawyer will have an extensive understanding of the law. While all attorneys need to pass the bar exam, they will not know everything off the top of their heads. Ask the attorney for specific details on how they would handle your case. After the consultation, research their claims before hiring them.
Compassionate: A compassionate lawyer wants to help you resolve your issues. They have good people skills and are empathetic. You may need to spend a lot of time with the attorney you choose, so make sure you have a good rapport with them before you sign an agreement.
How much does it cost to hire a lawyer?
The cost of a lawyer will depend on many different things, like the experience and reputation of the firm and attorney. The specialization will also affect the cost, as a car accident lawyer will have different rates than a bankruptcy lawyer. The payment plan you agree upon will affect the cost as well.
There are ways to lower your fees. Educate yourself and make sure your issue needs a lawyer in the first place. If you have agreed to pay hourly rates, keep phone calls with your attorney as short as possible. Make sure you review your bills and dispute any incorrect charges immediately.
Can you hire a lawyer from another state?
A question often arises: Can I hire a lawyer from another state? In most cases, you will need to find out which state has jurisdiction over your case and hire a lawyer from that state or with a license to work in that state.
Get legal advice and representation for your case
You deserve fair legal representation. Although going through the screening and interview process of finding a suitable lawyer is time-consuming, it is essential to reach your desired outcome. Seek recommendations and do your research. Make sure you know the level of experience your lawyer offers, their case success rate, and how they plan to handle your case. Be aware of and plan for all the fees you may be charged. Hiring a lawyer you can trust with your case will put you in the best possible position to succeed.