How to Foster Adequate Work Ethic Through Example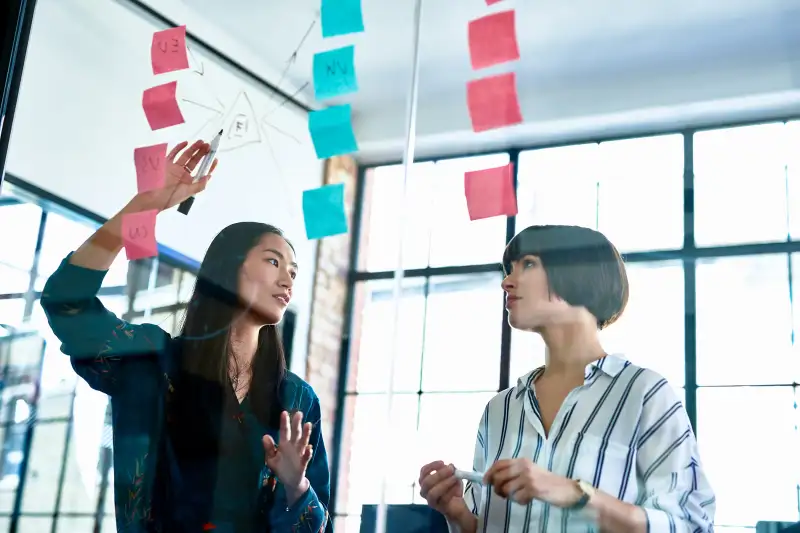 *Content includes branded mentions of our sponsor ZipRecruiter.
Work ethic is a term bandied about in the business world, but it's more than just industry jargon — it has real effects over worker productivity. A positive work ethic has been linked to superior job performance, while a poor work ethic has been observed to have the opposite result. Job candidates with a strong work ethic are appealing to any business, which is why ZipRecruiter helps employers connect with quality candidates quickly.
Integrating a positive work ethic into your professional routine is important for several reasons. Not only can it lead to individual success, but it can also help in meeting overall corporate goals and enhancing corporate culture. Read on to learn what a good work ethic is, how to implement it, and the positive impact it can have on your business.
What does an adequate work ethic look like?
Work ethic can be defined as the framework or backbone on which the structure of corporate life rests. An adequate work ethic can refer to the combination of positive values, behaviors, and attitudes that individuals or groups apply towards their jobs.
It involves a commitment to doing quality work, being responsible for that work, and having a positive attitude. Individuals with adequate work ethic are dedicated to their jobs, striving for excellence and taking pride in their work. This makes them reliable and dependable employees that serve as examples to others in the company.
An adequate work ethic also involves being organized and managing time effectively. This includes prioritizing tasks, setting realistic goals, and meeting deadlines. It also means being adaptable when unexpected challenges arise, and being able to work well under pressure and as part of a team.
Open communication is also an integral part of an adequate work ethic. Being direct, honest and respectful with colleagues and supervisors, and being willing to ask for help when needed demonstrate maturity in the workplace. Having this openness also allows for a constructive give and take, where feedback is requested and appreciated.
Finally, displaying integrity and following ethical principles and codes of conduct in all work-related activities builds trust and confidence within an organization. Being accountable for one's actions and taking responsibility for mistakes or shortcomings further emphasizes the point.
Why does a positive work ethic matter?
Having a positive work ethic provides many advantages and favorable outcomes. For starters, it increases productivity and performance in the workplace. Employees who are dedicated, responsible and committed to doing quality work are more likely to produce better results and achieve higher levels of success.
Another result of having a positive work ethic is the positive work culture that arises from it. When employees exhibit positive values and attitudes towards their work, it creates a more pleasant and supportive work environment. This can lead to higher levels of job satisfaction, employee engagement, and retention.
A company's reputation can also benefit greatly from having employees with strong work ethics. When employees exhibit ethical behavior and professionalism, it reflects positively on the organization as a whole and can improve its image and credibility. This is especially when a company posts a job and is looking for candidates.
On an individual level, putting these values into practice can lead to personal and professional growth and development. Employees who believe in what they are doing are likelier to learn new skills, take on new challenges, and pursue opportunities for advancement.
How does setting a strong individual example impact a team's work ethic?
Employees in organizations look to their superiors for guidance and direction on work behavior. One way for senior management to improve their direct reports is to display the attributes they want other employees to have. Among leaders, a positive work ethic tends to have a trickle-down effect, meaning employees in lower levels also adopt these standards.
Leading by example has been a prescription for organizational performance for a long time, confirming the adage "Actions speak louder than words." If you ask an employee to be on time for a meeting, but you arrive an hour late, it sends the wrong message and is likely to affect the employee's viewpoint and behavior down the line.
As a business owner, manager or leader, demonstrating a positive work ethic provides a clear example for others to follow.
How to set an example for a strong work ethic
To demonstrate the meaning of a strong work ethic to your employees, you need to act as you would want them to. Here's a list of actions you can take so your employees can feel motivated to follow your example:
Inspire teamwork and a collaborative company culture
Even though businesses are made up of groups of people and not just individuals, it's sometimes difficult to engage a single person into working towards a greater goal. Individuals may also have different perspectives or ideas on how to achieve certain goals.
A way to tackle this issue is by encouraging open communication and active listening among all employees. Be transparent in your communication and consider differing points of view. This fosters an environment where everyone's ideas and opinions are valued and respected, and provides opportunities for team building and collaboration where you'll be able to bridge these differences.
Encouraging employees to work together on projects and initiatives, as well as recognizing and rewarding collaborative efforts, can also help to create a culture of teamwork and cooperation.
Strive toward and exceed important company goals
Work to reach and exceed your goals, and your team will follow your example. You can meet your targets by practicing the following:
Time management: Knowing how to best use your time is a critical element of personal and corporate success. It maximizes your work time's value and lays the foundation for corporate growth.
Punctuality: When you are always on time it signals to co-workers that you value and respect their time as much as yours.
Meeting deadlines: Committing to time frames and following through on them confirms you can be true to your word, which in turn builds trust from others.
Quality work: A job well done is its own reward, but it also inspires others around you to do their best.
Organized work culture: Being organized cuts down on the time needed to complete a task.
Display determination and professionalism
Being determined does not mean you keep working through something until you burn out. Part of a healthy work-life balance is recognizing when you've reached certain limits. But with that awareness, determination can allow you to stay focused, persevere through challenges, and achieve your goals despite obstacles or setbacks.
Professionalism in the workplace refers to the set of behaviors, attitudes, and qualities that reflect a high level of competence, integrity, and ethical standards in one's work. Actions such as communicating in a proper way, looking presentable, and treating others with respect can be contagious in a good way.
Be highly disciplined and responsible
Workplace discipline and responsibility go hand in hand. Discipline is about consistency and staying in line with workplace rules. Responsibility is taking ownership of a task. When you demonstrate both discipline and responsibility others can see that you are reliable, trustworthy, and committed to achieving your goals.
Ask for feedback
Feedback is another element that helps professionals improve. When you ask for feedback, you show respect for other people's opinions as well as being open to listen to new points of view. This is essential for remaining relevant in a workplace and indicates to others your willingness to learn and adapt.
Encourage accountability
Accountability refers to taking responsibility for your and your team's actions, decisions, and outcomes, as well as being answerable for the results, whether positive or negative, of the work being done. Being reliable, trustworthy, committed to fulfilling obligations and meeting performance expectations are the cornerstones of accountability.
Be consistent and productive
Consistency means performing quality work at all times, while productivity means generating a high work output and meeting deadlines. A combination of both, while ideal, is not always doable. The important thing is to demonstrate over a long period of time that you are able to be productive with the time you have and that the work maintains a certain quality standard.
What are the benefits of having strong workplace ethics?
Having strong workplace ethics are a means to grow professionally and personally. Strong workplace ethic fosters:
Career advancement
Happier workplace
Good work culture
Better company reputation
Solid bottom line
Easier decision-making
Stronger customer relations
What does a poor work ethic look like?
A poor work ethic can be characterized by a lack of motivation or commitment to one's job or responsibilities. It can manifest in myriad ways such as consistently arriving late or leaving early, taking frequent breaks as a way of avoiding work, failing to complete tasks on time or to the expected standard, and showing a lack of interest or enthusiasm for the work which reflects directly in the quality of your output.
Being easily distracted, disengaged, and unresponsive to feedback can affect overall productivity, morale, and job satisfaction, and can easily spread to other employees. It's important to get to the root of these issues and offer tools and resources for employees who are demonstrating these types of behaviors, as they can be the result of non-work related difficulties.
On the other hand, leaders who demonstrate a poor work ethic can expect an erosion of trust and respect from others and can harm the reputation of the organization.
Instill a solid work ethic in your employees
A strong work ethic is important for individual and organizational success. Integrating positive values can lead to superior job performance, increased productivity, and a favorable work culture. Leaders should set an example for a positive work ethic by inspiring teamwork and a collaborative culture, striving toward and exceeding important goals, and displaying determination and professionalism. Successfully applying these principles will lead to a healthy and thriving workplace.