How to Watch the 'Monday Night Football' Steelers vs. Buccaneers Game Online for Free Tonight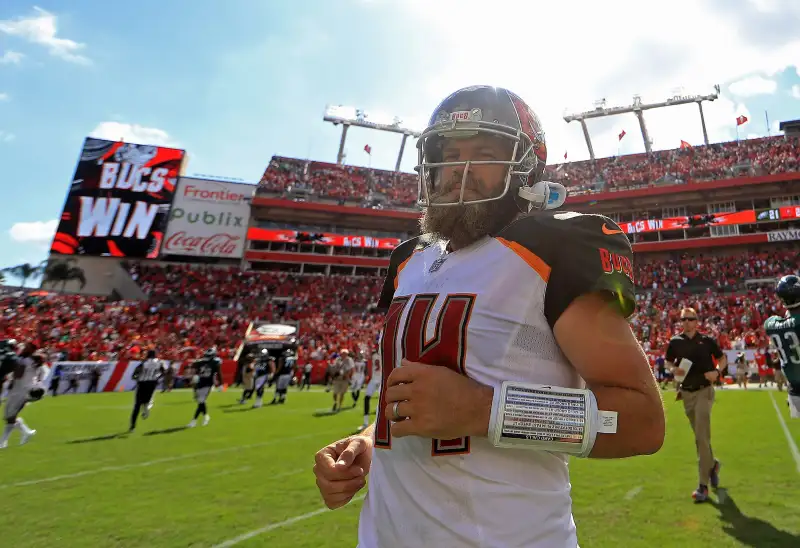 Mike Ehrmann—Getty Images
Attention NFL fans: You can live stream the Pittsburgh Steelers vs. Tampa Bay Buccaneers game for free tonight on "Monday Night Football" even if you don't have cable TV.
Yes, the Steelers vs. Buccaneers game tonight is being broadcast by ESPN — a pay channel, available on TV only if you're a subscriber to a satellite or cable TV package.
But new services from a pair of mobile apps make it possible to live stream NFL games on your phone during the 2018 season totally for free, without requiring any pay TV provider account info. You can't live stream every NFL game this way, and you can't use either app to stream games on a TV, but the new services do make it possible to watch "Monday Night Football" online for free.
Also, several live streaming TV services will also allow you to watch the game online for free tonight, by way of free trial periods for new subscribers.
Here are all the details you need to watch the Steelers vs. Bucs "Monday Night Football" game for free tonight.
When Does the Steelers vs. Buccaneers Game Start?
Kickoff for the Pittsburgh Steelers vs. Tampa Bay Buccaneers game is scheduled for 8:15 p.m. ET tonight (Monday, September 24).
The Steelers have yet to win a game in 2018 (they are 0-1-1), while the Bucs are undefeated, after surprising wins over the New Orleans Saints and Super Bowl champion Philadelphia Eagles in the season's first two weeks. If you're interested in the betting odds for "Monday Night Football," most sports books have the Tampa Bay Buccaneers as slight favorites to beat the Steelers tonight.
How to Live Stream the Steelers vs. Buccaneers Game for Free
For the first time this year, the new capabilities of two apps allow you to live stream many NFL games on your phone for free. Both the NFL App and the Yahoo Sports app let you watch the following games online: You can live stream all the games being broadcast locally in your area on Fox and CBS on Sunday afternoons, and you can live stream nationally televised primetime games, including ESPN's "Monday Night Football," NBC's "Sunday Night Football," and Fox and the NFL Network's "Thursday Night Football."
As we reported earlier, there are some restrictions for using the NFL App or Yahoo Sports app to live stream "Monday Night Football" and other games. Namely:
How to Watch "Monday Night Football" for Free on TV
Even if you have a big phone, watching sports (and football especially) on that tiny screen is hardly the optimal viewing experience. If you want to watch the "Monday Night Football" Steelers vs. Bucs game tonight on a larger screen, consider signing up for a free trial of a streaming TV service that'll let you watch online for free tonight on any connected screen you like.
Streaming TV services such as Hulu Live, DirecTV Now, PlayStation Vue, Sling TV, and YouTube TV all have packages that include ESPN, and they all offer five- to seven-day free trials for new subscribers. To watch the Steelers-Buccaneers game for free then, simply register for one of these services and use it to stream the game on a laptop, tablet, TV, or any other preferred screen.
Just remember that if you don't want to become a paying subscriber, you must cancel the service before the trial period ends. Packages start at $25 to $45 per month, depending on the provider and channels included.
Also, note that not all streaming TV services include ESPN in packages. The most notable is Fubo TV. Fubo TV's focus is entirely on sports, but it does not include ESPN, so you can use it for watching "Monday Night Football."
We've included affiliate links into this article. Click here to learn what those are.