How to Watch the Thanksgiving NFL Games Online for Free Today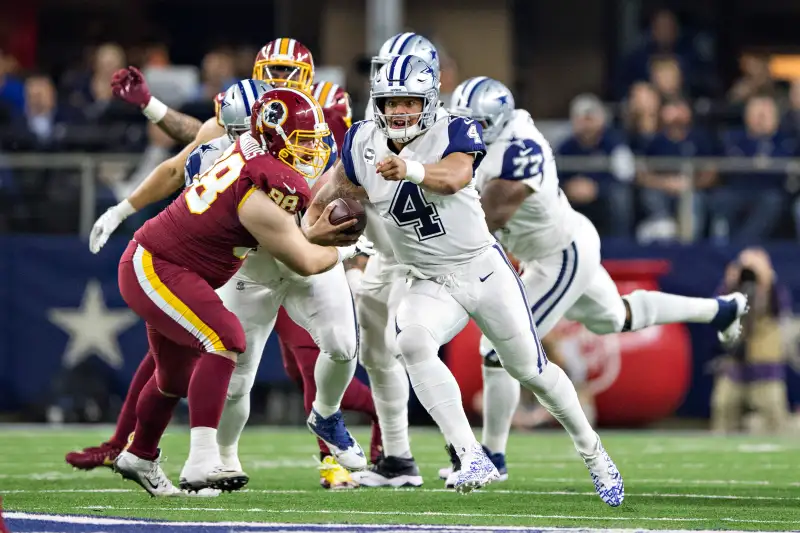 Each product we feature has been independently selected and reviewed by our editorial team. If you make a purchase using the links included, we may earn commission.
Football fans, get ready for three quality NFL games on Thanksgiving Day 2018: The NFL game schedule today is Bears vs. Lions, followed by Redskins vs. Cowboys and Falcons vs. Saints.
The Chicago Bears (7-3), Washington Redskins (6-4), and New Orleans Saints (9-1) all currently lead their divisions, and their opponents on Thanksgiving Day are all very much alive in the 2018 NFL playoff hunt. So this year's Thanksgiving football games are expected to be competitive, exciting matchups. (Here are the betting odds for the NFL games on Thanksgiving and later this week, if you're interested.)
If you are wondering how to watch the Thanksgiving Day NFL games for free this year, you're in luck: All three NFL games today are being aired nationally on free broadcast channels. There are also options if you want to live stream the Thanksgiving NFL games for free today. Here are all the details.
What Channel Are the Thanksgiving NFL Games On?
Here is the 2018 Thanksgiving Day NFL game schedule, and what channels are broadcasting the games:
• Chicago Bears vs. Detroit Lions, 12:30 p.m. ET on CBS
• Washington Redskins vs. Dallas Cowboys, 4:30 p.m. ET on Fox
• Atlanta Falcons vs. New Orleans Saints, 8:20 p.m. ET on NBC
If you have cable or another pay TV subscription, it probably comes with major networks like CBS, Fox, and NBC. All you have to do to watch the NFL games on Thanksgiving is find the appropriate channel.
If you don't have cable, you can still watch the NFL for free today in most of the country with the help of a digital antenna. A decent digital antenna costs about $25 or less, and once it's hooked up to a TV you'll be able to watch local channels for broadcast networks like ABC, CBS, Fox, NBC, and PBS for free — assuming you get a signal where you live.
How to Live Stream the Thanksgiving NFL Game for Free Today
You've got several options to watch the Bears vs. Lions, Redskins vs. Cowboys, and Falcons vs. Saints games online today — and yes, you can live stream them for free.
First off, if you are sneaking away from the Thanksgiving dinner table to watch the NFL games on your phone, you should download either the Yahoo Sports app or the NFL App. As we reported earlier, these apps give free live streams of many NFL games, including all of the 2018 Thanksgiving Day NFL games. Here are the details:
While these apps let you live stream all NFL games that are broadcast nationally, including today's Thanksgiving Day games, they only work on mobile phones. In other words, you can't use either app to watch the games on a larger screen, like a tablet or connected TV. Read on if you want to live stream the Thanksgiving NFL games today for free on a larger screen.
How to Watch the Thanksgiving NFL Games Online for Free
If you don't have cable and don't have a digital antenna, and you want to watch the NFL games today online on a screen that's larger than your phone, consider signing up for a free trial of a streaming TV service that includes local broadcast channels in its packages. Services such as Fubo TV, Hulu Live, DirecTV Now, PlayStation Vue, and YouTube TV include such networks in their bundles in much of the country, alongside dozens of pay channels.
Live streaming TV services work similarly to cable or satellite TV, in that they bundle multiple channels into a package for a monthly fee. The big difference is that all of the viewing is by way of a live stream on any screen you like, rather than with a cable connected to your TV. Streaming TV services are generally cheaper than cable too, with monthly fees starting at $40 to $46 for the options cited above.
Live Streaming TV free trials that last about a week are available to new subscribers. So you could sign up for a free trial and watch the Thanksgiving NFL games online for free today, and still have plenty more time to test the service out. Just remember that if you don't want to become a paying subscriber, you must cancel before the trial period ends.
We've included affiliate links into this article. Click here to learn what those are.