Howard Stern Is 65, Full of Regrets, and Filthy Rich. Here's What We Know About the Notorious Radio Host's Money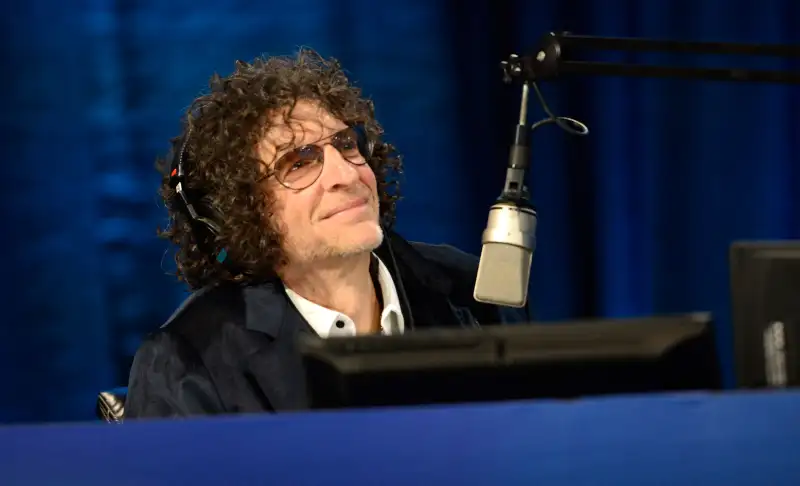 Kevin Mazur—2014 Kevin Mazur
Howard Stern became the most notorious and highest-paid radio host of all time by flooding the air with nonstop outrageous antics.
But now, after years of therapy, divorce and remarriage, and a brush with cancer, Howard Stern says he's ashamed of how he behaved, in particular how he treated many of his radio show guests.
"I was an absolute maniac," Stern writes in his new book, Howard Stern Comes Again. "My narcissism was so strong that I was incapable of appreciating what somebody else might be feeling."
Howard Stern says he cringes when thinking back to how he used to badger guests like Robin Williams and Gilda Radner with intimate questions that weren't merely insulting, but they also made for bad radio. "I am the poster boy for doing everything offensive," Stern told the New York Times magazine recently. "I wanted to be interesting and entertaining to that guy driving the car. But, you know, it's painful for me to look back on my career, because a lot of that stuff I said I don't know how much I believed."
The new Howard Stern is far different than the shock jock who came to fame during his infamous 1990s heyday, when it seemed like he was routinely fined by the FCC for saying things that were allegedly racist, graphically sexual, or otherwise offensive. For an idea of what Howard Stern was all about during what was arguably the peak of his raunchiness, here's a snippet from a 1990 Rolling Stone story, set at a sold-out Nassau Coliseum where 16,000 fans showed up for a special Howard Stern birthday show. "Moments later a woman in a gorilla suit approaches Stern," the article reads. "Unzipping the costume, she bares her breasts and lights birthday candles attached to her nipples. He gamely blows them out."
At the grand age of 65, Howard Stern portrays himself as reflective and, perhaps most shocking of all, sensitive and kindhearted. America watched as Stern's transformation seemed to be taking place live on TV. While still known mostly as a foul-mouthed radio host with a dirty mind, Howard Stern's image was reborn as an encouraging and even lovable judge on the reality show "America's Got Talent."
But even if he's a changed man now old enough to collect social security, Howard Stern gives no sign that he's ready to retire, despite saying decades ago that he couldn't wait to make enough money so he could quit the business.
His new book, which is part memoir and part a curated collection of his favorite interviews with people like Donald Trump (before the presidency), is a runaway bestseller. After adding up book royalties and his huge annual salary from SiriusXM radio, Howard Stern makes somewhere in the neighborhood of $100 million a year. He owns a Manhattan penthouse complex worth over $20 million, along with an oceanfront Palm Beach mansion valued at nearly $60 million, and Howard Stern's net worth has been estimated at well over $600 million too.
Here's more about Howard Stern's career and money, including his rise from a low-paid DJ to the world's highest-earning personality.
Howard Stern: Net Worth and Annual Salary
Howard Stern has called himself the "King of All Media" for decades, but for the majority of his career he wasn't paid like one of the biggest stars in show business.
After graduating from Boston University with a communications degree in 1976, Stern was fired from his first job as an afternoon DJ at a small radio station in Massachusetts. But he didn't give up on his dream of being on the radio, and eventually picked up jobs at radio stations in upstate New York, Detroit, and Hartford. From late 1978 to early 1980, Stern had his own morning show at WCCC in Hartford, where he earned $12,000 a year and had to fight with the manager for a $25-a-week raise.
Stern gained more and more attention over the air by pushing the envelope on outrageousness, and after a stint working in Washington, D.C., he landed at WNBC in New York City. By 1984, Howard Stern was making about $200,000 per year there, according to People, but he was hardly satisfied. "I'm grossly underpaid," Stern said at the time.
If Howard Stern wanted anything more than money, it was the freedom to say and do whatever he pleased on the radio. "The one thing I know is, I want to make enough money to retire from this stink hole of a business so I don't have to be beholden to these morons [the station managers] anymore," Stern told People way back in 1984.
If Stern really wanted to retire, he has long since earned enough money to do so. Howard Stern's salary was estimated at around $1.5 million per year as of 1992, and in 2001 he signed a five-year contract with Infinity Broadcasting, which owned his home station in New York (WXRK, K-Rock), and which paid him $25 million annually.
In 2006, Stern shifted to Sirius Satellite radio, and simultaneously was able to get away from oversight by the FCC and start collecting even larger paychecks. Howard Stern's salary at Sirius XM was estimated at $80 million per year, and from 2011 to 2015 he was earning another $15 million annually as a judge on the reality TV show "America's Got Talent."
With total earnings in the neighborhood of $95 million, Stern was tied with Simon Cowell as the world's top-earning personality in 2014, according to Forbes. The rankings indicated that Howard Stern was making more money than Oprah Winfrey, Dr. Phil, Ellen DeGeneres, and Rush Limbaugh, among others on the list.
More recently, Forbes reported Stern's annual salary at $90 million, which made him the 13th highest-paid celebrity of 2018. (Floyd Mayweather, George Clooney, Kylie Jenner, "Judge Judy" Sheindlin, and Dwayne "The Rock" Johnson topped the list.)
For the most part, Howard Stern's estimated earnings are based on his radio and TV contracts. But he has also made substantial money from books and movies. Before the arrival of his new book, Stern had written two others — Private Parts and Miss America — which both spent months on the New York Times' bestseller list. In fact, Private Parts was the fastest-selling book in the history of Simon & Schuster when it was released in 1993. His new book, Howard Stern Comes Again, was the top seller on Amazon starting in early March 2019, two months before it officially went on sale, and it remained Amazon's bestselling book during the week it's being released.
The 1997 movie Private Parts, based on Stern's memoir of the same name, was the number one movie when it was released, and wound up earning a total of $41 million at the box office.
Howard Stern's net worth was estimated at $620 million in 2015 by Bankrate.com, and more recently at $650 million, according to CelebrityNetWorth.com.
Howard Stern's Divorce, Remarriage — and Multiple Homes
Howard Stern married his college sweetheart, Alison Berns, in 1978. Their relationship formed the romantic backdrop of Private Parts (the movie version anyway), and the couple raised three daughters in a huge suburban house on the North Shore of Long Island.
Yet in 1999 the couple divorced, and Stern blamed himself and struggled to make sense of it all. "My marriage ending blew my mind. I was upset that I failed and let down my family, my kids, my ex-wife. It all was very painful," he said in a Rolling Stone interview in 2011. "I was with my ex-wife since college, so it felt like such a failure. My children took it so hard."
Around this time, when Stern was in his 40s, his "midlife crisis kicked in," he writes in his new book. He purchased a Corvette convertible and regretted it almost immediately. "My head stuck out of the car like I was a Big Bird float in the Macy's Thanksgiving Day parade. People were recognizing me and waving to me. I even had one guy jump into the car."
In 2008, Howard Stern (then 54) married Beth Ostrosky (then 36) at Le Cirque in New York City. Stern had been dating Ostrosky, a fashion model, for years, and he gave her a 5.2-carat diamond ring when he proposed. Among the wedding guests were Billy Joel, Jimmy Kimmel, Joan Rivers, and Chevy Chase. The ceremony was officiated by Mark Conseulos, the husband of morning TV talk show host Kelly Ripa and more recently an actor on the TV show "Riverdale."
Beth and Howard Stern own at least two multi-million-dollar homes. Stern reportedly bought a penthouse apartment in Manhattan's Millennium Tower in 1998 for nearly $6 million, and around the time he got remarried a decade later purchased the two apartments below for around $15 million. All together, the Sterns now own around 6,500 square feet of living space atop the building on 67th Street and Broadway.
Beth and Howard Stern have spent a fair amount of time in the Hamptons too. After renting a six-bedroom oceanfront home in Amagansett for a while, Howard Stern bought it for $5.5 million in 2003, but then sold the property in 2006. In 2007, Stern was reportedly renting a nine-bedroom home in Southampton but had to vacate after it sold for $35 million.
The Sterns also own a massive home in Palm Beach, Florida. According to Forbes, they bought a 39,000-square-foot oceanfront mansion on 3.25 acres. The property taxes cost $900,000 per year, based on the place's assessed value of $57 million.
Beth Ostrosky Stern is a self-professed "crazy cat lady," and the Sterns have dozens of kittens and cats at all of their homes. They have also spent hundreds of thousands of dollars over the years working with rescue groups to help foster and save cats.